Are you planning to open a BPI Savings Account? Whether you're an employee, self-employed, or OFW, opening a savings account is the first thing that you should consider when you're already earning or making money.
Having a savings account will help you manage your money more effectively. In this article, I'll share with you the requirements and steps on how to open a savings account with BPI (Bank of Philippine Islands).
Requirements for BPI Savings Account
Valid ID with photo and signature
Utility Bill (to validate your address)
Contact Numbers
2 pcs of 1×1 ID picture (bring 2×2 as well in case the bank requires)
Initial deposit (depends on the account type that you want to open)
Please note that even if you have all the requirements for account opening, it's still subject to BPI existing policies and procedures on client identification.
Step-by-step Guide in Opening a BPI Account
Step 1 –  Go to the nearest BPI branch
Step 2 –  Choose the type of Savings Account that you want to open, then fill out the BPI Accoutn Opening Form
Step 3 –  Submit the requirements and pay the Initial Deposit
Step 4 –  Wait for your Savings Account to be activated within 24-48 hours and claim your ATM card within 7 days
Step 5 –  Enroll in BPI Express Online. Activate BPI Mobile Banking App
BPI Account Types
BPI offers various types of savings and you have the option to choose depending on your needs. Below are the types of accounts and some basic details like required initial deposit, required minimum monthly ADB, required daily balance and Interest Rate per annum.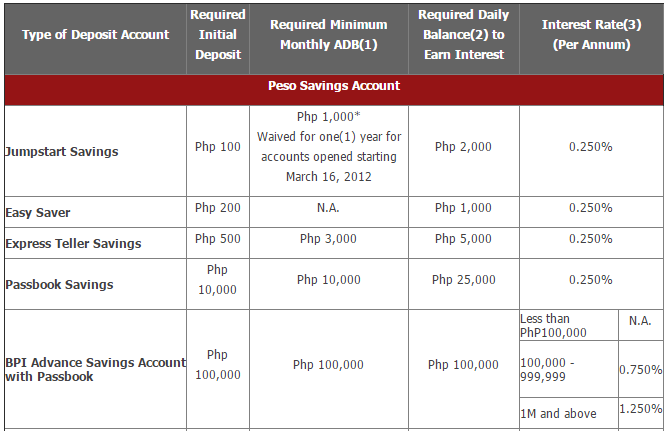 Jumpstart Savings
With just Php 100, you can open an account with BPI already. And if you want to save your hard earned money, just make sure to have a daily balance of Php 2,000 for it to earn interest.
This account type is specially designed for the youth, ages 10 to 17 years old. This is a good tool for them to form the habit of saving at an early age. As always, the earlier you save, the better, and the more that you will reap in the future.
Initial Deposit: Php 100
Maintaining Balance: Php 1,000 (for accounts opened starting March 16, 2012,  the P1,000 maintaining balance will be waived for 1 year)
Daily Balance to Earn Interest: Php 2,000
Interest Rate per Annum: 0.250%
BPI Easy Saver
If you have limited funds or you want to have a savings account that is easy to apply for, with very low initial deposit and zero maintaining balance, the BPI Easy Saver is for you.
Below are the main features of this type of account:
Initial Deposit: Php 200
Maintaining Balance: N/A
Daily Balance to Earn Interest: Php 1,000
Interest Rate per Annum: 0.250%
In terms of fees, Php 50 is the fee for the Express Teller card. For withdrawal, Php 5 will be deducted from your account per withdrawal in any BPI Express Teller ATMs whereas it's Php 50 for over-the-counter withdrawals in any BPI branch.
BPI Express Teller Savings
If you want to access your account 24/7 offline and online, this account is the best for you. Here are the features:
Initial Deposit: Php 500
Maintaining Balance: Php 3,000
Daily Balance to Earn Interest: Php 5,000
Interest Rate per Annum: 0.250%
Another good thing about BPI Express Teller Savings is that you can access your account through more than 3,000 Express Teller, Expressnet, and Bancnet ATMs around the country and in more than 800,000 Cirrus ATMs worldwide. BPI accessibility is one of the best reasons why you should open an account with BPI.
If you have no cash, you need not worry because you can still shop in more than 40,000 EPS or Express Payment System and other accredited merchants nationwide and there are no enrollment requirements.
You can enroll your account in BPI Express Online and when you enroll other accounts, you can transfer funds or send money online anytime and anywhere as long as you have internet connection.
After you enroll your bills to your BPI Express Online account, you can pay your bills online as well without having to go to the merchant's office. For example, if you enroll your Meralco bill, you can pay it on or before its due date through BPI Express Online.
You can also reload your cellphones and prepaid card using your BPI account.
BPI Passbook Savings
Having a passbook savings account allows you to earn interest monitor your transactions on your account.
Initial Deposit: Php 10,000
Maintaining Balance: Php 10,000
Daily Balance to Earn Interest: Php 25,000
Interest Rate per Annum: 0.250%
BPI Save-Up
With Save-up, you can automatically deduct or transfer your funds from your regular savings account to your save-up account on a monthly or bi-monthly basis. You don't need to go to the bank to withrdraw then deposit to this account. You can customize the settings or automation and it will do it on its own moving forward.
Another good thing about BPI Save-up is that it comes with an Insurance plan that protects you and your family if ever something happens to you.
Other BPI Accounts
Other BPI accounts that you can open are BPI Maxi-Saver, which allows your to earn more as your save more and BPI Advance Savings, which allows you  to enjoy the interest of your deposit ahead of time.
Pamana Savings Account with FREE Life Insurance
If you want to earn interest on your savings and have an insurance plan, this Pamana Savings Account is for you. It comes with a FREE Life Insurance worth 3x of your account balance.
Pamana Padala
For OFWs and Overseas Filipino Remitters, BPI Pamana Padala is the best account for you. You can manage and remit your salary easily to your family in the Philippines.
Make Money, Save, and Invest…
Whatever type of savings account you may open with BPI, it's always a good thing to save up for the future. Don't spend and splurge on so many things now and then have nothing later.
Make it a habit to save and invest your money so that you wouldn't have to work for money but instead let your money work for you in the future.
Contact BPI
BPI Hotline for Metro Manila – 89-100
Domestic Toll-free calls – 1-800-188-89100 (available to PLDT subscribers)
63 + 2 + 89-10000 for mobile phone and international access.
Email – expressonline@bpi.com.ph
Website – https://www.bpiexpressonline.com
Want to open other banks' Savings Account? Click the link below: