The BDO Online Banking facility was developed to make our banking transactions easier and convenient. But sometimes, it's frustrating when we are not able to access our BDO online account because of this BDO Account is Locked issue.
People who have experienced this have either gone to the nearest BDO branch or called the BDO Hotline 8631-8000 to get this fixed, while some may have just totally forgotten about their BDO Online Banking account because they couldn't get this issue fixed.
This post is updated today, April 22, 2022. Here's the latest video tutorial on how to solve BDO Account is Locked issue in simple steps.
BDO Account is Locked Issue SOLVED! Here's how…
Step 1: Login to your BDO Mobile app or go to bdo.com.ph
When  you get the error, "Account is Locked", just click RESET or click the button below that says, "Forgot Password"
Step 2: To reset your BDO Online Account, enter your User ID and click Verify. 
Then, enter the last 4 digits of your BDO debit card, checking or savings account number.
Step 3: Enter your OTP or One-Time PIN sent to your registered mobile number. 
Important: Make sure you still have access to your registered mobile number. Otherwise, you'd have to call BDO Hotline 8631-8000 to update your mobile number first or visit the nearest BDO branch.
Step 4: Enter your NEW Password and Confirm. 
Make sure you follow the guidelines when creating your new password. You'll see the green bar if your new password is okay.
Confirm your new password by entering it on the second box.
That's it! You have successfully changed your BDO Online password and you can now login to your BDO Online account again!
Take note of your User ID and Password in a safe place or notebook so that you can easily find/access it when your BDO account gets locked again or if you forget your password in the future.
Hope this helps! 🙂
How to Solve BDO "Account is Locked" Issue
If you are having this Account is Locked issue, don't fret because the steps to solving this issue are pretty simple and easy to follow. Here's how:
Step 1 
Visit the BDO website at https://bdo.com.ph. Below the red "Account is Locked" error message, click "Account is locked?" Then enter your User ID.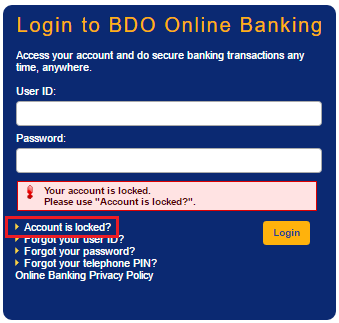 Step 2
Enter the One-Time Password or OTP to proceed with your BDO account reset.
It is very important that your mobile number is updated because that is where the OTP from BDO will be sent to. If you don't receive the OTP, there's no way you can proceed to the next step.
All you need to do next is to call BDO Hotline 631-8000. Expect that there may be a long waiting time. You're lucky if you reach a customer service right away.
Once you have the customer service rep on the phone, he/she will verify your personal information to make sure you are the real account holder.  Upon verification, your BDO Online Account will be reset, then they will send your User ID and a temporary password to your email address.
Note: The temporary password is available for 72 hours or 3 days only. You must change or update your password before the temporary password expires, otherwise, it will not work anymore and you'd have to call BDO Hotline again.
Step 3
Login to your BDO Online Banking Account with your correct User ID and the temporary password that you have received from BDOOnlineBanking-noreply@bdo.com.ph.
Enter the OTP or answer the Challenge Question.
What is the Challenge Question?
This is one of the security measures of BDO to ensure that you are the actual account holder. It is you who have personally nominated or chosen the Challenge Questions when you initially enrolled in BDO Online Banking.
Once you enter the correct OTP or the correct answer of the Challenge Question, you will then be able to access your BDO Online account successfully.
Once you're in, make sure to update your password, and take note of it and keep it in a safe place/file so that in case you forget it in the future, you know where to find it. This will also lessen the chances of you getting the error message, BDO Account is Locked, again.
Watch this: How to solve BDO Account is Locked issue by resetting your account
Tips to Avoid BDO Account is Locked Issue
Enter the correct User ID and Password
If your first 2 login attempts failed, NEVER try it again, because the third time you do and it's still incorrect, your BDO account will definitely be locked out.
After your 2 failed login attempts, close the BDO website and your browser or your BDO mobile app. Give it another hour or try opening the BDO website on another browser and try to login again.
Since copy-paste is not allowed in BDO online, type your User ID and Password slowly but surely.
Keep a notebook or excel file where your account logins are saved so that it's easier to find them when you need them.
If all else fail, go ahead and contact the BDO Hotline 631-8000 to request for BDO Account Reset.
If it's your BDO Password that you need to reset, read this: