My brother who is based in Qatar asked me to help our parents renew their DFA Passport in case they consider the idea of going to Qatar for a vacation anytime this year.
And since it has been a while since I renewed my DFA passport, I quickly searched the internet for the updated passport renewal process and requirements.
Good thing it wasn't as complicated as I thought it would be since my parents are both senior citizens and they didn't need to set an appointment anymore.
So, they went to the DFA office on May 29. After 3 weeks, they picked up their newly-renewed DFA passports at the nearest LBC branch on June 19.
If you are planning to get a new passport or apply for passport renewal, just continue reading as I share with you the step-by-step procedures and detailed requirements for DFA passport application.
I. DFA Passport Application Appointment
If you want to apply for a new DFA passport or renew your existing DFA passport, the first step that you need to take is to schedule an appointment online.
Don't ever go to the DFA office unless you book an appointment or you might just waste your time going there.
But if you're a senior citizen like my parents, you are also exempted from setting an appointment, and you may go directly to the courtesy lane.
Who else are exempted? 
Children 7 years old and below with their parents and minor siblings
Pregnant women (If you're not visibly pregnant, just bring a medical certificate or a copy of your latest ultrasound report)
Solo parents with a solo parent ID and their minor children
Persons with disabilities with PWD ID and one immediate family member
OFWs with OFW e-Card, work visa, or POEA-authenticated employment contract
Senior citizens with senior citizen ID and one immediate family member
Steps on How to Set DFA Passport Appointment Online
Step 1: Passport Online Appointment
Visit the DFA passport appointment website.
Read the Terms and Conditions about DFA Passport Appointment, then tick the box at the bottom once you have read and understood the terms.
Choose whether you want to start an Individual Appointment or Group Appointment.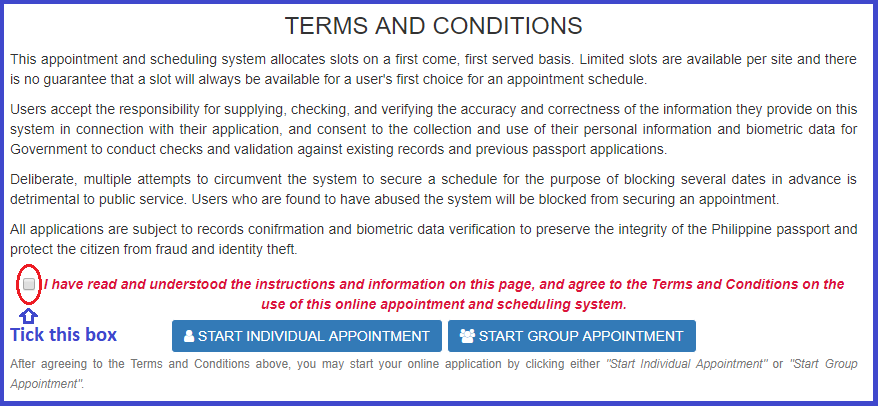 Choose a DFA consular office for your passport application or renewal.
Select your preferred date and time.
Fill out the online passport application form.

Note: Any incorrect information that is inputted in the Passport Appointment Application form may result to delay in your application and that misrepresentation on your part may be considered grounds for refusal/cancellation of your application.

Choose your preferred passport processing type (regular or expedited/faster processing).
Reminders Before Scheduling Your DFA Passport Appointment
Online appointments are available only to Filipinos living in the Philippines.

Citizens based abroad can head to the nearest Philippine Embassy or Consulate to file their passport application.

The DFA passport appointment system is free to use.

Avoid dealing with fixers. The only payment you'll need to make is for the passport processing fee.

Passport appointments are limited.

You're lucky if you are able to secure a slot on your first try. However, new DFA passport appointment slots are opened from 12 p.m. to 9 p.m. on Mondays to Saturdays except for holidays. Just keep refreshing the page.

Choose a consular office closest to your place to save time.
Choose an earlier schedule

I highly suggest you choose an AM or morning schedule to avoid long lines.

Use a valid and working Gmail or Yahoo email address.

Other email accounts like MSN, Hotmail, and Outlook are incompatible with the DFA passport appointment system.
II. Passport Processing Payment
Upon submitting the online form, the DFA will email a reference number for paying your passport processing fee.
How to Pay the Passport Processing Fee
DFA ePayment Portal is a new feature of the DFA passport appointment system that allows a faster and more convenient on-site passport processing.
Applicants may pay their passport fees before making a personal appearance at the DFA office.
You may pay your passport processing fee at any of these authorized payment centers:
7-Eleven
Bayad Center
ECPay
PeraHub
Robinsons Business Centers and Department Stores
USCC (Western Union)
Waltermart Department Store
Villarica Pawnshop
According to DFA, more payment channels will be available soon including facilities for credit and debit card payments.
Once your payment has been processed, the DFA will send you a confirmation email with a passport appointment packet that contains the following:
Checklist of passport requirements with your DFA appointment schedule
Confirmed application form
2 copies of the eReceipt
Print all the documents in A4-size paper and bring them on the day of your DFA passport appointment.
Reminders Before Paying the Passport Fee
Pay the exact amount in cash

(PHP 950 for regular processing/PHP 1,200 for expedited processing).

Take note of your reference number and total amount due

(PHP 950/PHP 1,200 processing fee + PHP 50 convenience fee per transaction).

You can use the reference number only once.

Contact the DFA helpdesk immediately at (02) 234-3488 if you made a payment by mistake.

Pay separately for each reference number

(for group appointments with multiple reference numbers). The DFA allows only one transaction per reference number.

Your DFA passport appointment will be confirmed only after paying the required fees.
III. List of DFA Passport Requirement
If it is your first time to get a DFA Passport, prepare the following requirements before going to the DFA office.
Applicants with incomplete requirements are automatically rejected, so better keep a checklist of the following documents.
1. Valid ID (original and photocopy)
You can bring any of the following valid IDs. To secure your application, prepare at least two from the list.
SSS ID
GSIS ID
Voter's ID
Driver's License (LTO Student Permit may be accepted if it's in card format.)
Senior Citizen ID
School ID (for students and fresh graduates)
PRC ID
OWWA card
PNP Firearms License
Airman License (issued August 2016 onwards)
Residence Card or any other ID that warrants your Philippine citizenship (for OFWs or Filipinos based in other countries)
2. Birth Certificate (original and photocopy)
Secure an original copy of your birth certificate authenticated by the Philippine Statistics Authority (PSA). You can conveniently order one online and have it delivered to your home or office address.
You can also present a Certified True Copy (CTC) of your birth certificate issued by the Local Civil Registrar and duly authenticated by the PSA.
3. Supporting Documents
Are you a naturalized Filipino citizen? Or maybe you have dual citizenship or have no birth certificate? If so, you need to present additional documents to the DFA.
Married women who want to use their spouse's surname must submit an original copy of their marriage certificate issued by the PSA. No need to do so for those who'd like to keep their maiden name.
For the complete list of passport requirements, click here.
IV. Personal Appearance on your DFA Passport Appointment Schedule
Steps for DFA Passport Application and Renewal 
Present your DFA passport appointment.
Show your DFA passport requirements to the Application Counter.
You will be given a queue number.
Wait for your number to be called.
Proceed to the Processing Area and present your documents.
Have your photo and biometrics taken at the Encoding Section.
If you want to have your DFA passport delivered to your home or office address, go to the Delivery Counter and pay an additional fee of PHP 150.
When you're done with all the passport application or renewal steps, you'll be issued a stub or receipt that indicates your passport's tentative release date.
V. Claim Your Passport or Wait for Delivery
If you chose the option to claim your passport, visit the DFA consular office where you filed your application and present your receipt to claim your passport. If you have lost your passport receipt, you will have to present a notarized affidavit of loss.
If you're not available to pick up your passport, you may authorize someone else to pick it up on your behalf.
The DFA requires an authorization letter (for immediate family members) or Special Power of Attorney (for non-immediate family) and a photocopy of the authorized representative's valid ID before issuing the passport.
Take note that the DFA cancels unclaimed passports after six months. So, don't delay it.
If you chose the option to have your passport delivered to your address, make sure you or someone else is available to receive it.
Once you get your new passport, check if all details in it are correct and then put your signature on the third page.
Watch ABS-CBN's Failon Ngayon for Passport Application Process
FAQs on DFA Passport Appointment, Application, and Renewal
Q: How do I Resched my DFA appointment?
Go to the DFA official website.

Enter your Appointment code and Email address that you used in the Application.

Click the View Details button.

Once you click the View Details button it will reveal your appointment date details. At the bottom part of the page you will see set of buttons, click "CANCEL APPOINTMENT". Note: You can only cancel 3 days before the confirmed date.
For Cancellation, Click on Cancel Appointment

You will be taken to a page confirming the cancellation of your appointment.

For Rescheduling, Click on Reschedule

You will be taken back to the page where you need to set a new appointment date.

Confirm your new DFA appointment schedule

You will receive an email confirmation for rescheduling your appointment. Just click the confirmation link to confirm.
For passport cancellation, once you cancel your DFA Appointment, your passport payment will be forfeited and it cannot be refunded anymore.
For Rescheduling of DFA Appointment, you can only reschedule weekday appointment to another weekday. Also you can only reschedule once and it is subject to availability of appointment slots.
Q: I got my passport through a travel agency. Do I still need to book an appointment?
Yes. You still have to book for your DFA Passport appointment online even if you got your passport through a travel agency. Travel agencies are no longer allowed to get appointment slots for their clients.
Q: How can I renew my passport online?
Just follow the steps above for new passport application. The steps are the same for passport renewal.
You also need to bring your old/expired passport with photocopy of its data page (the second page with your photo and personal information) on the day of your appointment. Birth certificate and valid IDs are not required for passport renewal, but you may just bring them in case they're needed.
No. The DFA considers the NBI clearance as just a supporting document and not a valid ID by itself.
Q: What IDs or Documents are not accepted for DFA Passport Application and Renewal? 
Postal ID
TIN card
Pag-IBIG ID
PhilHealth ID
Company ID
SSS E-1 form
Police clearance
Barangay ID/Barangay clearance
IBP ID
Official receipt of the driver's license
LTO student permit in paper format
Q: When can I expect my passport?
Rush applications usually take 7 days, while regular applications may take as long as 15 days. If you apply in a regional office, rush processing may take 10 days, while regular processing may take 20 days before pick-up or delivery. Individuals based abroad should expect their passport in 30 to 60 days.
DFA Passport is now Valid for 10 Years
The Department of Foreign Affairs (DFA) has finally issued Department Order No. 010-2017 or the Implementing Rules and Regulations (IRR) of Republic Act No. 10928 (2017), otherwise known as "An Act Extending the Validity of Philippine Passports," which was enacted on 02 August 2017.
This means that our Philippine Passports will now be valid for 10 years.
Regular Passports issued to Filipinos who are 18 years old and above at the time of application shall be valid for 10 years.
Regular Passports issued to Filipinos who are below 18 years old at the time of application shall be valid for 5 years.
There's no change in the price of the Passport even if it's already valid for 10 years. The price remains at PHP 950.00, which is the same as the current price of a five-year passport.
However, additional fees may be imposed in the future for passports that will have enhanced features. This is in accordance with the DFA's mandate to improve the passport processing system to make it seamless, convenient and pro-people, and to ensure that the production and security of passports are at par with technological advances and world standards.
Other important rules and regulations under RA 10928:
New Passports with appropriate period of validity shall be issued to those applying for the first time and to those applying for replacement or renewal. The damaged, expired or expiring passports shall be presented to the DFA or Department of Foreign Affairs for cancellation.
The Department of Foreign Affairs may limit the period of validity of passports to less than 10 years whenever the economic interest or political stability of the country requires such restriction.
The Implementing Rules and Regulations shall take effect on

January 1, 2018

.
This act was signed by Secretary of Foreign Affairs Alan Peter S. Cayetano.
How to Apply for Philippine Passport 
Applying for Philippine Passport is now much easier and faster because of its online appointment system. With this system, more passport applications are being accommodated.
For the month of October 2017, 49,089 additional online appointment slots were made available on a first come, first served basis.
If you are planning to get a new passport or renew your existing passport, check out the steps below.
Step 1 – Set an appointment online
Setting an appointment online is on a first come, first served basis. Meaning, the earlier you book or set an appointment, the higher your chance that you'll get an early or your desired schedule.
You can set an appointment in two ways:
You can choose any of the branches in Metro Manila below where you want to apply for the new passport on your desired schedule.
DFA Manila – ASEANA

Address: ASEANA Business Park, Bradco Avenue corner Macapagal Boulevard, Parañaque City

DFA NCR East – SM Megamall

Address: 7th Floor, Building C, SM Megamall, EDSA cor. J. Vargas Ave., Mandaluyong City

DFA NCR North – Robinsons Novaliches

Address: Quirino Highway, Novaliches, Quezon City, 1118 Metro Manila; across SM City Fairview

DFA NCR North East – Ali Mall

Address: Ali Mall Government Center, Level 2 Ali Mall, Cubao, Quezon City

DFA NCR South – Alabang

Address: 4th Floor, Metro Alabang Town Center, Alabang, Zapote Road, Muntinlupa City

DFA NCR West – SM Manila

Address: 5th Floor, SM City Manila, Conception St., Manila
Or, if you're from the province, you can visit the nearest DFA regional consular office in your area.
According to DFA Website, NO APPOINTMENT IS NEEDED for the following:
Senior Citizen with Senior Citizen ID
Person with Disability (PWDs) with PWD ID or visible disability
Solo Parent with Valid Solo Parent ID
Pregnant women with medical certificate
Minors seven (7) years old and below
You may avail of the PRIORITY LANE at DFA Aseana or at any DFA Satellite Office or Regional Consular Office to apply for your passport.
Step 2 – Prepare the Requirements
The required documents include the following or click here to see the complete list of requirements:
a printed copy of your Application Form – the link to this will be emailed to you after you set your appointment and application online. (Note: Only

Gmail or Yahoo

accounts are able to receive the email confirmation at the moment.)
at least 1 government-issued ID – examples are UMID, New Postal ID, Driver's license, PRC ID, OWWA ID, etc.
old passport – for renewal application
Other documents that may be required for the following cases:

newly-married woman applying for the first time under the new surname
spouse of a foreign national
minors (below 18 years old)
Muslim applicants
Step 3 – Show up on your appointment date with your requirements
On your approved appointment date, make a personal appearance at your chosen DFA branch at least 30 minutes before the appointment time.
Present your printed application form to the Appointment Counter, get a queue number and wait for your number to be called or flashed on the monitor/screen.
Once your number is called, proceed to the "Processing" counter for the validation of your application.
Step 4 – Pay the Passport Processing Fee
Once your application is confirmed, proceed to the "Payment" counter to pay the passport processing fee.
Php 950 for regular processing (15 working days)
Php 1,200 express processing (7 working days)
Step 5: Proceed to "Encoding" section for photo and data capture
This step may take longer because this is where your photo will be taken, your fingerprints are captured, and your basic personal information are saved in the system.
Keep in mind the following:
Don't smile or show your teeth, keep you mouth closed
Remove your Eyeglasses and/or contact lens
Look directly at the camera
After that, they will inform you of the estimated date when your passport will be available for pick up at the "Passport Releasing" counter of the DFA office where you submitted your application. Just present your Official Receipt.
Do you want your passport delivered to your address?
If you cannot pick up your passport personally, you may opt to have it delivered straight to your doorsteps.
Just pay the delivery fee in the "Courier" or "Delivery" counter before you leave the DFA premises. They will inform you about the exact date when the passport will be delivered. The delivery may take 1-2 weeks after your application.

Important Reminder from DFA
DFA advises passport applicants NOT to purchase outbound travel tickets until you actually have your passports already.
While they do their best to avoid delays in the processing of passports, there may be some instances where releasing of passports may get delayed. That's why you should not purchase your ticket first especially if it's an urgent flight schedule.
For more info about Passport Application, please visit the DFA website or call DFA Hotline (02) 556-0000, or visit the DFA at 2330 Roxas Boulevard, Pasay City, Philippines.
RELATED ARTICLES: