PhilHealth Member Data Record or MDR is one of the most important requirements when availing PhilHealth benefits.
PhilHealth MDR contains the member and beneficiary's personal and/or employment information.
In short, the hospital or medical facility where you want to avail or apply for PhilHealth benefits would ask you to submit your PhilHealth MDR to know if you are really a member or a beneficiary of PhilHealth and if you are qualified to receive PhilHealth benefits.
Without MDR, your application for PhilHealth benefits may be denied or there may be a delay in the processing of your benefits.
Even if you are a PhilHealth member or beneficiary, don't expect that your PhilHealth benefits will be automatically deducted from your hospitalization bills. You have to submit your MDR and other necessary documents.
So, how do you get PhilHealth MDR? 
There are two ways to get or request for your PhilHealth Member Data Record.
You may go to the nearest PhilHealth branch or kiosk and request for your PhilHealth MDR.
You may register to PhilHealth online facility, and once you're registered, just login to your PhilHealth online account, and you should be able to view and print your PhilHealth MDR.
Pretty easy, isn't it?
If you don't have an online account with PhilHealth and you prefer to get the actual MDR copy, then go to the nearest PhilHealth office.
The downside of this though, is that it will take time to go to the branch, then you have to spend time lining up, before you could actually get your Philhealth MDR.
And remember, when you're dealing with government agencies or offices, expect that there will be a lot of people doing the same thing or getting the same documents, so it's not going to be that fast and easy. If it is, then you're lucky!
Now, if you have few minutes to read the steps on how you can get your PhilHealth MDR online, this is what I highly recommend you do because it will save a lot of your time.
How to Get PhilHealth MDR Online (IF YOU'RE REGISTERED)
Assuming you have already registered or you already have an online account with PhilHealth, just follow these steps to get your PhilHealth MDR Online:
Step 1
Go to the PhilHealth website at https://philhealth.gov.ph
Step 2
In the Member Inquiry box, enter your PIN (PhilHealth Identification Number) and Password.
Step 3
Enter the correct answer of the Challenge Question that appears on the screen.
Step 4
Once you're successfully logged in, you will now see your PhilHealth information, and contributions.
You also now have the option to print your MDR. To do this, just click the printer icon for MDR printing.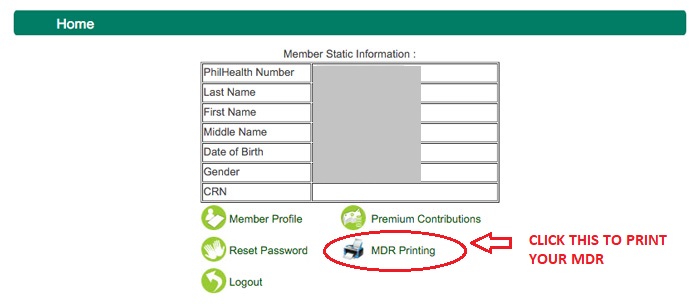 Step 5
If you have an available printer, just go ahead and print your MDR immediately.
If you don't have a printer, you may save your MDR on your computer or USB flash drive, then print it later.
What if I'm not registered to PhilHealth online? 
If you are not yet registered to PhilHealth's online facility, you have two options to get your PhilHealth MDR.
First, you register your PhilHealth account online.
Second, you go to the nearest PhilHealth office.
And for me, I would still suggest you opt for the first option, which is to register an account online.
Why?
Because this may not be the only time that you would need an MDR. Or maybe you would want to check your Philhealth status or information online in the future.
Having an online account with PhilHealth is very helpful. You'll thank yourself later if you register now.
How to Register in PhilHealth Online? 
Step 1
Go to PhilHealth website at https://www.philhealth.gov.ph/
Step 2
Click Online Services.
Click Electronic Registration.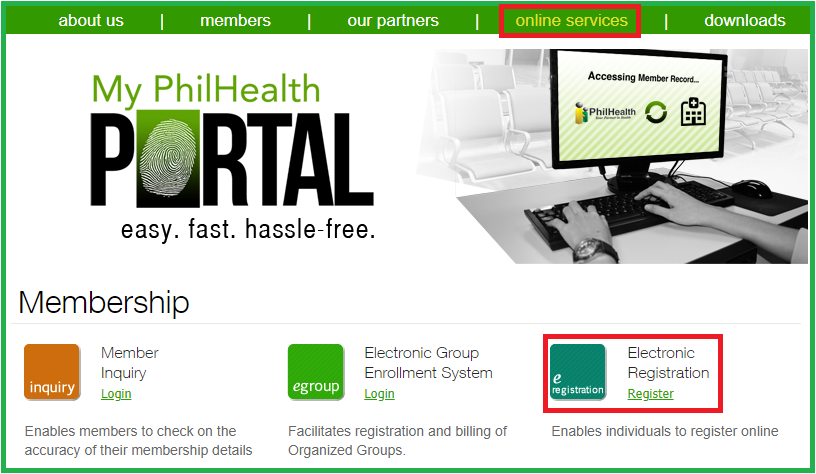 Step 3
A new window will open for PhilHealth Electronic Registration System
Click "PROCEED" to continue to the next page
Step 4
Read the Terms and Conditions. To agree, tick the small box below, and click "Accept."
Step 5
Fill out the PhilHealth online registration form.
Upload your ID or any available document. Follow the instructions/guidelines to be able to upload your file successfully.
Step 6
Enter the Captcha code, tick the small box below, and click "Submit Registration."
Step 7
Check your registered email's inbox and follow the instructions on how to complete your PhilHealth membership application.
Your new PhilHealth Identification Number (PIN) will also be included in the email.
How to Register PhilHealth Online for OFWs 
If you are an OFW and you are currently abroad, you may register as a PhilHealth member through any of the following options:
Apply at any branch of PhilHealth-accredited collecting partners iRemit and Ventaja Corporation
Register online by following the steps above
Download and print the PMRF, fill it out, and send it to ofp@philhealth.gov.ph.
That's it!
Once you're registered to PhilHealth, you should be able to view your PhilHealth contributions and MDR and print it anytime and anywhere.
To know more about PhilHealth, read this: