Are you trying to check or inquire for your BPI account balance?
Well, you don't need to go to the bank to do it.
BPI Online Balance Inquiry can easily be done whenever and wherever you are as long as you have internet connection on your device.
BPI Online Balance Inquiry has been even made easier and accessible with the new BPI Online Beta.
Continue reading to know how you can check your BPI balance onlin and to know more about BPI Online Beta.
BPI Online Balance Inquiry with BPI Online Beta using Internet Browser
Step 1: 
Open your internet browser (Google Chrome, Mozilla, Internet Explorer, or Safari).
Step 2: 
Type https://www.bpi.com.ph on the address bar on your internet browser.
Step 3 
Once you're at the BPI web page, click the LOGIN button. The page will redirect you to https://online.bpi.com.ph/portalserver/onlinebanking/sign-in.
Step 4
Login to your account by entering your Username and Password.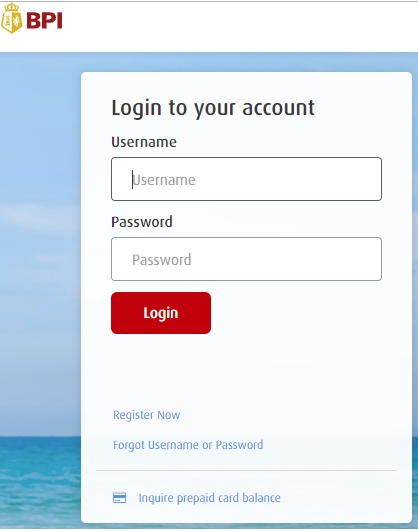 Note: If you have not registered to BPI online yet, click the Register Now button and follow the next instructions to proceed to the registration process of BPI online banking.
Step 5
Once you're successfully logged to BPI Online, you will see this page. You'll see the different features and facilities on the left side.
To check your BPI accounts and its balances, click My Accounts.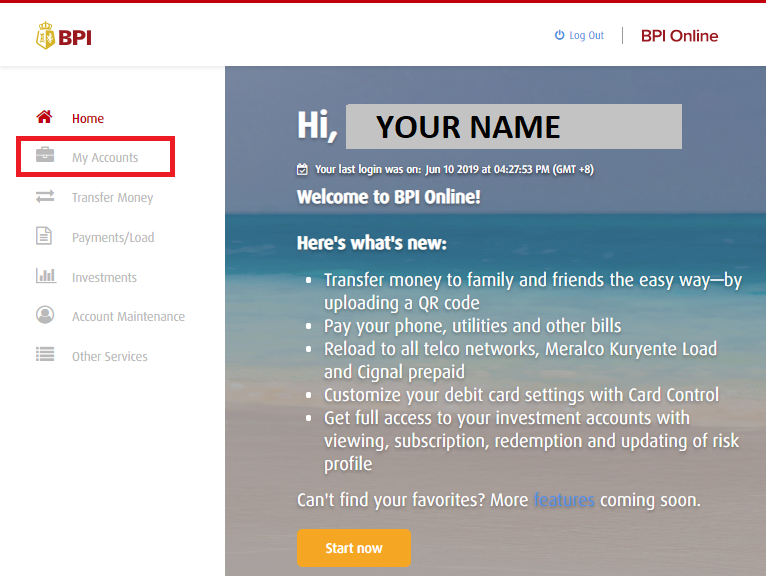 Step 6
Choose the BPI account that you want to check. For example, in the screenshot below, if I want to check the BPI Online Balance Inquiry of my Savings Account, I will click on it.

Step 7
The current balance of the chosen BPI account will be displayed on the screen. You will also see the transaction history at the bottom of the page.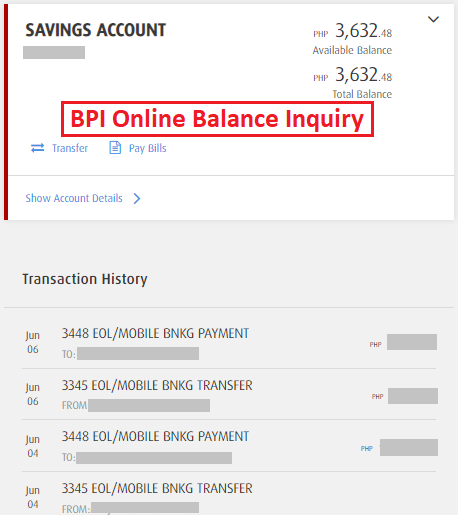 BPI Online Balance Inquiry with BPI Online Beta using Mobile App
Step 1: 
Search for BPI in App Store if you have Apple device or in Play Store if you have an Android device.
Step 2:
Download the BPI Mobile App, Install it, and Enter the required information.
Step 3:
Once the BPI Mobile Banking app is installed and set up, you can now login to your BPI online account anytime and anywhere as long as you have internet connection.
You will have to use the same username and password as your BPI Online account. You don't need to create a new account for the BPI mobile banking app.
You can also take advantage of the following features:
View all the balances of your accounts
Move funds between your deposit accounts
Transfer money from your account to other BPI accounts
Pay bills to over 400 merchants
What is BPI Online Beta? 
BPI Online Beta is the new website of BPI which comes with new features. To access BPI Online Beta, go to www.bpi.com.ph or download the BPI mobile app on App Store or Play Store.
What are the Features of BPI Online Beta?
With the new BPI Online Beta, you can:
Transfer money to family and friends the easy way — by uploading a QR code.
Pay your phone, utilities and other bills.
Reload to all telco networks, Meralco Kuryente Load and Cignal prepaid.
Customize your debit card settings with Card Control.
Get full access to your investment accounts with viewing, subscription, redemption and updating of risk profile.
Under Other Services, you can:

Access your Statement of Accounts
Reorder Checkbook
QR Generator
Remittance Services
Card Control
View Scheduled Transactions
Enroll Billers
Frequently Asked Questions about BPI Online
Q: What is the new website of BPI? 
The new website of BPI is www.bpi.com.ph. It used to be www.bpiexpressonline.com. But even if you type the old URL, you will still be redirected to the new website. www.bpi.com.ph is the official website of BPI.
Q: How is the new BPI website different from the older website, BPI Express Online? 
The new BPI website has a new design that is simpler, much easier to navigate, and is optimized to work in any device that you are using.
Q: Is it safe to use BPI Online and BPI Mobile Banking App? 
Yes. BPI employs the latest security measures and technology to make sure that your mobile banking experience is both safe and hassle-free. It also requires One-Time PIN (OTP) which is a security code that is only valid for one transaction.
The OTP is sent to your registered mobile number and it provides an extra layer of security. You will be required to input an OTP to confirm and complete your transactions.
Q: Can other people use the BPI Mobile app on my phone to check their accounts?
As part of the protection provided by device registration, only your account can be accessed via your BPI Mobile app.
Q: What is BPI Hotline? 
BPI Hotline in Metro Manila is (02) 89-100.
BPI Domestic Toll Free

1-800-188-89100 (available for PLDT)

BPI Mobile Phone and International Access
BPI Email Address: expressonline@bpi.com.ph
BPI Branch Locator – click here
RELATED ARTICLES
How to Pay Bills with BPI Online
How to Use BEA Online to Get E-Queue Number Easily
5 Ways to Check BPI Balance Inquiry