BPI Online Banking has made it easier for BPI clients to do their banking transactions without having to go to the BPI branch.
With BPI Online banking, it is now easier to view our account and check our BPI account balance online anytime and anywhere.
If you're still feeling skeptic or uncomfortable about BPI Online Banking, this article is for you.
I'll tell you more about BPI Online Banking and its wonderful features so that you too can take advantage of it.
What is BPI Online Banking? 
BPI Online Banking is a way of doing your banking transactions using a computer or smart phone with internet connection.
BPI developed this facility to make it easier and convenient for BPI clients to do some of their banking transactions without going to the BPI branch.
BPI Online Banking saves its clients time tremendously. With just a few clicks, they can easily check their account balance, transfer money, and pay their bills.
No need to wait in long lines to get accommodated. BPI Online Banking solves that.
What is BPI Online Beta? 
Before BPI Online Beta existed, BPI Online Banking was known as BPI Express Online.
BPI Express Online can be accessed by going to bpiexpressonline.com.
With BPI Online Beta, you can access BPI Online banking by going to bpi.com.ph.
Either way, you'll be directed to the same BPI page where you can take advantage of the wonderful features of BPI Online Banking including:
Transferring money to family and friends
Paying your phone, utilities and other bills
Reloading telco networks, Meralco Kuryente Load and Cignal prepaid
Customizing your debit card settings with Card Control
Accessing your investment accounts
In BPI Online Beta, under Other Services, you can:
Access your Statement of Accounts
Reorder Checkbook
QR Generator
Remittance Services
Card Control
View Scheduled Transactions
Enroll Billers
There's so much you can do with BPI Online Banking. But to get started, you must first enroll or register your own account. Here's how…
How to Register in BPI Online Banking
Go to bpi.com.ph
Click Login.
Click Register Now.
Choose the type of BPI account that you want to enroll, then click Continue.

ATM based BPI, BPI Family Savings, or BPI Direct deposit account
Passbook-based BPI or BPI Family Savings deposit account
BPI Europe Account
BPI Credit Card Account
BPI Debit  Card Account

Choose whether you're residing:

Within the Philippines
Outside the Philippines

Read the Internet Banking Service Agreement (scroll down), tick the box at the bottom, and click Continue.
Enter your BPI Card Information and Personal Information completely, and click Submit.
To complete your BPI Online Registration, you need to submit the signed form to the nearest BPI branch or mail it to BPI Main Office.
Please follow the instructions on the page carefully to avoid any issues with your BPI Online Registration.
How to Activate BPI Online Banking Registration
Option 1: 
Go to a BPI ATM to complete the activation of your online banking account.
Insert your BPI card and key in your PIN.
Go to Special Services > Activate >Enrollments Express Online.
Wait for 5 minutes before accessing your online account.
Option 2: 
A confirmation email together with a form will be sent to your registered email.
Print the form.
Fill up the form and sign it.
Mail the signed form to:

BPI Fulfillment Banking Department
9th Floor BPI Card Center
8753 Paseo de Roxas Makati City 1200, Philippines

An email will be sent to your registered email address once the processing of your request has been completed.
How to Check BPI Online Balance Inquiry
Are you trying to check or inquire for your BPI account balance?
Well, you don't need to go to the bank to do it.
BPI Online Balance Inquiry can easily be done whenever and wherever you are as long as you have internet connection on your device.
BPI Online Balance Inquiry has been even made easier and accessible with the new BPI Online Beta.
Continue reading to know how you can check your BPI balance onlin and to know more about BPI Online Beta.
Option 1:

BPI Online Balance Inquiry with BPI Online Beta using Internet Browser
Step 1: 
Open your internet browser (Google Chrome, Mozilla, Internet Explorer, or Safari).
Step 2: 
Type https://www.bpi.com.ph on the address bar on your internet browser.
Step 3 
Once you're at the BPI web page, click the LOGIN button. The page will redirect you to https://online.bpi.com.ph/portalserver/onlinebanking/sign-in.
Step 4
Login to your account by entering your Username and Password.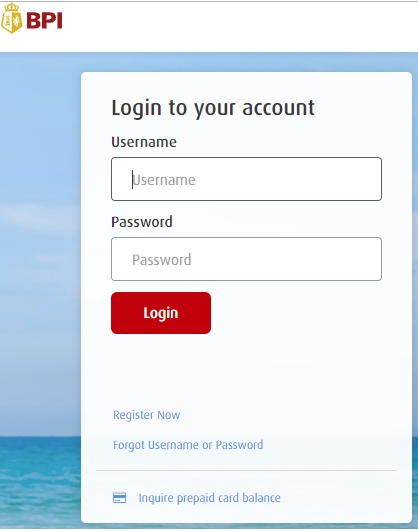 Note: If you have not registered to BPI online yet, click the Register Now button and follow the next instructions to proceed to the registration process of BPI online banking.
Step 5
Once you're successfully logged to BPI Online, you will see this page. You'll see the different features and facilities on the left side.
To check your BPI accounts and its balances, click My Accounts.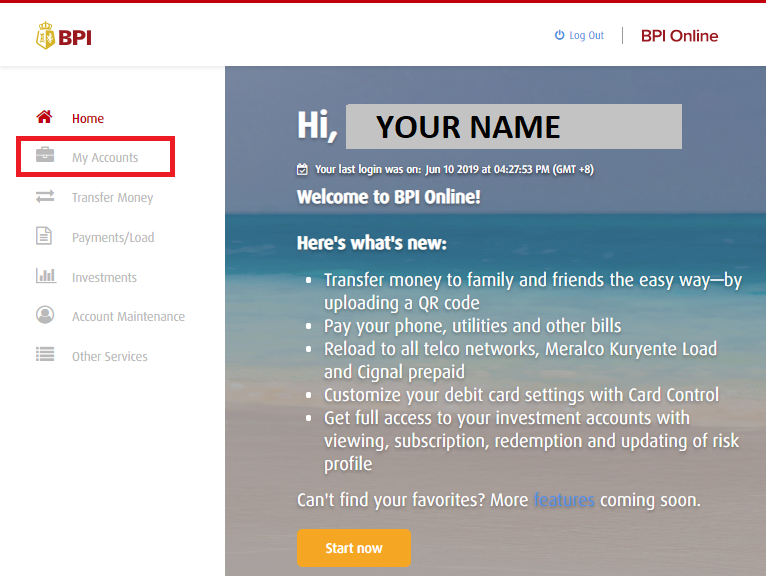 Step 6
Choose the BPI account that you want to check. For example, in the screenshot below, if I want to check the BPI Online Balance Inquiry of my Savings Account, I will click on it.

Step 7
The current balance of the chosen BPI account will be displayed on the screen. You will also see the transaction history at the bottom of the page.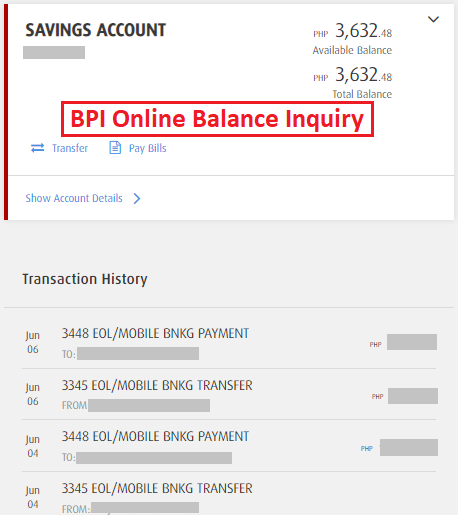 Option 2:

BPI Online Balance Inquiry with BPI Online Beta using Mobile App
Step 1: 
Search for BPI in App Store if you have Apple device or in Play Store if you have an Android device.
Step 2:
Download the BPI Mobile App, Install it, and Enter the required information.
Step 3:
Once the BPI Mobile Banking app is installed and set up, you can now login to your BPI online account anytime and anywhere as long as you have internet connection.
You will have to use the same username and password as your BPI Online account. You don't need to create a new account for the BPI mobile banking app.
You can also take advantage of the following features:
View all the balances of your accounts
Move funds between your deposit accounts
Transfer money from your account to other BPI accounts
Pay bills to over 400 merchants
How to Transfer Money to Own BPI Account via BPI Online Banking
Go to bpi.com.ph
Click Login
Enter your Username and Password
Once logged in, click Transfer Money
Follow the next instructions for Money Transfer
How to View BPI Statement of Account ONLINE
Go to bpi.com.ph
Click Login
Enter your Username and Password
Once logged in, click Other Services
Under Accounts, click My Statements.
Select the Account Statement that you want to view.
BPI Credit Card Payment Online via BPI Online Banking
Go to bpi.com.ph
Click Login
Enter your Username and Password
Once logged in, click Payments / Load
Fill out the required fields for your BPI Credit Card Payment Online
Tips to Keep your BPI Online Banking Transactions Safe
Despite BPI's tight security feature, we must always remain vigilant in keeping our financial transactions and credentials secure.
When it comes to banking transactions, always remember the following:
Don't share your username and password to anyone.
Be mindful of your surroundings when accessing your online account in public places like internet cafes,in the office, or at the ATM machine.
Always remember that banks will never ask your username and password.
Beware of frauds or phishing mails pretending they're from BPI express online or from any other banks asking for your credentials.
Check the email address where the email came from.
Check the website where you're asked to enter your personal information. Take note that BPI's website is bpi.com.ph.
If in doubt, contact BPI Hotline 89-100 right away!
Frequently Asked Questions about BPI Online
Q: What is the new website of BPI? 
The new website of BPI is www.bpi.com.ph. It used to be www.bpiexpressonline.com. But even if you type the old URL, you will still be redirected to the new website. www.bpi.com.ph is the official website of BPI.
Q: How is the new BPI website different from the older website, BPI Express Online? 
The new BPI website has a new design that is simpler, much easier to navigate, and is optimized to work in any device that you are using.
Q: Is it safe to use BPI Online and BPI Mobile Banking App? 
Yes. BPI employs the latest security measures and technology to make sure that your mobile banking experience is both safe and hassle-free. It also requires One-Time PIN (OTP) which is a security code that is only valid for one transaction.
The OTP is sent to your registered mobile number and it provides an extra layer of security. You will be required to input an OTP to confirm and complete your transactions.
Q: Can other people use the BPI Mobile app on my phone to check their accounts?
As part of the protection provided by device registration, only your account can be accessed via your BPI Mobile app.
Q: What is BPI Hotline? 
BPI Hotline in Metro Manila is (02) 89-100.
BPI Domestic Toll Free

1-800-188-89100 (available for PLDT)

BPI Mobile Phone and International Access
BPI Email Address: expressonline@bpi.com.ph
BPI Branch Locator – click here
RELATED ARTICLES: