Have you experienced waiting in long queues at the BPI branch?
I have, and I swear I hate waiting in long lines especially at the bank. It's so unproductive.
That's why I'm so happy that my favorite banks have cash accept machines that allow me to deposit to my account or to another person's account without having to wait in long queues.
Actually, I rarely go to the bank since most of my transactions can now be done online. I only go there if I need to deposit. However, if the bank's deposit accept machine is offline or under maintenance, the next thing I do is to deposit money over the counter.
Unfortunately, most of the time, depositing at the bank involves long waiting time.
What's good about BPI is that they have BPI Express Assist Online or BEA Online and I have been using it for several years now.
What is BPI Express Assist Online?
BPI Express Assist (BEA) Online is a facility that allows depositors like us to fast track our banking time by reserving a timeslot for us in the branch.
Normally, when we go to the branch, we use the machine onsite where we enter our transaction details, then we get a small paper with our Queue Number. Then we wait for our number to be shown on their TV screen or to be called by the teller.
With BPI Express Assist Online, you get your Queue Number online and it is given more priority. Your number will be called within the 30-minute timeframe of your chosen appointment schedule.
Meaning, if you chose 10:00AM – 10:30AM, your queue number will be called within that time even if there's a lot of people in the bank who are waiting in long queues.
BPI Express Assist Online is very helpful if you don't want to wait in long queues or if you have an urgent deposit transaction to make.
How to get BPI Electronic Queue Number through BPI Express Assist Online? 
BPI Express Assist Online can be accessed through BPI Express Online. Therefore, you must be registered first in order to login to your BPI account online.
Once you have a BPI Express Online Account, here's what you need to do:
Step 1
Go to BPI's website at https://www.bpiexpressonline.com, then login using your User ID and Password.
Step 2
Once you're logged in, hover your mouse cursor to Other Services tab in the main menu, then click BPI Express Assist Online at the very bottom of the drop down list.

Step 3
Select Schedule an Appointment, then click OK.

Step 4
To Schedule an Appointment:
Select your preferred BPI branch
Select your appointment date
Select your appointment time
Then click Confirm to continue.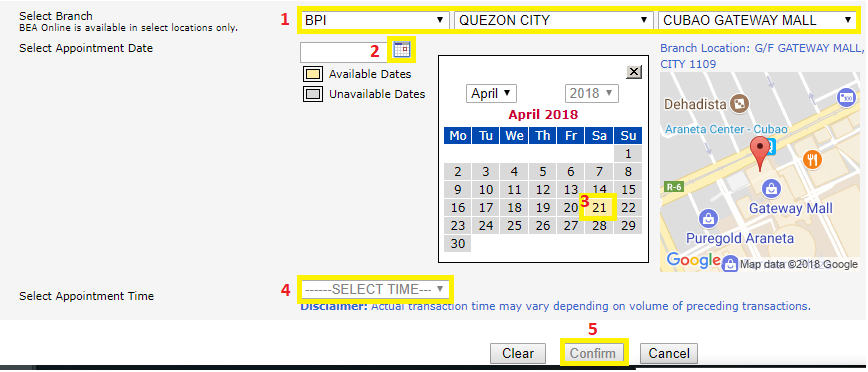 Step 5
Select Transaction Type (example, Deposit), then click Confirm.
Enter your transaction details including the Account Number, Transaction Type, and Amount. Then click Submit.
View the details of your transaction, double check, then click Confirm.

Step 6
Write down or print your Electronic Queue Number.

Step 7
Show up at your preferred branch, wait for your queue number to be called or flashed on the screen, then verify and perform your transaction details with the bank teller.
That's it!
Do this before you go to the bank or even if you're already at the bank and I guarantee your waiting time will be shortened.
Things you need to know about BEA Online
You can submit your transactions up to the last 30-minute window of your selected branch.
BEA Online is available even on weekends. You can select the day and time of your transactions at the branch of your choice up to 2 calendar days in advance.
You are allowed to enter up to a maximum of 5 transactions in BEA Online per appointment.
Your electronic queue number is valid only on the appointment date and time at the selected branch. If you missed it, you would have to get another E-Queue number at a different schedule.
BEA Online is only available in select locations.
BEA Online is free of charge.
BEA Online is optional. If you don't like to use it, you can go directly to the bank, get your Queue Number and wait until you're called.
If you want another way to deposit money to a BPI account conveniently, try BPI Cash Accept Machine.