Having a checking account is important because it's usually one of the requirements when applying for a loan such as housing loan, auto loan, and personal loan.
And when it comes to opening a checking account, I highly recommend BPI because of its swift application process.
I applied for my BPI checking account three years ago when I applied for a personal loan with another bank. I brought all the required documents and paid for the checkbook and I got my checking account in less than an hour.
The application process was straightforward and the approval was really fast.
This is one of the reasons why I remain a loyal customer of BPI.
If you're planning to open a BPI Checking account, this article is for you.
Types of BPI Checking Account
Express Teller
Ka-Negosyo
Maxi-One
Business Checking
Rates
The rates vary depending on the type of checking out that you choose.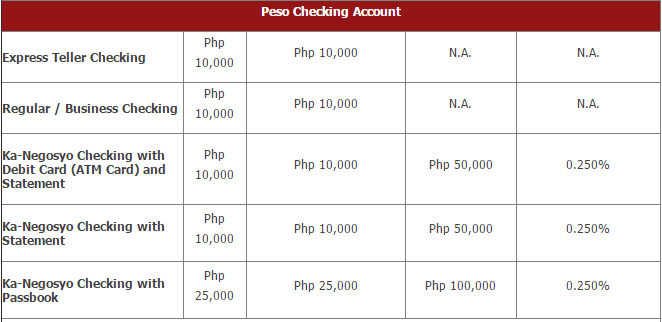 Requirements in opening a BPI Checking Account
2 valid IDs (government issued like SSS, UMID, Passport, etc)
2 1×1 photo (bring 2×2 photo as well just in case they ask for it)
proof of billing (credit card statement or utility bills)
Procedures in Opening BPI Checking Account
Step 1 – Go to the nearest BPI Branch (preferably your branch of account)
Step 2 – Fill out the BPI Checking Account Opening Form
Step 3 – Submit the Requirements
Step 4 – Pay 10,000 for Initial Deposit
Step 5 – Pay P175 for checkbook
After they check your requirement and approve your application, you will get your new BPI Checking Account checkbook immediately.
They'll give you some info about it and how to properly use your checking account. If you have any questions, please don't hesitate to ask the officer who assists you.
Why Apply for a BPI Checking Account
Before you apply for a BPI Checking Account, make sure you know your purpose. Is it for your car loan, house loan, personal loan, or for your business?
This is important because the bank will not easily approve your application if you have no clear purpose.
Remember also that maintaining a checking account comes with a responsibility.
Make sure you keep your checkbook in safe and secure place so no one can access or make transactions without your permission.
Make sure to fund your checking account to avoid bouncing checks.
Click here to read: How to Fund your BPI Checking Account
When I purchased my car last year, the process was also faster than I thought because I already had a checking account. Without it, I'm sure it would have taken longer for me to purchase my car. My BPI Checking Account has been helpful and it has been serving me pretty well.
Applying for a checking account is not as complicated as you might have thought it was. Just bring all your requirements and apply personally at the nearest BPI branch and you'll have your checking account in no time.
How to Reorder BPI Checkbook
To reorder a checkbook, you can visit any BPI branch and fill out their order form. The payment of P175 per checkbook will be debited from your BPI checking account. You can also reorder by calling the BPI Hotline 89-100. The checkbook can be picked up at your preferred branch or you can have it delivered to your address.
Click here to know how you can get a FREE Checkbook Wallet from BPI.
Click here to know how to apply for BPI Savings Account.
For more info about BPI Checking Account, contact BPI Hotline 89-100 or visit their website, or go to the nearest BPI branch.