BPI Credit Card Promo with Free Jollibee Meals is back!
I'm so excited with this promo because I use my credit card very often and I feel I deserve to receive free treats from BPI.
During their previous promos, I enjoyed free meals from Greenwich, Jollibee, and Starbucks. I'm happy that their Jollibee promo is back because not only I enjoy the meals but also my family especially my little girl who's favorite meal is Jollibee Chickenjoy.
How to Avail of this BPI Credit Card Promo
Of course, you must be a BPI Credit cardholder to qualify the promo. You must have any of the following BPI Credit Cards:
Blue Mastercard
Gold Mastercard
Edge/Mini-Edge Mastercard
eCredit Mastercard
Petron-BPI Mastercard
Skymiles Mastercard
Skymiles Platinum Mastercard
And in order to qualify for this promo, you must use your BPI credit card for a minimum straight purchase of P3,000.
In their previous promos, you can avail of free treats depending on the amount of your purchase. For example, there's a corresponding freebie for P3,000, P6,000, and P12,000 purchase.
But for their promo this time, they only have one, which is P3,000 straight purchase from any merchants offline and online, cash advance, and auto-charge transactions.
Transactions that are not qualified are Special Installment Plans, Balance Transfer, Credit-to-Cash, and SIP Loan products.
If you have supplementary cardholders, their BPI credit card purchases are also considered in the promo, but only the principal cardholder need to register.
How to Register for BPI Jollibee Promo 2017
You may register for the BPI Credit Card Promo either thru TEXT or thru EMAIL.
To Register thru TEXT or SMS:

Text BPITHRILLS<space>16-digit customer number and send to 2256.
Example: BPITHRILLS 0201001234567890 and send to 2256

To register thru EMAIL:

Type the 16-digit customer number in the subject line and send to this email address: register@bpithrills.ph
Example:

To: register@bpithrills.ph
Subject: 0201001234567890
I tried to register thru TEXT but it didn't push through because my mobile number with my BPI account is not updated. So, I registered thru EMAIL instead.
After I registered, I received an auto-response immediately from BPI Thrills with the subject: Registration Acknowledgement. It says that I will receive my registration confirmation within 2 banking days.
I received mine the next day.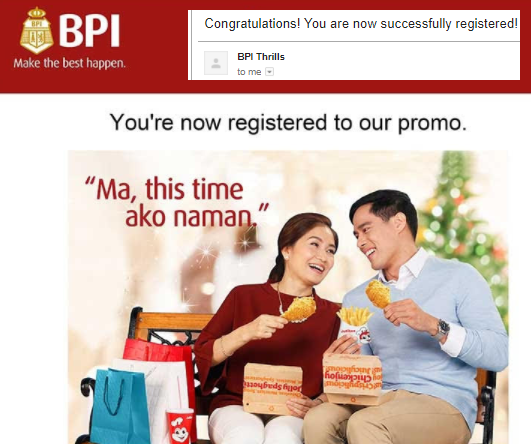 It also says that if my registration is successful, I will start receiving my Jollibee eCoupons from my qualified transactions. I received mine soon after I received the confirmation of my registration.

You can register for this BPI Credit Card Promo from October 1, 2017 to January 15, 2018.
It's FREE to register and you only need to register ONCE.
What do you get from Jollibee?
For your qualified P3,000 worth of credit card straight purchases, you may choose from these two options:
1-pc Chickenjoy with Plain Rice + Regular Fries + Regular Soda (OR)
Jolly Spaghetti + 1-pc Burger Steak with Rice + Regular Soda
Redemption is valid for dine-in and take out and not valid for Drive Thru.
You are allowed multiple redemptions per day per store, up to a maximum of 60 eCoupons allowed per customer within the redemption period, which is until March 16, 2018.
Make sure to inform the Jollibee personnel before you place an order, that you want to use or redeem your eCoupons. And make sure that you have a printed copy or screenshot/picture of your eCoupons on your phone to show/present to them.
This is how the ecoupon looks like if received via email.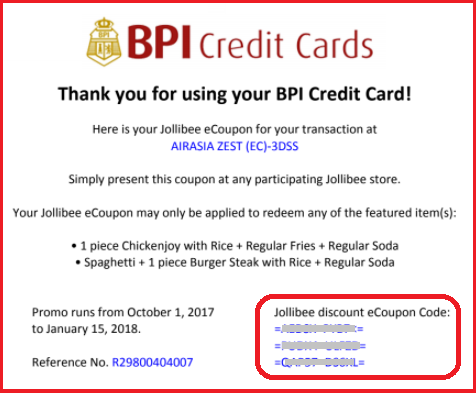 To know more about the BPI Credit Card Promo with Free Jollibee Meals, you may visit the BPI website. Or you may call BPI Hotline 89-100.
It's time to treat your family to Jollibee for FREE using your qualified BPI Credit Card Transactions. Kita-kits sa Jollibee! 🙂
Click here to read: