Among my four credit cards from different banks, BPI credit card is my favorite. I've had my BPI credit card for almost 8 years now and I never had any problems with it.
I had it when I was still employed and I'm very happy that it came with a free annual fee for life feature. I don't have to worry about renewing or paying the card yearly.
My brother, who I applied as a supplementary card holder, uses his BPI credit card for his small business and we both enjoy the perks and freebies that we get from our credit card points.
Having a credit card is really useful especially if you know how to use it properly. And if you want to have your own credit card, read on as I share the steps on how to apply for a BPI Credit Card.
Types of BPI Credit Cards
Choose the Type of BPI Credit Card that fits your needs and lifestyle.
BPI Family Credit Card
BPI eCredit
BPI Amore Visa
BPI Amore Visa Platinum
BPI Edge Mastercard
BPI Blue Mastercard
BPI Gold Mastercard
Petron – BPI Mastercard
BPI Skymiles Mastercard
BPI Skymiles Platinum Mastercard
Who can apply for BPI Credit Card? 
You can apply for a BPI Credit Card if you meet the following eligibility criteria.
1. Age
At least 21 years old for Primary Card Applicants
At least 13 years old for Supplementary Card Applicants
2. Monthly Income
P15,000 minimum fixed monthly income (excluding overtime, commissions, or service fees) for BPI Amore Visa, BPI Blue Mastercard, BPI SkyMiles Mastercard, Petron-BPI Mastercard, BPI Edge Mastercard, BPI Family Credit Card
P40,000 for BPI Gold MasterCard
3. Contact Number
Residence or Business Landline Number
Personal Mobile Number
4. Address
Your home or business address must be within a 30km. radius of a BPI or BPI Family Bank branch or Provincial Business Center with proof of residence (utility bill or barangay clearance).
Requirements for BPI Credit Card Application
1. At least 1 Valid ID
Valid Passport
Postal ID
Driver's License
Voter's ID
PRC ID
TIN ID
UMID
NBI Clearance
Police Clearance
Senior Citizen Card
2. Proof of Income
Employed Applicants

Certificate of Employment (COE) or Contract of Employment (for OFWs)
2 latest pay slips
latest ITR or Income Tax Return
latest credit card statement (if applicable)

Self-Employed Applicants

Latest Audited Financial Statements (AFS)
Latest ITR or Income Tax Return
latest credit card statement (if applicable)
Important Reminder: Application forms received without requirements will not be processed.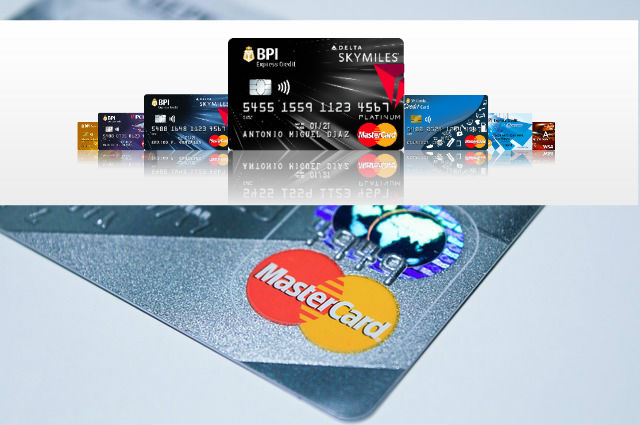 How to Apply for BPI Credit Card Application
1. Prepare your all your requirements.
2. Fill out the BPI Credit Card Application Form personally at the bank or online.
3. If you apply at the bank, submit the completely filled-out application form and photocopy of the requirements. You may also have to present/show the original documents if necessary.
If you apply online, submit the completely filled-out application form and attached scanned copies of the requirements.
You may also send the requirements through:
Fax: 845-5738 Routing Code 20022
Mail: 14th Floor, BPI Card Center, 8753 Paseo de Roxas, Makati City
Important Reminder: Your application will be cancelled if documents are not received within 3 banking days.
How to Check the Status of your BPI Credit Card Application
After you submitted your application form and complete requirements, someone from BPI will call you to acknowledge your application and to give you status or updates. Usually it takes 1-2 weeks to review and process your application.
You can also check your application status online. You must be registered to BPI Express Online in order to do this.
Here's how…
Enter your BPI Express Online Username and Password to login
Click Other Services, then Application Status Inquiry, then Credit Card.
Enter the date of your application.
Next to "Application Submitted to," click "Internet" from the drop-down list.
Enter your contact number and hit submit
If you have further inquiries about your BPI Credit Card Application, you may contact BPI Hotline at 89-100 or visit the nearest BPI branch.
Be a Responsible Credit Cardholder
If your credit card application is approved, please be a responsible credit cardholder. Use it wisely and responsibly. Pay your bills on time.
Having a credit card has many advantages. You can make big purchases and pay them at 0 or smaller interest rates and staggered payments. You can use your credit card to make online purchases or book flights and reservations online. And in times of financial emergencies, you can use your credit card.
My BPI credit card has been very useful to me and I'm glad I have one. And since I am a responsible credit cardholder, I never had any issues with BPI.
I always pay on time, thus my credit standing has improved over the years. My credit card limit has been increased many times in the last 8 years. I have availed of many perks and freebies using my credit card like free treats from Jollibee, Starbucks, Red Ribbon, and many more.
Click here to read: Metrobank Credit Card Application