Good news! SSS extends LRP or Loan Restructuring Program until April 1, 2019.
It only means that you still have a chance to apply for SSS LRP provided that you have not previously availed of it.
If you have past due loans with the Social Security System, this is your chance to settle your loans without having to pay the penalties. Instead, you will only pay the principal loan amount and the interest.
Even if it's only the penalty that will be waived through the SSS LRP, it's still a big help. A member who had an accumulated loan balance of ₱70,000 in a span of 11 years, saved ₱30,000 from penalties after availing of the SSS Condonation Program.
What is SSS Loan Condonation Program? 
SSS Loan Condonation is a program of the Social Security System that aims to help SSS members who have been affected by the calamities and disasters that struck different areas in the country.
With this program, SSS members who have past due loans are given a chance to pay off their loans either in full or through installment basis at a much lower rate. It's lower rate because the penalties will be condoned or will be deducted from their total loan balance which will make it easier for borrowers to settle their loans.
SSS Loan Condonation is also called SSS Loan Restructuring Program or LRP.
Who are Eligible to Apply for SSS Loan Condonation? 
SSS members with loans that have not been paid for at least 6 months from April 2, 2018, are qualified to apply for the SSS Loan Condonation Program.
Since this program is just an extension to the first SSS LRP, one of the requirements is that SSS members must have stayed/worked or are presently residing/working in calamity and disaster-stricken areas.
Just to clarify, this doesn't necessarily mean that you must have been directly affected or that your house or office had been flooded during the typhoon. NO. It just requires that your place of residence or work had been declared by the national government under State of Calamity.
Not sure about this? Well, just check the table below and look for your city or province.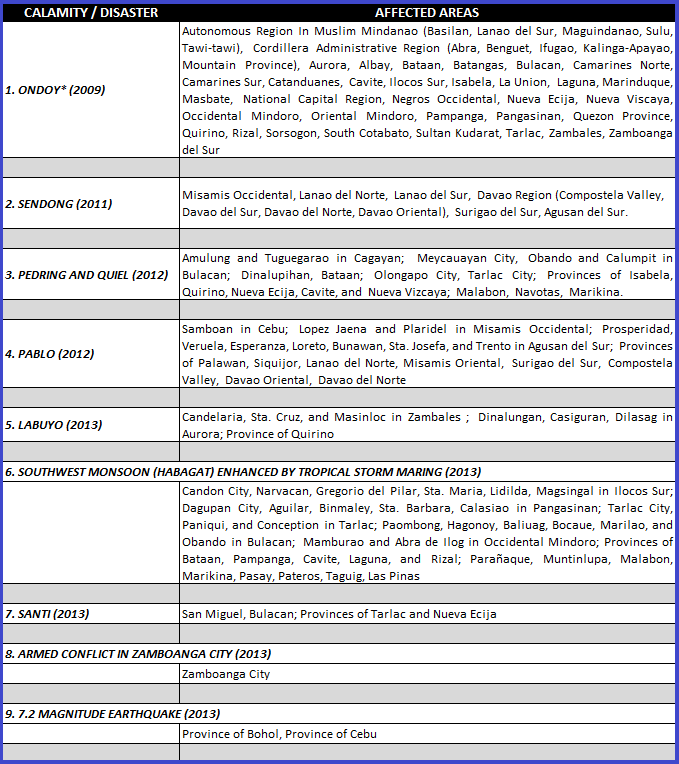 If you look closely at the list, you'll realize that almost, if not all areas or provinces in the Philippines, are there.
Even the entire National Capital Region (NCR), including Metro Manila, was declared under State of Calamity by the national government during typhoon Ondoy in 2009.
So, if you have any unpaid loans from the SSS, go ahead and avail of the SSS Loan Condonation Program now.
The following members are not qualified to apply for SSS LRP:
SSS members who have approved LRP before
SSS members with past due loans below 6 months
SSS members who have been granted with any final benefit claim (retirement, disability)
While SSS wants to help delinquent members to pay off their loans throug the SSS LRP, SSS also wants to instill credit discipline. Hence, SSS members with approved LRP aplications can no longer participate in any future SSS loan condonation or restructuring programs.
How to Apply for SSS Loan Restructuring Program
If you believe you are eligible and qualified to avail of the LRP, the next step is to prepare the requirements, then go to the nearest SSS office to personally apply for the SSS LRP.
Prepare the LRP Requirements
Statement of Loan Balances

Request for this at the SSS office when you inquire/apply for LRP

SSS LRP Application Form
Affidavit of Residency
2 Valid IDs

Bring valid IDs which contains your signature and picture
Bring other supporting documents if you have only 1 valid ID
Those who cannot apply personally may authorize a representative to submit these documents to the nearest SSS branch and apply for the LRP.
In addition to the requirements above, you must also submit the following:
Original Copy of Special Power of Attorney (SPA)
Photocopy of 2 valid IDs each of the member-borrower and the representative.
Click here to read: How to Apply for SSS Loan Restructuring Program (LRP) for OFWs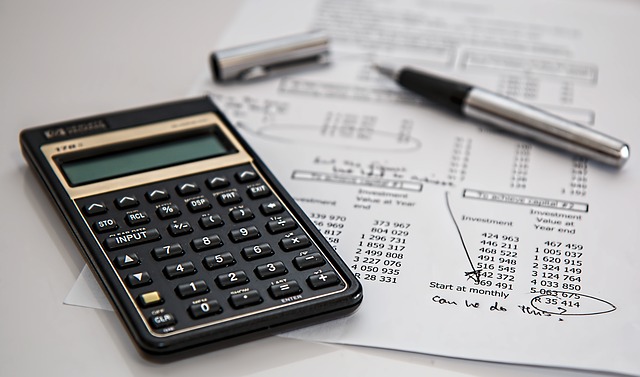 LRP Application Procedures
Step 1 
Secure a copy of the Affidavit of Residency, then have it notarized at the nearest Notary Public Office. This may cost you around ₱150.
Step 2
Go to the nearest SSS branch and ask the guard or the Information Officer on where you should go to apply for SSS LRP. If they give you a Queue Number, wait until you're called before you proceed to the SSS officer who will handle your LRP application.
Step 3
Once your number is called, approach the SSS officer and tell him/her that you want to apply for SSS LRP. He/She will then ask for your SSS number and complete name to verify your SSS membership status and SSS loan balance.
You will then be given a copy of your Statement of Loan Balances and the officer will explain to you the details of the SSS Loan Restructuring Program.
You will be asked to fill out the SSS LRP Application Form, and you have to attach your Affidavit of Residency, and valid IDs.
You will be given options either to settle it in full or through an installment basis. After you have agreed on the payment option, the SSS officer will print the LRP Terms and Conditions together with the schedule or deadline of your loan payment.
Step 4
Pay your loan balance according to your payment schedule. If you pay beyond the deadline, expect that there may be additional interest when they recompute your loan balance.
When can you REAPPLY for another SSS Loan? 
If you are thinking of availing of another loan from the SSS, you can only do that 6 months after you have fully paid your previous loan.
You must have also paid at least 6 months of contributions to the SSS in the last 12 months to be able to apply for a new loan.
To know the requirements when applying for a Salary Loan, read this:
To know more about the SSS Loan Restructuring Program, read this:
If you have any questions about the SSS LRP or if you have any concerns about your SSS membership, you may call the SSS Customer Service at 920-6446 to 55, visit the SSS website, or go to the nearest SSS branch to inquire.
Please feel free to share this article to your friends and relatives who have past due loans so that they too can take advantage of this SSS Loan Condonation Program.
For more details about the extension of SSS LRP, visit SSS website.
RELATED ARTICLES: