Many OFWs have been asking us how they can apply for the SSS Loan Restructuring Program (LRP) or SSS Loan Condonation.
Actually, the steps are almost the same with the article that we have posted yesterday, except that there are two additional requirements that you need to submit including the SPA or Special Power of Attorney and your representative's valid ID.
The SSS Loan Restructuring Program is for those who have past due loans from the Social Security System.
This program was first made available last April 2016 to April 2017. However, despite it being available for one whole year, a lot of delinquent members still missed the deadline.
After a year of asking for an extension for the LRP, SSS member-borrowers' request has finally been granted. The Social Security System with President Duterte's approval, relaunched the SSS Loan Restructuring Program, which will start tomorrow, April 2, until October 1, 2018.
That's another 6 months and that's long enough for members to apply for SSS LRP and settle their past due loans with the SSS.
Qualifications
For OFWs who are planning to avail of this program, you must meet the following qualifications:
Your loan must have been past due for at least 6 months from April 2, 2018.
Your address in the Philippines must be included in the list of the calamity/disaster-stricken areas.
You don't have an approved LRP application in SSS records.
You have not been granted with any final benefit claim (retirement or permanent disability)
For more details about the qualification requirements above, please read our previous post.
Requirements
Statement of Loan Balances

Request for this at the SSS office when you apply for LRP

SSS LRP Application Form
Affidavit of Residency for Foreign Office
Original Copy of Special Power of Attorney (SPA)
Photocopy of 2 valid IDs each of the member-borrower and the representative

Your ID must contain photo and signature
2 Ways to Apply for SSS Loan Restructuring Program for OFWs
You can apply personally if there is an SSS office in the country where you are currently working or living.
You can authorize your representative here in the Philippines to apply for LRP in any SSS branch
Note: There is no online application for SSS LRP. Either you or your representative must apply personally at the SSS branch.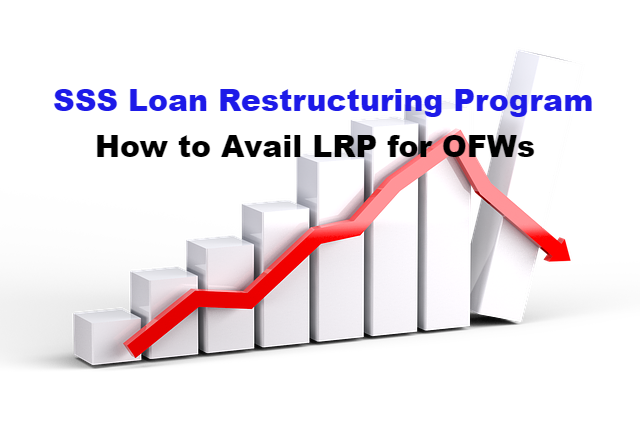 Steps to Apply for SSS Loan Restructuring Program for OFWs
Prepare all the requirements and accomplish the forms and documents

Fill out the LRP forms completely
Have the Affidavit of Residency notarized
Bring valid IDs

Go to the nearest SSS branch

Request for your Statement of Loan Balances
Submit the LRP forms and requirements

The SSS Officer will explain the details of LRP and the loan payment terms

Choose whether you will pay it in full or installment

Once you agreed on the payment terms, you may start paying your loan balances on the schedule stated in the contract.
Important Reminders about SSS Loan Restructuring Program 2018
The SSS Loan Restructuring Program condones or deducts your

loan penalty only

and not your entire loan balance. You must still pay your principal loan amount and the accumulated interest.
This is only available for a

limited time

so take advantage of this opportunity. If you're qualified, apply for SSS LRP as soon as possible.
You can avail of the SSS LRP

once only

. You cannot avail of this program again in the future, so be responsible and pay your loans on time.
You can apply for a new loan from the SSS 6 months after you have fully paid your previous loan, provided you have paid at least 6 months of your SSS contributions in the last 12 months.
Pay your SSS contributions consistently to avoid any delays and issues when claiming SSS benefits.
For more information about SSS Loan Restructuring Program, read the following related articles:
Contact SSS
For inquiries about SSS LRP, check the OFW Contact Services Unit below or you may contact the Local SSS Hotline at 920-6446 to 55. You may also post your questions at the comment section below and we'll try our best to give you an answer.