Update: The SSS Loan Restructuring Program is available again from April 2 to October 1, 2018. Click the links below for more details.
The Philippine Social Security System has launched the SSS Loan Restructuring Program (LRP), also known as SSS Condonation, last April 28, 2016 and it's available until April 27, 2017.
If you are an SSS member and you have past due SSS loan, you still have 2 months to apply for SSS LRP.
But why wait 'til April to file for SSS LRP?
Apply now or as soon as possible to avoid the last minute filing rush.
Don't take this for granted. I guarantee you, this will help you pay your loan balances more easily.
What is SSS Loan Restructuring Program?
It is a program that aims to help SSS member-borrowers to pay off their overdue loans from the Social Security System by condoning loan penalties.
With this program, the SSS will recompute the loan balance of the member-borrower based on his/her total loan balance and capacity to pay either in full or by installment.
But instead of having to pay for the loan principal amount, interest, and penalty, the member-borrower will only have to settle the principal and interest. The penalty will be condoned.
How my Aunt Saved almost 50% off her loan balance 
My Aunt applied for an SSS Loan back in June 2005. That was 11 years ago and she never paid for it.
When she heard about SSS Loan Restructuring Program last year, she prepared all the requirements and went to the SSS branch immediately to file for LRP.
The principal amount was Php 18,485.58. But I guess this is already the net amount (less service fee and tax) and she probably applied for a Php 20,000 loan amount.
When the SSS officer recomputed her loan balance after 11 years without any single payment, she was shocked with the result:
Loan Amount: Php 18,485.58
Interest: Php 17,499.84
Penalty: Php 31,543.36
TOTAL Loan Balance: Php 67,528.78
From Php 18,485.58, her loan balance has now ballooned to Php 67,528.78. 
The interest was only a thousand less than the loan amount, while the penalty was almost double.
Here comes the SSS LRP…
With the help of this program, in which the penalty will be condoned, my Aunt's loan balance went down from 67,528.78 to 35,985.42.
Computation: 
67,528.78 (total loan balance) – 31,543.36 (penalty) = 35,985.42 (updated loan balance)
This is how my Aunt saved 47% off her loan balance and why you should apply too if you have an SSS loan that you haven't paid for at least 6 months.
If you want to know the requirements and the steps on how to apply for SSS LRP, read on as I share with you the step-by-step procedures.
Who can Apply for this Program?
1. Member-borrowers who have past due Calamity Loans or Salary Loan Early Renewal Program (SLERP).
2. Member-borrowers with past due short-term loans living or working in calamity/disaster stricken areas as declared by the National Disaster Risk Reduction and Management Council (NDRRMC) or in the case of Ondoy, by the National Government.
Covered short-term loan programs are as follows:
Salary Loan
Emergency Loan
Educational Loan (old)
Study Now Pay Later Plan
Voc Tech Loans
Y2K Loans
Investments Incentive Loan
This means that this is not only for those who have past-due Calamity Loans, although the main aim of SSS is to help those who were affected by the calamities in our country.
As Ms. Boobie Angela A. Ocay, SSS assistant vice-president, said in her statement…
"The LRP is in response to the widespread clamor from individuals and organizations to alleviate the burden of calamity-stricken workers, who face difficulties in paying their SSS loans after suffering from natural and man-made disasters that have devastated our country in recent years." (source)
How would you know if you are eligible to apply for SSS LRP? 
Some SSS member-borrowers are hesitant to apply for LRP thinking that they're not eligible since they were not affected by any calamity.
But did you know that almost all areas in the Philippines have been under a State of Calamity?
In fact, during typhoon Ondoy in 2009, the entire NCR or National Capital Region, including Metro Manila was declared by the national government under State of Calamity.
Therefore, if you were working or living anywhere in Metro Manila during typhoon Ondoy or even right now when you apply for LRP, you are eligible.
Here's the complete list of areas affected by calamities or disasters in the Philippines: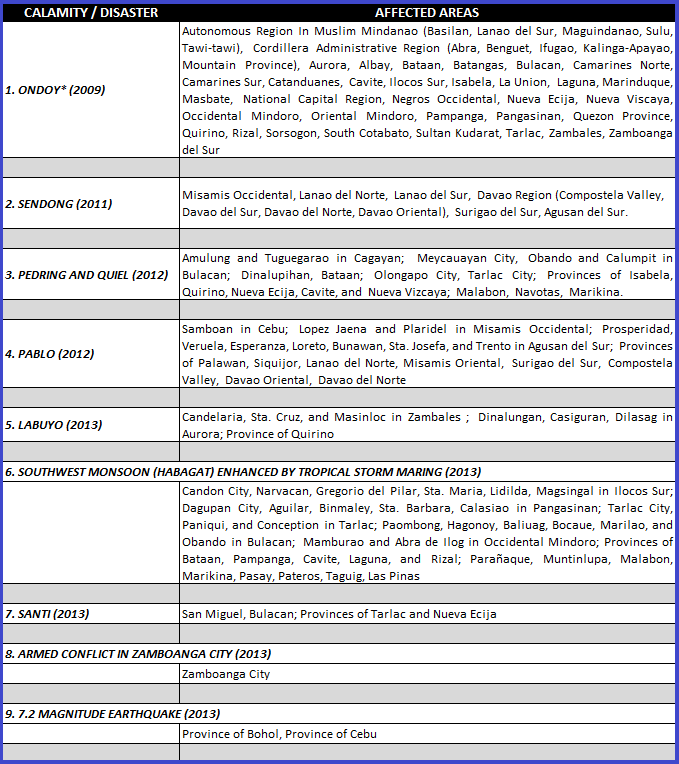 Other Eligibility Requirements
3. The loan must be past due for a period of at least 6 months as of the first day of restructuring period (April 28, 2016).
4. The member-borrower:
Must be living or working in calamity/ disaster declared areas as of disaster date or as of application date. "Living" shall refer to the home address of the member-borrower (See Areas Covered);
Must be under 65 years old at the end of the installment term;
Has not been granted any final benefit, i.e. total permanent disability or retirement
Has not been disqualified due to fraud committed against the SSS
Member-borrowers with final benefits application (Death, Total Disability, Retirement) whose contingency date is on or before the last day of the availment period of the restructuring program. Said final benefit claim must be filed within the availment period.
Step-by-Step Guide on How to Apply for SSS Loan Restructuring Program 
You'll find different procedures on the internet on how to do this, but I'll share with you the simplest way based from my Aunt's LRP application experience.
Here we go…
Step 1: 
Get a copy of SSS LRP Form at the SSS branch or click the link to download. Fill it out with the required information.
Step 2:
Get a copy of Affidavit of Residency  at the SSS branch (or click the link to download) to attest your home address or work address in a covered calamity area when the calamity or disaster happened.
Find a Notary Public Office nearby and have this affidavit notarized. You might have to pay P100-P200 for this.
Step 3:
Prepare 2 valid IDs for verification at the SSS branch.
Step 4:
Go to the nearest SSS branch or I suggest you go to a branch with less applicants like SSS Eastwood Branch and SSS Puregold Cubao branch. They're pretty new so not a lot of people are familiar with the branch yet.
Once you're there, tell the guard or the Information officer that you're going to apply for SSS LRP.
If you already have a copy of the LRP Application Form and Affidavit, tell them so they can give you the instruction on where to go next. They might give you a Queue Number so just wait for your turn.
Step 5:
When your name or number is called, submit your application and requirements to the SSS officer who will assist you throughout the process.
He/she will explain to you everything about LRP, loan balance computation, and payment options.
Feel free to ask the SSS officer if you have any questions or if you need clarification.
What to do if you can't apply personally or you're an OFW?
If you can't apply personally or if you're an OFW, you can still apply for SSS LRP.
Follow the steps above and ask a relative to be your representative and have him/her submit the following additional requirements to any SSS branch in the Philippines or to the SSS office abroad if there's one there in your country.
Note: To download the document or file, click the link to open, then right click, and click save as to save it to your computer.
Restructured Loan, Payment Options, and Other Terms and Conditions
1. RESTRUCTURED LOAN
The sum of principal and accrued interests of all past due short-term loans of the member-borrower shall be consolidated into one Restructured Loan (RL1).
2. PAYMENT TERM
The member-borrower may elect his preferred payment term but not to exceed five years.
Full payment – payable within 30 days from the approval date of restructuring application
Installment payment – payable in equal monthly amortization based on payment range as follows:
RL1 Range
Applicable Term

P

2,000.00 to

P

18,000.00
12 months

P

18,000.01 to

P

36,000.00
24 months

P

36,000.01 to

P

54,000.00
36 months

P

54,000.01 to

P

72,000.00
48 months
More than

P

72,000.00
60 months

3. INTEREST RATE AND PENALTY
For installment term, RL1 shall be subject to interest rate of 3% per annum computed on a diminishing principal balance over the applicable payment term.
A penalty of 0.5% shall be charged against the amortization due for every month unpaid during RL1 term.
4. CONDITIONAL CONDONATION
Penalties shall be condoned after full payment of outstanding principal and interest of RL1 within the approved term.  The balance of RL1 should be zero at the end of the term.  Otherwise, the unpaid principal of RL1 and the proportionate balance of condonable penalty shall become part of a new principal under Restructured Loan 2 (RL2).
5. INTEREST RATE AFTER TERM EXPIRY
After the term of RL1 expires and the loan remains outstanding, the new principal balance under RL2 shall henceforth be charged with an interest rate of 10% per annum until fully paid.
6. DUE DATES & MANNER OF PAYMENT
Monthly installment shall be due for payment every 10th day of the month following the amortization month. Amortization shall start on the month immediately following the approval date of the Restructured Loan.
Example:    Restructured Loan Approval Month – February
1st amortization month – March
1st installment amortization is due on April 10
Payment shall be made through any SSS branch with tellering facilities or authorized collection agent of the SSS.
Note: SSS advise member-borrowers to pay their first monthly amortization at the SSS branch for proper posting.
7. OTHER CONDITIONS
The member-borrower must personally apply for the restructuring thru SSS branches (Over-the-Counter).
Member-borrowers who cannot personally apply for the restructuring program may execute a notarized Special Power of Attorney (SPA).
The member-borrower must execute an Affidavit attesting that he/she lived in the covered area during the calamity period specified (except for member-borrower with Calamity Loan or Salary Loan Early Renewal Program [SLERP]).
While the Restructured Loan is existing or outstanding, the member-borrower cannot avail other SSS short-term loan programs including Educational Assistance Loan Program.
The member-borrower may avail of SSS short-term loan program after six (6) months from the date of full payment of the Restructured Loan.
Once the member-borrower availed of this loan restructuring program, he/she is disqualified from availing of any future loan condonation/restructuring programs of SSS.
During the term of the restructured loan, the member-borrower shall notify SSS branch his/her updated contact information thru accomplishment of Member Data Change Request Form (SS Form E4).
In case of member-borrower's death, total disability, or retirement, the total loan obligation or any unpaid amount of the loan as well as the interest and penalty, if any, shall be deducted from the final benefits.
This is a rather long article, but I hope I was able to answer all your questions about LRP. If you have other concerns, please feel free to post your comments below or you may contact SSS directly.
Contact SSS
For SSS LRP concerns, EMAIL — memberloansdept@sss.gov.ph or ocayba@sss.gov.ph
With the following information:
1. Full name
2. SS number
3. Birth date
4. Scanned 2 unexpired valid IDs (with photo and signature)
5. Complete details of your concern
For verification and other inquiries, please contact SSS directly through the following:
SSS Call Center: 920-6446 to 55
SSS domestic toll free: 1-800-10-2255777  
SSS Email: member_relations@sss.gov.ph
SSS Facebook: https://www.facebook.com/SSSPh