From time to time, we check our bank account balance to know how much we have in our account or if a remittance has already arrived.
For Metrobank account holders, checking your account balance can be done in different ways including at the ATM machine, over-the-counter at the bank, or through Metrobank Online Balance Inquiry.
For me, checking my Metrobank account balance has been very easy and hassle-free because I do it online using my cellphone or computer.
Here's how to check your Metrobank Account Balance Online
Step 1
Go to Metrobank Direct website at https://personal.metrobankdirect.com/
Step 2
Enter your correct User ID and Password. Note: Copy-paste is not allowed here so you have to type your login credentials manually.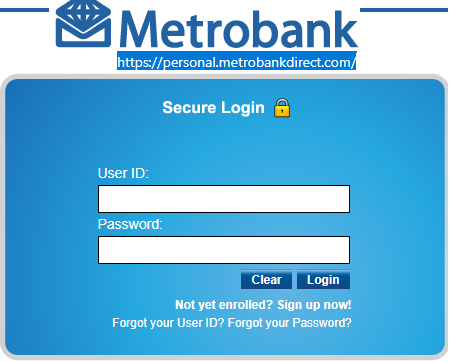 Step 3
Once you're logged in, you can now view your Metrobank Account Balance online.

That's it! That is how easy and fast it is to do Metrobank Online Balance Inquiry. It's pretty straightforward.
What is Metrobank Direct
Metrobank Direct is Metrobank's online platform where registered users can access their Metrobank account online.
Aside from balance inquiry, we can do so many things with Metrobank Direct. We can send or transfer money to other accounts and we can pay bills online including Meralco bill, Maynilad, or PLDT Bill.
If you are planning to visit the Metrobank branch, you also set up an appointment online to skip the long queues when you go directly to the bank.
Is Metrobank Direct Online Banking Safe? 
Yes, it is. However, you have to be extra careful when doing your Metrobank online transactions.
Here are some tips to avoid fraud: 
Always make sure that you go to the correct website. It is https://personal.metrobankdirect.com/.
After your online transaction, always LOGOUT immediately.
If you receive an email or SMS asking for your personal account information, NEVER give it away. Metrobank will never proactively ask for your information via email or SMS.
Keep your username and password in a safe place. Don't share them with anyone.
Update your password regularly and use a password that consists of letters, numbers, and special characters.
If you think you are a victim of fraud, call Metrobank hotline immediately:

Local: (02) 8700-700
International: 1-800-1888-5775
Email: fraudalert@metrobank.com.ph
If you need to visit a Metrobank branch, click here to find the one near your location.
Click here to read: