Are you planning to apply for Metrobank credit card?
In this article, you will know the requirements and the step-by-step process of applying for a credit card with Metrobank.
I personally applied for my Metrobank Credit Card at a financial event two years ago wherein Metrobank was one of the sponsors.  I first had the Metrobank Femme and they eventually sent me more cards, but  I decided to stick with the classic one and cut off the others.
Metrobank offers different types of credit cards and all you have to do is choose the one that fits your lifestyle or is appropriate for your business if you have any.
Here's the list of Metrobank Credit Cards:
Metrobank Peso Platinum Mastercard
Metrobank World Mastercard
Metrobank Travel Platinum Visa
Metrobank Femme Signature Visa
Metrobank ON Internet Mastercard
Metrobank Dollar Mastercard
Metrobank Femme Visa
Metrobank Classic Card
Metrobank M Free Mastercard
Metrobank  Lite Mastercard
Metrobank Gold Card
Toyota Mastercard
Robinsons Mastercard
Metrobank Femme-Icanserve Visa
PSBank Credit Mastercard
The Bistro Group Visa
YAZZ Reloadable Prepaid Visa Card
If you don't want to worry about paying the annual fees, I suggest you apply for the Metrobank M Free Mastercard.
You can enjoy the benefits of using a credit card but you don't have to call the bank each year to request for your annual fee to be waived. It's FREE for life.
Requirements to apply for Metrobank Credit Card
There are two main requirements for credit card application with Metrobank: Valid IDs and Proof of Income.
List of Valid IDs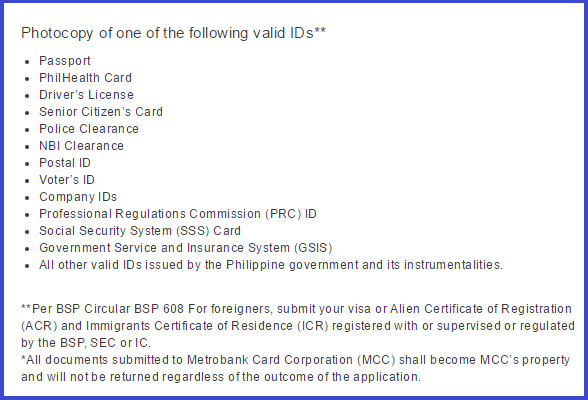 Proof of Income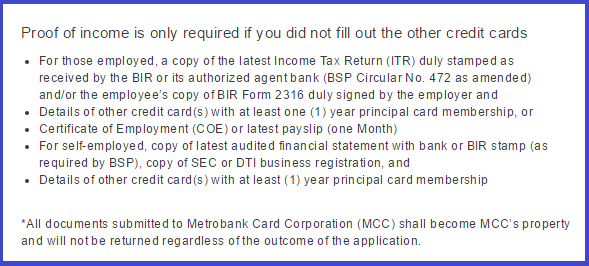 Step-by-step Guide for Metrobank Credit Card Application
Step 1 – Go to Metrobankcard.com to apply for credit card online.
Step 2 – Choose the type of credit card that you want to apply for by clicking on the dropdown menu.
Step 3 – Fill out the credit card online application form with all the required information. Make sure to enter complete and correct information on all fields. Fields marked with an asterisk are mandatory.
Under My Personal Data, it requires your personal information, home address, TIN or Tax Identification Number and Personal Reference.
Under My Job, you need to choose your main source of funds whether employment, investments, or self-employed/business. Then fill out the all the other required info.
Under My Financial Standing, enter your Gross Monthly Income and your other credit card accounts if you have any.
Under My Spouse, enter the complete name of you spouse if you're married. If not, just put N/A on the fields.
Under My Supplementary, enter the information of the person/s that you wish to apply for as a supplementary cardholder.
Step 4 – Choose your preferred delivery/payment option.
Step 5 – Attach your application requirements.
Step 6 – Read the Terms and Conditions and tick off the box and enter the Captcha.
Step 7 – Click Submit for Review.

Delivery of Metrobank Credit Card
If your credit card application with Metrobank has been approved, your card will be delivered either to your home or office address.
As for the delivery fee, you can either pay in cash or check at aMetrobank/PSBank branch.
If you're requesting for ADA or Auto-Debit Arrangement, you may inquire directly at your preferred Metrobank branch.
Be Responsible
It's easy to apply for a credit card especially if you meet all the requirements. However, having a credit card comes with responsibility.
You have to be a responsible credit cardholder to avoid overspending and incur penalties or additional charges.
Only spend what you can afford to pay. It's easier said than done, but you really need to have self-control and discipline when using your credit card.
If your credit card and you as as cardholder is in good standing, your credit standing will improve which will be beneficial to you especially when you apply for loans (auto, housing, business, etc.). You will also get to enjoy all the perks and benefits of being a good credit cardholder.
Metrobank Credit Card Promo 2017
Metrobank has an ongoing promo which allows you to redeem Red Ribbon and Greenwich Treats if you qualify.
For more information, please visit Metrobank's website or call Metrobank Hotline (632) 8700-700.