My mother-in-law is a member of the Philippine Social Security System and she has made 108 contributions to the SSS before she stopped paying in 2005 when her small business closed down.
On December 2016, she underwent a surgical operation wherein her left leg was amputated due to diabetes.
On August 2017, she filed a claim for SSS disability benefit at the SSS Cubao branch without expecting that it will be granted because she has not been paying her SSS contributions in the past 11 years with an outstanding salary loan amounting to P68,000 (inclusive of the principal loan amount, interests, and penalties).
Good thing there was an ongoing condonation program (SSS Loan Restructuring Program or LRP) that time. Instead of paying P68,000, she only had to pay less than P40,000 for the principal loan amount and interest minus the penalties.
After her salary loan was settled, the filing of her SSS disability benefit claim was then processed.
On November 2017 (almost three months after filing the claim), she received a mail from the SSS stating that her SSS Disability Benefit was approved and she may claim from the bank the amount of P47,000.
That amount represents the net accrued pension from December 2016 (when she got partially disabled for her leg amputation) to January 2018.
My mother-in-law was very happy to know that her disability benefit was approved. She was expecting that if it's approved, she will only start receiving her disability benefit monthly pension on November 2017 and she did not expect that the previous months will still be paid and in lump sum.
We were all thankful that she is a member of the SSS and the SSS provided the disability benefit for my mother-in-law. The lump sum that she received and her monthly pension will be used for her medications, therapy sessions and other personal needs.
Why we should be a member of the SSS
The SSS Disability Benefit that my mother-in-law was able to claim is just one of the many benefits that the SSS provides to its members. Other benefits include sickness benefit, maternity benefit, retirement benefit, death and funeral benefit, and the ability to take out a loan such as a salary loan, calamity loan, educational loan or a housing loan.
Being a member of the SSS can assist us financially in times of need like if we get sick, disabled or we need cash badly and we have no one to borrow money from.  Or when you retire, you can use your monthly pension from SSS for your essential needs and medications/maintenance. If you pass away, your beneficiaries can avail of the monthly pension and other benefits.
With all these benefits, why should you not be a member of the SSS?
If you're not yet a member, be a member now. If you're already a member but you stopped paying your contributions, continue paying now. You never know when you're going to need these benefits so it's a good idea to be responsible now and not regret later.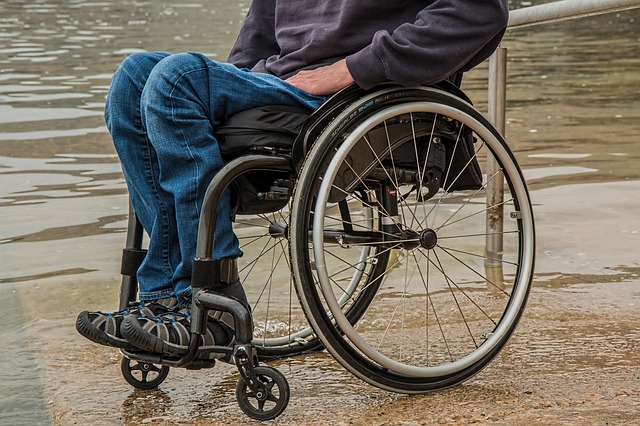 What you need to know about SSS Disability Benefit
What is SSS Disability Benefit?
SSS Disabililty Benefit is a cash benefit that an SSS member can claim in the event that he gets disabled or he could no longer perform an activity or his work within the range considered normal for a human being as a result of an illness or accident.
An SSS member who suffers partial or total permanent disability may avail of this benefit provided that he has paid at least 1 monthly contribution to the SSS prior to the semester of contingency.
What are the 2 Types of Disability Benefit?
1. Monthly pension – If the member has paid at least 36 monthly SSS contributions prior to the semester of disability, he may qualify to avail of the monthly pension or a cash benefit from SSS.
2. Lump sum amount – If the member has not met the required 36 monthly SSS contributions, and if his approved disability period is payable for less than 12 months, he may qualify to receive a cash benefit from the SSS.
What are the factors in computing the SSS Disability Benefit?
The amount of the monthly pension for Disability Benefit will be based on the following:
number of paid SSS contributions and
years of membership prior to the semester of disability

P1,000 monthly pension – below 10 CYS (Credited Years of Service)
P1,200 monthly pension – at least 10 CYS
P2,400 monthly pension – at least 20 CYS
A lifetime monthly pension can be granted only to an SSS member with a total permanent disability.
The monthly pension of a partially disabled member is paid up to a certain number of months only. It's not a lifetime benefit. If the member's condition deteriorates due to the same illness or injury, he may be entitled to claim additional disability benefit.
The monthly pension can be suspended if the disabled member recovers from the disability or resumes employment OR if the disabled member fails to report for annual physical examination when notified by the SSS.
What are the Other Benefits of the Disabled Member?
A. Supplemental Allowance
A member with total or partial disability may receive a supplemental allowance of P500.00 per month to provide additional financial assistance to meet the extra needs that may arise due to the member's disability.
B. 13th Month Pension
The totally disabled member will receive a 13th month pension every December.
The partially disabled member will receive a 13th month pension every December, PROVIDED, that the
pension duration is at least 12 months.
C. Dependent's Allowance
If the the totally disabled pensioner has dependent children who are below 21 years old (including the legitimate, legitimated, legally adopted and illegitimate children), who were conceived on or before the date of contingency, will each receive a dependent's allowance equivalent to 10% of the member's pension or P250 (whichever is higher).
The dependent's allowance will be discontinued when the child reaches 21 years old, or when he gets married, or when he gets employed, or when he dies.
Who will claim the monthly pension of a disability pensioner when he dies?
For Totally Disabled Pensioner, his primary beneficiaries shall be entitled to 100% of the monthly pension; and the dependents to the dependent's pension, except for the supplemental allowance which will not be included.
For Partially Disabled Pensioner, his monthly pension will stop once he retires or dies. Remember that the monthly pension of the partially disabled member is limited only to a certain number of months according to the degree of his disability and it may be discontinued anytime even before he retires or dies.
What types of illnesses or injuries are considered as a disability?
Partial Permanent Disability
It refers to a complete and permanent loss or use of any of the following body parts, but which does not totally prevent a member from engaging in any activity or gainful occupation.
one thumb
one index finger
one middle finger
one ring finger
one little finger
hearing of one ear
hearing of both ears
sight of one eye
one big toe
one hand
one arm
one foot
one leg
one ear
both ears
Total Permanent Disability
It refers to a complete and permanent loss or use of any of the following body parts that may totally prevent a member from engaging in any activity or gainful occupation.
complete loss of sight of both eyes
loss of two limbs at or above the ankles or wrists
permanent complete paralysis of two limbs
brain injury resulting to incurable imbecility or insanity
such cases as determined and approved by the SSS
How to Apply for SSS Disability Benefit?
Step 1 – Get a copy of the Disability Application Form from the SSS office. Or you may download it here: Disability Claim Application (DisCA) Form.
Fill out the form with all the required information.
Step 2 – Prepare all the required documents
Member's/Claimant's Photo and Signature Form (for initial claims only)
SSS Medical Certificate Form, accomplished by attending physician within six (6) months
from the date of filing
Supporting medical records (certified true copy)
Member or Filer's SS card or other valid ID cards or documents
Other Required Documents

In my mother-in-law's case, since she was amputated, she was required to submit a certified true copy of Hospital Abstract/Discharge Summary and Operation Records.

If for pension – photocopy of either passbook or ATM card with validated deposit slip or Cash card Enrollment Form
If for total disability pension, with dependent children:

certified true copy of marriage certificate registered with LCR/NSO
certified true copy of birth certificate of legitimate or legitimated dependent children
legal adoption papers for legally adopted children (date of adoption must be prior to date of disability)
any proof of filiation for illegitimate dependent children
claim for Dependent's Allowance (SS Form BPN-106)
See the complete list of requirements here: SSS Disability Benefit Guidebook.
Step 3 –Submit your SSS Disability Benefit Application and requirements to the nearest SSS branch.
If the disabled member is unable to file Disability claim personally, he may authorize a representative to submit his documents together with a sketch of the member's residence or place of confinement (if local resident) and a physical examination report describing disabling manifestation, signed by attending physician (if residing abroad).
Processing Time – The processing of SSS Disability Benefit may take 2-3 months. Make sure to submit all the required documents to avoid delay in processing.
In my mother's case, the SSS employee who assisted her during filing texted her one time to ask for a scanned copy of her valid IDs.
You may inquire or follow up on your SSS Disability Benefit application through the direct landline number of the  SSS employee who assisted you. Or you may call the SSS Call Center at 920-6446 to 55. Or you may visit the branch where you filed it to follow up on your benefit claim.
Click here to read: