Do you want to know if your SSS Contribution payment has already been posted on your SSS account?
Or do you want to find out how much have you paid so far for your SSS contributions as an SSS member?
Well, that's easy now with My.SSS.
What is My.SSS
My.SSS is the online portal of the Philippine Social Security System which allows its registered members to view their SSS contributions online anytime and anywhere.
It means that you do not always have to go to the SSS branch.
With the SSS Online platform, some services can now be done online including:
viewing your SSS contributions
checking your SSS info and updating of contact information
generating your SSS PRN or Payment Reference Number
checking your loan balance
setting an appointment with SSS
and more!
All you have to do is open your smartphone or computer, connect to the internet, and explore the SSS website.
You'll be amazed at how accessible your SSS membership records are and how much time you'll save for not having to go to the SSS branch.
How to Register in My.SSS
If this is your first time to hear about My.SSS, your first step is to register your SSS account to the SSS online portal. Here's how:
Step 1:
Go to sss.gov.ph. Click the 'Click Here' button under 'Not Yet Registered in My.SSS'.
Step 2
Select one of the information below to register as SSS member online:
Savings Account Number
Mobile Number Registered in SSS
UMID Card
Employer ID Number
Payment Reference Number
Step 3
Fill out the Online User ID Registration completely from top to bottom.
Step 4
Upon successful registration, a confirmation message will show up on the screen and a system notification will be sent to your registered email address within 30 minutes.
Step 5
Check your email inbox. You should receive a message with the subject, SSS Web Registration, and it should come from web.notifications@sss.gov.ph.
Look for the User ID and the link to activate your My.SSS account. 
You should activate your account within 5 working days, otherwise, the activation link will expire and you will need to register again.
Step 6
Click the Activation Link below your User ID. It will redirect you to a page where you need to set your Password with the following guidelines:
Length must be 8-20 alpha-numeric characters.
First character must be alphabetic.
No special characters must be different from the User ID.
Once your password is updated, you will automatically be logged in to your SSS online account where you can view your SSS contributions.
Watch this video tutorial on how to register in My.SSS Online:
4 Simple Steps to Check SSS Contribution Online
Step 1
Go to the SSS website at sss.gov.ph.
Tip: The SSS website works best with Internet Explorer. If you don't have it, you may try Google Chrome, Mozilla Firefox, or whatever is available on your device.
Step 2
Under Member Login, enter your User ID and Password. You may check your email to find these info.
Step 3
Once you're logged in, look for E-Services, then click Inquiry.

Note: If an Advisory appears on the screen, don't panic! Just click OK and follow these steps…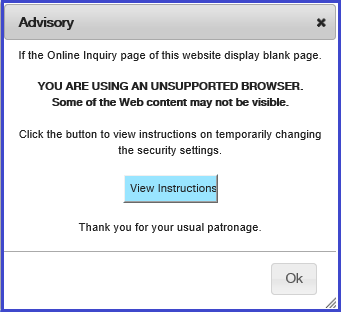 For Internet Explorer, make sure you have the latest version of this browser and click OK to proceed
For Mozilla Firefox, click the Shield Icon, which you can find on the the URL or address bar (either on the left or right of https://sss.gov.ph on top of the browser), then click the Options button and click Disable Protection for Now
For Google Chrome, click the Shield Icon, then click Load unsafe script.
If the Advisory reappears after doing these steps, just hit OK again and you should be able to get into your SSS Online account.
Step 4
Under Employee Static Information, look for Member Info tab, and click Actual Premiums.

You should now be able to view your SSS contribution online including the total number and amount of contribution.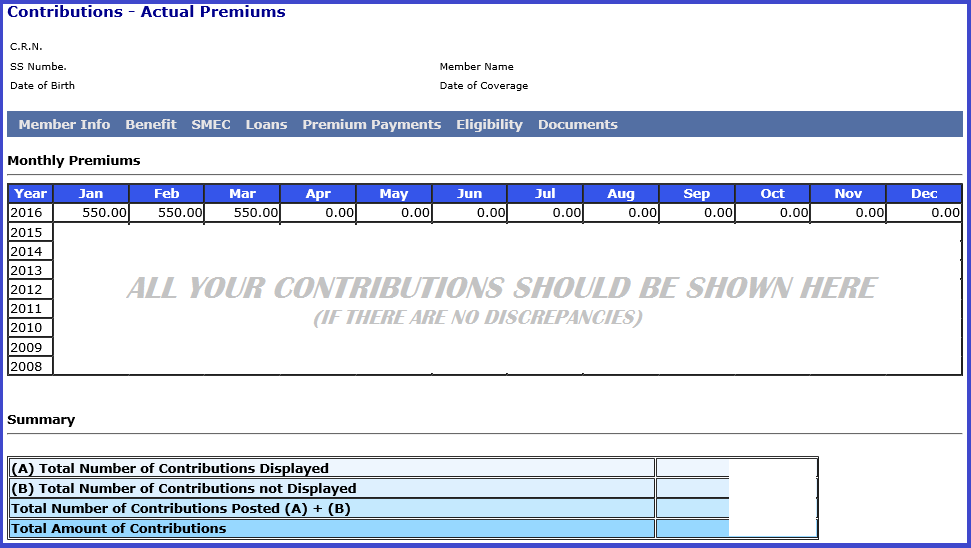 Watch this video tutorial on how to check SSS Contribution online:
Why You Should Check your SSS Contribution Regularly
It's important to check your SSS contribution from time to time to make sure that your payments are posted properly.
If you're a voluntary member, checking your SSS contribution will allow you to check if there are discrepancies in your contributions so that you can address them as early as possible.
Just make sure you keep a copy of your payment receipts in case you need it.
If you're employed, this is your way of checking if your company or employer is remitting the correct amount of your SSS contribution and if they do it on time.
What if you discover that your employer is not paying your SSS Contribution? 
This is a serious issue, but try to talk to your HR Personnel first and ask why no contributions are showing up on your SSS online account.
Maybe it's just delayed or they're still processing it, so just ask politely.
But… if they say that they're paying it on time, then try to ask if you can get a copy of the receipts for your contribution.
If they can't give you anything, ask more why's…
If all else fails, then it's time to report them to SSS.
SSS is now more serious in pursuing those employers and companies who do not pay their employees' SSS contributions, which is a violation of RA 8282 Social Security Law.
In fact, many delinquent companies and employers have already been punished and penalized for this violation.
So, if you're having the same issue, feel free to contact SSS.
SSS Customer Service
If you have any concerns or questions about your SSS membership, SSS contribution, or SSS benefits, you may contact the Philippines Security System through the following:
SSS Hotline: 920-6446 to 55
SSS Email Address:  member_relations@sss.gov.ph
SSS Facebook: https://www.facebook.com/SSSPh
SSS Website: www.sss.gov.ph
SSS Address: SSS Branches in Manila and in Malls
RELATED ARTICLES: