Are you still using your old Metrobank Debit and Prepaid Cards? Do you know that you can no longer use them by November 15, 2017?
Yes, that's right! That's why you need to have it replaced as soon as possible.
My husband receives his salary from his online job through his Metrobank Debit Card. Yesterday, he was just supposed to withdraw cash over-the-counter at the nearest Metrobank Branch when the bank officer informed him that he needs to replace his card with the new EMV card.
We had our BDO Joint Account Debit Cards replaced last week so were quite aware of it but my husband had no plans of replacing it until yesterday.
The process took longer than usual because it wasn't his branch of account and the bank officer had to get an approval from the branch of account. He even suggested that we should visit the branch of account for faster processing but we opt to stay with the branch.
After two hours of waiting, my husband finally received his new EMV Metrobank Debit Card.
What is EMV Card? 
EMV stands for Europay, Mastercard, and VISA. It is a global standard for credit, debit and prepaid payment cards based on a chip card technology. This Chip technology provides increased security and protection from fraud and other account risks.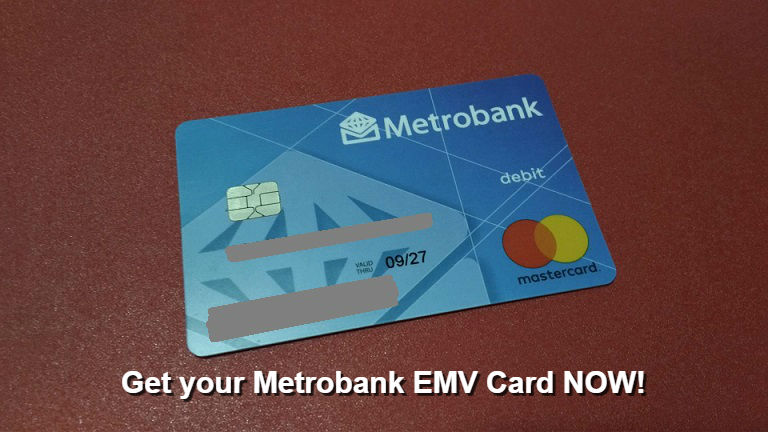 Bangko Sentral ng Pilipinas through Circular No. 859 (Europay, Mastercard and Visa Implementation Guidelines), has been encouraging all the banks to have cards replaced to EMV for increased security and to avoid card frauds.
Aside from security purposes, the new EMC cards offer other advantages including:
Global Payment Interoperability – The EMV is a smart card that's already a standard around the world.
Easy and Convenient Shopping – The card is simply inserted into an EMV chip terminal when making the purchase at point-of-sale (POS).
Is the card replacement free? 
Yes, it's free! You don't have to pay to have your old Metrobank card replaced with the new one.
Your existing non-EMV card will be deactivated upon issuance of your new EMV chip card.
You may get a FREE replacement at your preferred Metrobank Branch if your new card is defective.
However, a replacement fee of Php 150.00 will be charged for lost or stolen newly-issued EMV chip-enabled cards.
Types of EMV Cards
For existing Metrobank cardholders, please refer to the table below for the type of replacement card that you will receive.
| | |
| --- | --- |
| Existing | Replacement |
| Metrobank ET Card | Metrobank EMV Debit Mastercard |
| Metrobank Debit Mastercard | Metrobank EMV Debit Mastercard |
| Metrobank AccountOne Mastercard | Metrobank EMV AccountOne MasterCard |
| Metrobank Prepaid Mastercard | Metrobank EMV Prepaid MasterCard |
Can the EMV Card Replacement be delivered to your home or office address? 
No. The new EMV card cannot be delivered to your address due to security reasons. You may visit any Metrobank branch to personally claim your replacement chip card. 
What if I am out of the country, how can I get my EMV Card? 
You may get your new EMV card through your Authorized Representative at any domestic Metrobank branch.
What your Authorized Representative should bring at the Metrobank branch for verification and authentication:
An Authorization Letter
His/her valid ID
A copy of your ID
Click here to read the detailed Replacement Guidelines of OFW ATM/Debit Cards to EMV Chip Enabled Debit Card.
What will happen if I don't replace my card? 
You may no longer be able to use your old or non-EMV card by November 15, 2017. That's why you're highly encouraged to have it replaced ASAP.
For Metrobank payroll accountholders, you may coordinate directly with your respective company Payroll or HR Department for the replacement of your card.
Can I use my new Metrobank EMV Card for Online Purchases? 
Yes, your new Metrobank EMV chip card can be used for online transactions.
You can also access your Online or Mobile Banking account using the same your existing login credentials (User ID and Password). Your access to electronic channels and Phonebanking will remain active.
How to Contact Metrobank for Inquiries
Metrobank Contact Center at (02) 8700700
Domestic Toll Free 1 800 18885775
Visit any Metrobank branch (click here for Metrobank Branch Locator)
To read more about Metrobank, click the links below: