If you have been unable to login to your SSS online account either because you forgot your username or password or you simply don't know your login info, then you should reset it now to be able to access your account again.
In order to reset your SSS account, you should know either your username or email address. Otherwise, the only way to do this is by contacting SSS  directly.
Option 1:
Reset your SSS Password using your User ID or Email Address
Assuming you know your username or the email address associated to your SSS online account, here are the steps to reset your password.
Step 1 – Go to sss.gov.ph preferably by using Internet Explorer since this is what SSS recommends.
Step 2 – Under Member Login, click "Forgot User ID or Password?"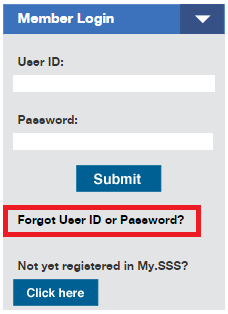 Step 3 – If you still remember your User ID or Email Address, enter one of them in the correct field and click Submit.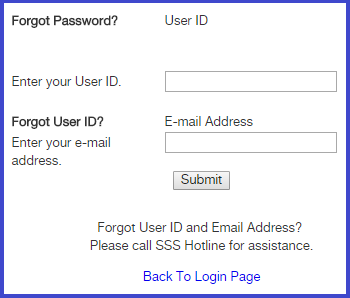 Step 4 – Check your email and look for the email from noreply@sss.gov.ph with the Subject: SSS Website Forgot Password.
In that email, you will see your User ID and the Retrieved Password. Go back to sss.gov.ph and try to login using these info.
Option 2:
Reset your SSS Password by Contacting SSS directly (without User ID or Email Address)
Assuming you don't remember your User ID or your email address doesn't work when you try to request for password reset, the next best thing is to contact SSS directly.
1. Send an email to member_relations@sss.gov.ph using your active email address, with the following info:
Subject: THRU FACEBOOK
Content of the email

Details of Concern (SSS Password Reset)
Complete Name
Contact Number
Active Email Address
10-digit SSS number
Date of Birth
Employment History

Attachment:

Scanned copy or screenshot of your valid IDs with photo and signature.
2. Post a COMMENT or send a private message on the official Facebook page of Philippine Social Security System (Government Organization) to follow up on your SSS User ID and Password Recovery request.
Include the following info on your comment:
Email Address – it should be the one that you used to send your email request
Date and Time – when you sent your email request
SSS Email address – where you sent your email request to (member_relations@sss.gov.ph)
SSS advises members to post comments during office hours so that they can reply immediately and remove your personal info as soon as they see your comment posted. This is to protect your info and to process your request as soon as they can.
Here's an example of the comment that you can post on the SSS FB page:
Following up on my SSS Online Password Reset Request | Email Address: juandelacruz@gmail.com |Date and Time: May 20, 2016 / 9:00 AM |SSS Email Address: member_relations@sss.gov.ph
You may also want to watch this video tutorial on how to reset your SSS password.
Click here to read: How to Register as SSS Member