The Eyequest International Manpower Services, Inc. is currently pooling for Filipino Domestic Helpers or Workers who are interested and willing to work in Singapore.
This is in partnership with Orange Employment Agency and they're hiring Female applicants, 23 years old and above, High School graduate, with or without experience.
The proposed salary for Domestic Workers in Singapore is USD 400 or PHP 20,000.
The interview will be conducted on February 1, 2018 (Thursday) at the agency's office.
Qualifications and Requirements: 
Age: 23+
High School Graduate
No experience required
with ready Valid Passport
No Tattoo
Must not have undergone any surgical operation (ex. Caesarian Section) within the last 3 years for safety)
How to Apply:
If you are interested and qualified for this position as Domestic Worker in Singapore, you may send your updated resume with your diploma to the following email address: maid@eqmanpower.com
You may also apply personally at the agency's office:
Eyequest International Manpower Services, Inc.
Unit 308 Vareb Mansion 1679 Mabini St., Malate, Manila
They're located near the Pan Pacific Hotel and in front of Music 21.
Agency Contact Numbers: 
Look for Ms. Rachel
0998-8648806
0927-6691484
0932-7051388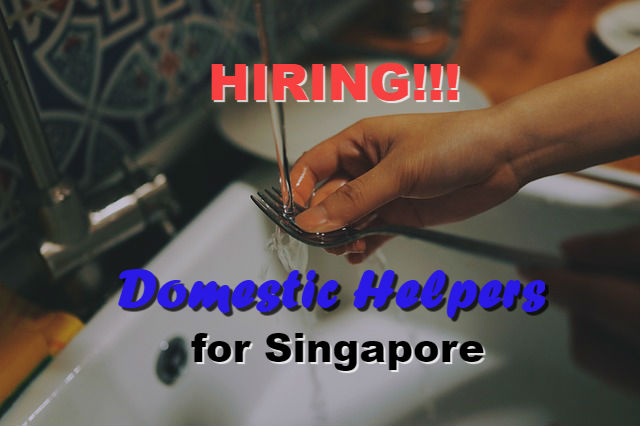 Duties and Responsibilities of a Domestic Helper
The tasks and responsibilities of a Domestic Helper usually include complete housekeeping tasks. However, the tasks may vary depending on the employer and the type of household that the domestic helper is going to serve or care for.
The following are the common tasks of a Domestic Helper:
preparing meals
washing dishes
sweeping, mopping, vacuuming, cleaning the house
laundry
taking care of small children or elderly members of the family
Aside from the above tasks, the Domestic Helper may also be tasked to run some errands like:
grocery shopping
making a trip to the dry cleaner
dropping off or picking up children
taking a family member to doctor appointments or other engagements
These are just some of the possible things or tasks that you will have to do as a Domestic Helper.
If you think you can do these tasks or you're willing to learn and be flexible in performing your job, then you can be qualified as a Domestic Helper.
Most if not all employers develop trust in their domestic helpers that's why they request even more personal or finance-related errands from them.
Be responsible, trustworthy, and industrious. Surely, you'll have a good working relationship with your employers.
Good luck on your application as a Domestic Helper and we wish you success in all your endeavors.
Click here to read: