For Overseas Filipino Workers or OFWs who send money to their family back home, having a bank account that is easy to maintain, accessible anytime and anywhere, with many other features and benefits, is what they need to have.
BPI Pamana Padala is the answer to this.
Specially designed for OFWs, BPI Pamana Padala can help you save on remittance fees. Here's how…
Usually, OFWs deposit money to their own savings account and to their family's account in the Philippines and they pay separate fees for each remittance.
With BPI, you can deposit or remit your money to your own BPI Pamana Padala account (with remittance fee), then transfer money to your family's BPI account through BPI online banking (without remittance fee). In this process, you only pay one remittance fee instead of two.
Why transfer or send money through BPI Online Banking?
Because it's very accessible. Just login to your BPI express online account on your computer or by using your smartphone, and you can easily transfer money to your enrolled account.
If you have activated the Send to Anyone feature of BPI Mobile Banking, you can even send money to anyone including BPI accounts that are not enrolled on your BPI express online account.
In short, if your family in the Philippines need money urgently, you can transfer money instantly through BPI online banking, even if you're at work or at night when the remittance centers are closed.
What are the Features of BPI Pamana Padala? 
Aside from you can save on remittance fees with your BPI Pamana Padala account, you can also avail of the free Personal Accident and Life Insurance coverage that are provided by BPI-Philam Life Assurance Corp.
FREE 90-day Personal Accident Insurance
When you open a BPI Pamana Padala account, you are automatically entitled to a Personal Accident coverage worth P100,000 which is valid for 90 days from the date of your account opening.
FREE Life Insurance Coverage
In order to get this free life insurance coverage, you have to regularly remit or deposit to your BPI Pamana Padala account.
On your fourth remittance (within a 12-month period), you will be entitled to this Free Life Insurance Coverage, which is equivalent to the total amount of remittances sent, up to a maximum of Php 300,000 and USD 6,000.
Knock on wood, but if something happens to you while you're abroad (in case of death), your family or beneficiaries back home will continue to receive remittance for 12 months, to be shouldered by BPI.
Example
Arturo is an OFW who opened a BPI Pamana Padala account early in 2016. He has been consistently sending remittance worth P10,000 monthly to his BPI Pamana Padala account since January 2016.
Counting on a 12-month period, he has remitted a total of P120,000 (P10,000 x 12 months).
In case something happens to him that resulted to his death, his family or his nominated beneficiary will continue to receive Php 10,000 for the next 12 months and this is for free.
Earn Interest when you open BPI Pamana Savings Account with Life Insurance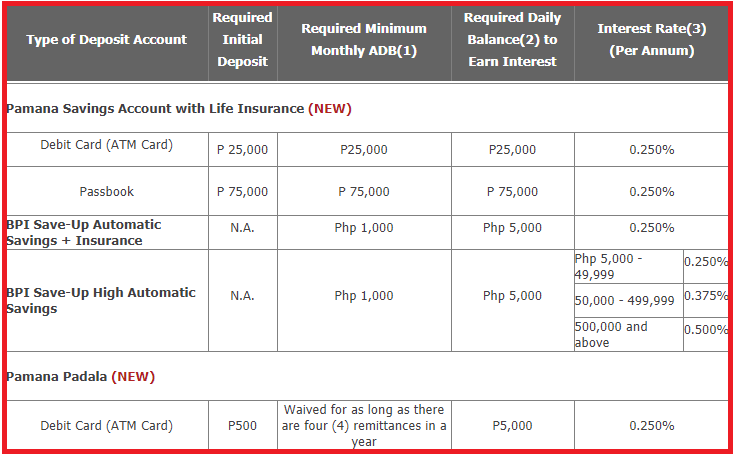 How to Open BPI Pamana Padala Account
Since BPI Pamana Padala account is only available in the Philippines, OFWs can open an account before they go abroad or while they're on vacation here in the country. Just prepare the requirements and visit the nearest BPI branch to open an account.
1. Prepare the Requirements for BPI Pamana Padala Account Opening.
Valid ID with photo and signature
Recent 1×1 ID picture
1 Utility Bill as proof of your billing address
Any of the following as proof that you are an OFW

Work contract
Work visa / Work permit
Overseas Employment Certificate (from POEA)
OWWA ID
Seaman's book
CFO Certificate
PDOS Certificate
Local residence id

Initial deposit – Php 500 or USD 500 only
2. Go to the nearest BPI bank branch and fill out these bank forms:
Standard Account Opening forms
BPI Pamana Padala Enrollment for Group Life Insurance Coverage, to indicate:

Name of Insured

This is also the name of the account holder. For joint "OR" accounts, only the primary account holder shall be designated as the Insured Individual, provided that the designated Insured Individual is an eligible individual.

Name of Beneficiary/ies

It is recommended to nominate beneficiary/ies with blood relation to the Insured (ie spouse, children, parents or brothers and sisters) or the estate administrator of the latter. 
Once your BPI Pamana Padala Account Opening has been processed and approved, you will receive the Proof of Coverage for your Free 90-day Personal Accident Insurance.
Your  Free Life Insurance coverage, on the other hand, will take effect on the date of the fourth Foreign Inward Remittance made within a 12-month period. You will receive your Proof Coverage for the Life Insurance via Email.
You can get your BPI Pamana Padala Debit Card at the branch where you opened that account after 3 banking days.
How to Enroll in BPI Online Banking 
Go to bpiexpressonline.com. Under Personal Login, click Enroll Now!
Fill out the Registration Form with all the required information. You may also enroll your other BPI Accounts, Bills and Third Party Accounts to your BPI Express Online Account.
To Activate your Enrollment, go to the nearest BPI ATM Machine, insert your BPI Card, and on the screen, choose Special Services > Activate Enrollments > Express Online.
To Activate Third Party Accounts, you need to print the Enrollment Form or get it from the bank, fill out the form with the required info, and submit it to the BPI bank officer.
Once your BPI Online Banking account is activated, you can now check your account balance online anytime and anywhere. You can also pay your bills and transfer funds to your enrolled third party account.
To make it easier and more convenient for you, you may also download the BPI Mobile Banking App and activate the Send to Anyone feature. This way, you can transfer or send money to anyone who has a BPI account with no enrollment needed.
Watch this video tutorial on how to enroll in BPI Online Banking.
An alternative to BPI Pamana Padala is BDO Kabayan Savings. Click here to know how to open BDO Kabayan Savings Account.