Is your car insurance expiring soon?
Are you looking for cheaper options other than the car insurance provider that you currently have?
Well, in this article, I'll share with you how I searched for car insurance providers and what I finally got for my car.
Btw, I got my car last year and it came with a free one-year car insurance.
A few days before it expired last month, my sales agent reminded me to renew the car insurance as required by the bank where we have our auto loan with.
I asked for quotations from the in-house car insurance provider of our car dealer and the partner insurance provider of the bank.
Then I checked other options online until I found MoneyMax.com.
MoneyMax is a comparison website for various financial products including loans, credit cards, and car insurance.
It has a wide selection of the top car insurance providers in the Philippines.
How to Request a Quote for Car Insurance at MoneyMax
1. To request a quote, click get a custom quote, and enter your personal information such as your name, email address, and phone number.
2. Then select the brand of your car, model, year, and trim from the drop down options,
3. Choose the primary use of your car:
Personal vehicle
Commercial vehicle
Uber or Grab
4. Choose the type of policy that you're looking for. If it's renewal or expired, you have to enter your previous car insurance provider.
New Policy
Renewal
Expired
5. Choose whether your car is mortgaged or not. If yes, select the bank your car is mortgaged with.
After you enter all these information, a selection of car insurance providers will be shown on the screen for you to check.
You will see a table with the comparison of the features and rates.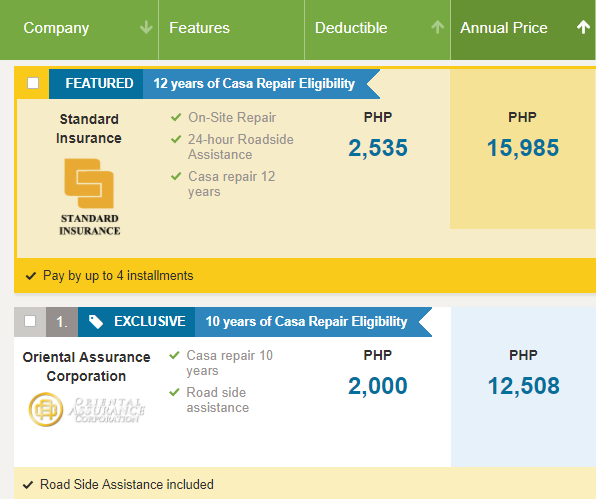 Why I chose Oriental Assurance Corporation for my Car Insurance?
After checking the features and rates of the different car insurance providers, we ended up choosing Oriental Assurance Corporation to provide for our car insurance. Here's why…
It has all the features we need for our car including the acts of nature and personal accident.
The price of our car insurance was affordable and within our budget.
We found positive reviews about Oriental Assurance Corp on the internet.
When we asked the staff from MoneyMax about Oriental Assurance Corp, she said that the company has a good reputation and the processing of the car insurance and claiming procedures are fast and seamless.
Oriental Assurance Corporation has been in the industry since 1962 or 55 years now.
Why I purchased my Car Insurance through MoneyMax?
The process of getting a car insurance through MoneyMax was seamless.
The representative who assisted us was really helpful.
After we agreed and confirmed on the chosen car insurance provider, she sent me the list of required documents and I sent it through email.
OR / CR
Government issued ID
Previous Policy
Deed of Sale or Invoice
Since I chose to pay on an installment basis, I issued Post-dated checks for my payment.
I booked Grab Express to pick up the checks and it was delivered immediately to MoneyMax's representative.
She processed my car insurance application right away and I received a copy of my Car Insurance Policy within 3 days.
I then emailed the Insurance Officer of the bank where our car is mortgaged with and I informed her that my car insurance has already been renewed and I forwarded her a copy of the policy through email.
UPDATE:

June 29, 2018
I renewed my car insurance with Oriental Assurance Corporation through Moneymax again. This time, I only paid ₱9,286 for a 1-year car insurance coverage.
Unlike last year, credit card payment is already accepted now. And they also allowed me to pay in 3 months which made it easier for me to pay our car insurance.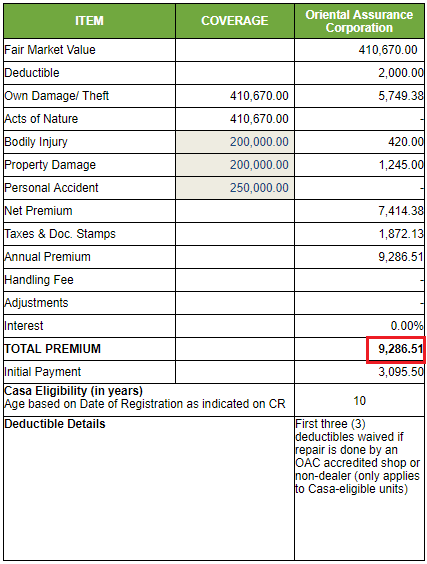 If you're planning to get an insurance for your car, I suggest you check the various options from Moneymax. If you don't like Oriental Assurance or you prefer another car insurance company, Moneymax will help you with that.
You can choose the car insurance that's right for your car and that fits your budget.
Click here to know more about getting a car insurance from Moneymax.
Why we need Car Insurance
No matter how good and experienced you are in driving, accidents on the road may happen unexpectedly. Even passengers or non-drivers meet accidents on the road.
That's why having a car insurance is essential because it gives you peace of mind and the "safety net" when accidents happen.
Here are 5 reasons why you should get a car insurance:
Your car insurance can compensate you for an accident caused by someone else.
Your car insurance can compensate someone else for an accident you caused.
Your car insurance can get your car fixed no matter who's fault the accident is.
Your car insurance can protect your assets.
Your car insurance can protect your auto lender or the bank where your car is mortgaged with.
A car insurance is an additional expense to you but it protects you and others in the event that you get into a car accident. It can save you a lot of money and a lot of stress.
Are you planning to get your car insurance too?
Visit Moneymax website to see their various options for car insurance here in the Philippines.