One of the easiest ways to transfer money to a BPI account is through the BPI Mobile Banking App.
Before I learned about this app, I would usually go to the BPI branch to deposit money even if it meant waiting in the queue for several minutes to even hours.
With BPI Mobile app, all I need to do is log in to my BPI Express online account, and as long as I have available funds, I can transfer to anyone very easily.
Unlike BPI Express Online or BPI online banking, I don't need to enroll another person's account and activate before I could transfer funds.
And that is exactly the reason why I like BPI mobile banking app's transfer-to-anyone feature.
Just to clarify, BPI Express Online is the online banking platform of BPI, while BPI Express Mobile banking app is an application that you download on your smartphone or tablet and it has the Transfer-to-Anyone feature.
The very first thing that you need to do is to register or enroll your BPI account in BPI Express Online.
Once you're registered, you will use the same username and password to log in to your BPI Mobile Banking app.
Steps to Download, Enable and Activate BPI Transfer-to-Anyone
Step 1 – Download the BPI Mobile Banking App from App Store (for iOS devices) or Play Store (for Android devices).
Step 2 – Login to the app using your BPI Express Online's username and password
Step 3 – Once logged in, tap MORE, then choose Enable Transfer to Anyone and enter the all required info.
Step 4 – To activate Transfer-to-Anyone, choose Activate via Express Teller Machine.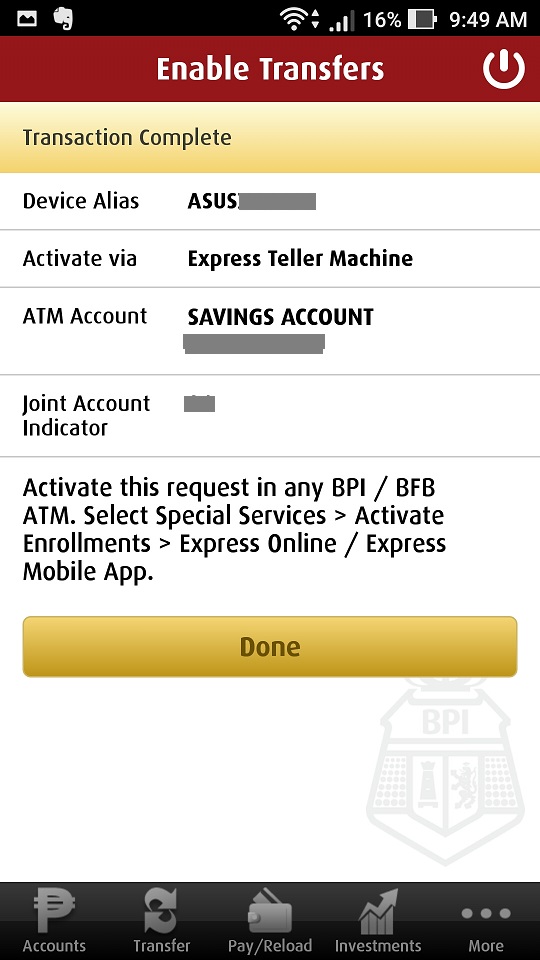 Step 5 – Go to any BPI ATM Machine. Insert your ATM card and Enter your PIN. Select Special Services > Activate Enrollments > Express Online / Express Mobile App
Then it should say, EOL Activation Request Accepted. The Activation Code will be sent to your email within 5 minutes.
Step 6 – Check your email where your BPI account is linked. You should receive an email from  expressmobile@bpi.com.ph with the Activation Code.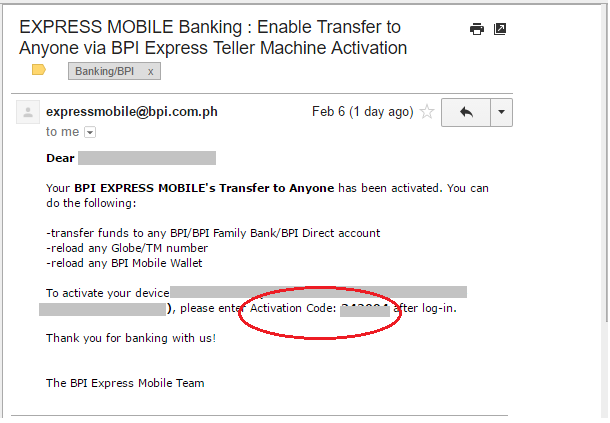 Step 7 – To activate your BPI Transfer-to-Anyone feature, enter the Activation code within 5 banking days from the date of filing.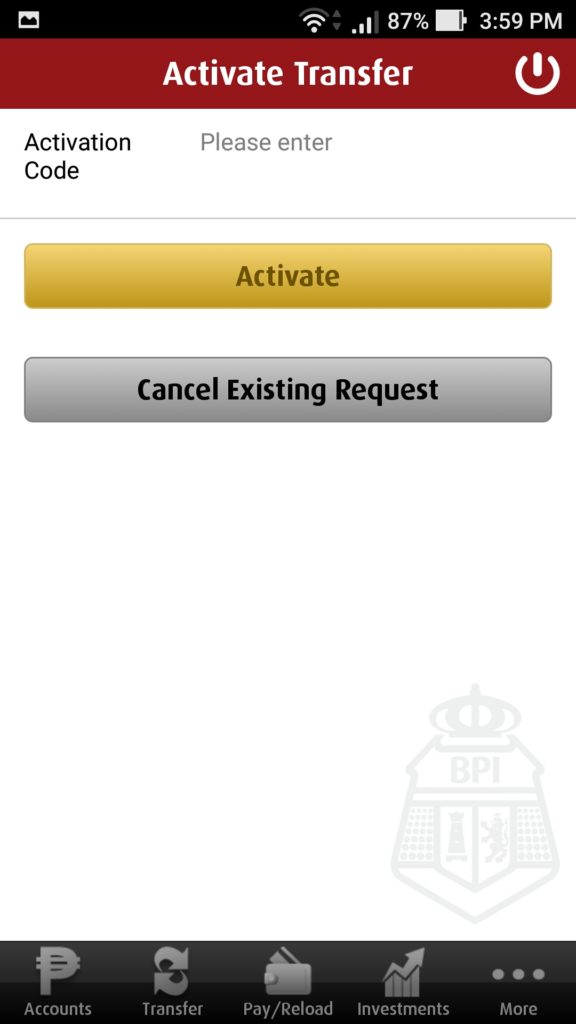 How to Send Money to with BPI Transfer-to-Anyone 
1. Login to BPI Mobile App using your BPI Express Online Username and Password
2. Tap Transfer, then choose the applicable option:
Transfer to Own – BPI accounts under your name
Transfer to 3rd Party – another person or company's BPI   account (enrolled)
Transfer to Anyone – any BPI account (unenrolled)
3. Transfer Money
Choose From Account and To Account
For Enrolled Account, choose the account from the list of enrolled accounts in the drop down options.
For Unenrolled Account, choose Transfer to Anyone and enter the Account Number of the recipient.
Enter the Amount
Tap Transfer
4. Review and Confirm Transfer Details then tap Yes if everything is correct.
Watch BPI Mobile Banking Video Tutorial
TIPS when using BPI Mobile App:
Always double check the account details
Always take a screenshot of the transaction for proof
If your device got stolen or lost, you may call 89-100 to request for deactivation of the Transfer to Anyone feature.
If you want to cancel this feature, simply log in to your device, choose More > Disable Transfer to Anyone.
What you can do with BPI Mobile banking app:
View the balances of your accounts
Transfer funds from your enrolled accounts to any other BPI account
Pay your bills to over 400 partner merchants
Subscribe for or redeem from your investment accounts
Load an Express Cash or Express Money Order card
Reload Globe/TM prepaid numbers
Using the BPI Mobile Banking app will make your transactions easier, faster and more convenient for you.
Take advantage of this and you will save time (and money) since you wouldn't need to go to the bank anymore unless you need to deposit new funds to your account.