Most government offices and financial institutions now require at least 2 valid government IDs when you make any transactions with them.
That is why it is very important to have a valid ID and other secondary IDs so that when you go to these offices, you will not have a hard time processing your transactions.
Here is the complete list of Valid Government IDs that you can get and apply for this 2020.
1. Postal ID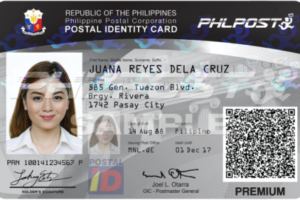 The new Postal ID is now considered a valid ID in the Philippines. It is also the easiest and fastest to obtain.
If you are in a hurry and you need to have a valid ID, apply for a Postal ID and choose the rush application. It is more expensive than the regular one but you can get it fast (within the day or the next day) depending on which branch you apply.
How to Apply for Postal ID:
Go to any PHLPost Office to apply for Postal ID. For rush application, go to any of the following offices:
Manila Central Post Office (Liwasang Bonifacio, Intramuros)
Quezon City Central Post Office (NIA Rd., Brgy. Pinyahan, Diliman)
Makati Central Post Office (Gil Puyat cor. Ayala Ave., Malugay)
Parañaque Central Post Office (Ninoy Aquino Ave., Brgy. La Huerta)
Las Piñas Central Post Office (Las Piñas City Hall, Real cor. Pamplona St.)
Valenzuela Central Post Office (Valenzuela City Hall, Maysan St.)
Postal ID Requirements:
2 copies of duly-accomplished Postal ID application form
Proof of identity – Bring any valid ID like SSS UMID card, Passport, or Driver's License if you have, or NSO-issued birth certificate)
Proof of address – Bring a Barangay Certificate of Residency, Certified True Copy of Lease, or Bank Statement)
Validity: 
The postal ID is valid for 3 years for Filipinos and foreign residents with Special Retiree's Resident Visa (SRRV).
The postal ID is valid for only 1 year for the rest of foreigners in the Philippines.
Cost:
₱504 for regular processing of Postal ID (inclusive of delivery fee and 12% VAT)
₱650 for rush processing of Postal ID
READ: Postal ID Requirements and Application (Complete Guide)
2. Philippine Passport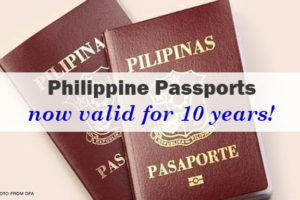 We don't only use the passport when traveling abroad. We can also use it as a valid ID especially when making transactions with government agencies and financial institutions.
How to Apply for Philippine Passport: 
Schedule a DFA Passport Appointment Online here.
Pay the processing fee at any of the accredited payment centers
Once payment is confirmed, you will receive a confirmation on your email from DFA with all the information and instructions for your Passport application and appointment.
Print all the documents in A4-size paper and don't forget to bring them on the day of your DFA passport appointment.
Passport Requirements:
Government-issued Valid ID (original and photocopy)
Birth Certificate (certified true copy from PSA)
Marriage certificate (if married)
Confirmed Passport application form
2 copies of the e-Receipt
Validity: 
Philippine Passports are now valid for 10 years.
Cost:
₱950 for regular processing of Passport
₱1,200 for rush processing
3. UMID Card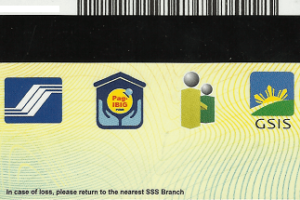 The Unified Multi-Purpose ID or UMID is a four-in-one identification card issued by the Social Security System or SSS.
It is one of the most powerful valid IDs in the Philippines as it also serves as a Government Service Insurance System (GSIS), PhilHealth, and Pag-IBIG ID.
How to Apply for SSS UMID:
Go to the nearest SSS branch to personally apply for SSS UMID Card
Have your photo, digital signature, and fingerprints taken at the branch
SSS UMID Requirements:
Valid ID (original and photocopy)
Supporting Documents (if necessary)
Accomplished SSS UMID card application form
Validity: 
The UMID is valid for life. It has no expiration.
Cost:
UMID cards are free of charge for first-time applicants who meet these criteria:

No existing SSS ID or UMID card
Paid at least one-month SSS contribution
A valid date of coverage (the date you started as an active member per SSS records)

₱200 replacement fee if you lost your previous UMID Card
4. Driver's License
How to Apply for Drivers License:
Get a Student Permit
Undergo a Medical Examination
Study Road Signs and Major Traffic Rules
Practice driving
Drivers License Requirements:
Duly accomplished application form for driver's license (ADL)
Valid student permit (Student Permit with a validity of at least six months)
Medical certificate (which is NOT over 15 days old, with an official receipt from any duly licensed and practicing physician)
Negative drug test result (from a DOH accredited drug testing center & Government Hospital)
Taxpayer's Identification Number (TIN)
NBI or police clearance
Must have passed the written and practical examinations
Please take note that applicants who fail the Basic Driving Theory Test and/or the Practical Driving Test twice won't be able to apply for a year. If you fail three times, you won't be allowed to take the exam for two years.
If you are applying for a driver's license for heavy vehicles, you need to submit a valid non-professional drivers license for at least 1 year prior to the application, or a valid professional driver's license to operate light vehicles for at least 6 months.
Validity: 
Drivers license is valid and effective for 5 consecutive years reckoned from the birth date of the licensee, unless sooner revoked or suspended.
Cost:
Student Permit Application – ₱317.63

Application Fee: ₱100
Computer Fee: ₱67.63
Student Permit Fee: ₱150

New License ( Non-Professional, Professional, Conductor) – ₱820.26

Application Fee: ₱100
Computer Fee: ₱67.63
License Fee: ₱585
Computer Fee: ₱67.63
5. PhilHealth ID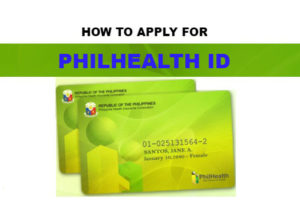 Having a PhilHealth ID allows you to process transactions with PhilHealth much easier and faster.
Aside from that, the new PhilHealth ID (digitized ID) is also now considered as a valid ID and is accepted in most government agencies and financial institutions.
How to Apply for PhilHealth ID:
Apply as a PhilHealth member first
Download Philhealth's registration form (PMRF)
Submit PMRF to the nearest LHIO or any of their SM Mall branches
Declare your dependents (if applicable)
Pay your ID application
PhilHealth ID Requirements:
2 accomplished copies of the PhilHealth Member Registration Form
2 latest 1×1 ID pictures
2 valid IDs or a photocopy of your NSO Birth Certificate
Validity: Indefinite
Cost: 
₱90 fee if members claim this ID at any PhilHealth LHIO
₱358 fee if you declare a dependent for your ID card and pay at the Bayad Center (you must present at least 2 valid IDs of your dependent)
READ: Government Services and Insurance System (GSIS) e-Card
6. TIN Card
While TIN Card is useful when transacting with the BIR or dealing with taxes, having a TIN Card can also be used as proof of identity.
How to Apply for TIN Card:
Go to the local BIR office.
Fill up the TIN application form (ask the BIR officer which one suits your need).
Submit the application form at the counter.
Present a valid ID or the birth certificate.
Wait for Tax Identification Number to be given.
Request for your TIN Card ID, which applicants are entitled to according to E.O. 98.
Your TIN card will be given to you within the day or the next day.
TIN Card Requirements:
Valid ID
Birth Certificate
Validity: Indefinite
Cost: Free
7. Professional Regulation Commission ID
Professionals such as teachers, registered nurses, engineers, architects, physicians, and others who passed their licensure exams are provided with a license card by the Professional Regulation Commission. The IDs serve as proof of identity and license to operate as a professional and is considered a valid ID.
How to Apply for PRC ID: 
Register and follow the instructions at the PRC website
PRC ID Requirements: 
Valid (Original and photocopy)
Oath Form (from the Professional Regulation Commission website) with your REFERENCE Number in check
Passport ID Picture in Plain Background with Complete Name Tag
2 Metered Documentary Stamps
Current Community Tax Certificate (Cedula)
Validity: 5 years
Cost: ₱1,320
Baccalaureate Fee
Registration – ₱600
Annual Fee – ₱450
Total – ₱1050
Non-Baccalaureate Fee
Registration – ₱450
Annual Fee – ₱870
Total – ₱1320
List of Acceptable IDs for Philippine Passport Application 
Unified Multi-Purpose Identification (UMID) Card
Social Security System (SSS) Card
Government Service Insurance System (GSIS) Card
Land Transportation Office (LTO) Driver's License. (Student Permit may be accepted if in card format)
Professional Regulatory Commission (PRC) ID
Overseas Workers Welfare Administration (OWWA) E-Card
Commission on Elections (COMELEC) Voter's ID or Voter's Certificate issued from COMELEC main office in Intramuros, Manila (Certificates issued in COMELEC's regional offices may require further verification. Applicants are requested to present NBI or police clearance along with the Voter's Certificate).
Philippine National Police (PNP) Permit to Carry Firearms Outside Residence
Senior Citizen ID
Airman License (issued August 2016 onwards)
Philippine Postal ID (issued November 2016 onwards)
Valid or Latest Passport (For Renewal of Passport)
For minor applicants, School ID OR Certificate of Enrolment with photo of minor and dry seal of school may be presented
For applicants based overseas, they may use their host government issued IDs showing their Philippine citizenship. (Example: Residence Card)
Reminders: 
All IDs presented should be readable, untampered and contains consistent information with the documents presented upon application.
Original and photocopy of IDs and supporting documents are required to be presented upon application.
The Department may require additional supporting documents as may be necessary. (Source)
Primary Valid IDs and Documents in the Philippines
New Postal ID
Driver's License
UMID or SSS ID
Tax Identification Number (non-paper/cardboard ID)
New Philhealth ID
Professional Regulations Commission (PRC) ID
Voter's ID
Senior Citizen Card
OFW ID
Seaman's Book
Secondary Valid ID and Documents in the Philippines
National Bureau of Investigation (NBI) clearance
Police Clearance
Birth Certificate
Marriage Certificate
GOCC issued IDs
Overseas Workers Welfare Adminsitration (OWWA) ID
Company ID issued by covered persons registered with and supervised or regulated by the BSP, SEC, or Insurance Commission.
School ID
ID issued from the National Council of Disabled Affairs (NCDA)
Department of Social Welfare and Development (DSWD) Certification
Integrated Bar of the Philippines ID
Government Services and Insurance System (GSIS) e-Card
Note: This is the list of commonly accepted primary and secondary valid IDs and documents in the Philippines. This list may vary depending on the company or institution where you make your transaction. You may verify directly with them to know their actual list of primary and secondary valid IDs and documents.
Valid ID F.A.Q.s
What is the fastest valid ID in Philippines?
Based on my experience, the fastest and easiest to get valid ID in the Philippines is the Postal ID. If you chose the rush application, you can get this valid ID within the day or the next day.
Is Philhealth ID a valid ID?
Yes, the new Philhealth ID is now considered a valid ID. Read the Philhealth advisory below.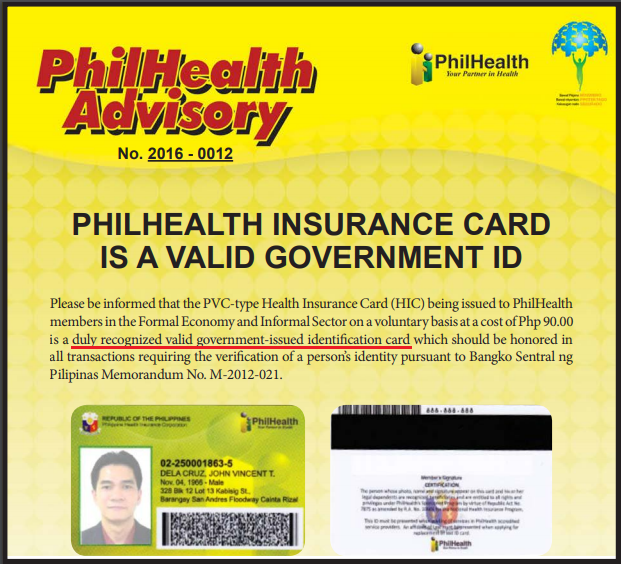 Is Tin ID accepted in DFA?
The TIN ID, Pag-IBIG ID, and Philhealth ID are not accepted as valid IDs for passport application purposes.
Is the Postal ID accepted as a valid ID in applying for a passport?
Yes. Valid Postal IDs are those that were issued starting November 2016.
What if I don't have any existing valid ID?
Most of these agencies or offices require an existing valid ID to apply for another valid ID. But what if you don't have any?
Assuming you're applying for a valid ID for the first time and you don't have any existing valid ID in your possession, you may bring 2 or more supporting documents like birth certificate, NBI Clearance, Police Clearance, barangay clearance, ATM card with your name on it, bank account or passbook, company ID, or school ID.
Why get a valid ID in the Philippines? 
A valid ID is a must-have for every Filipino citizen because this is your proof of identification which you can use for your transactions whether it be in applying for a bank account, getting a passport or any other valid IDs, or availing benefits from the government or private sectors.
There's so many things that you can't do if you don't have a valid ID. So get yours now!