Here's a good news to students who are looking for good job opportunities this summer!
Hundreds of summer jobs will be offered by the Department of Education (DepEd) under the Special Program for the Employment of Students (SPES).
SPES is an annual summer employment program that encourages students to make their vacation productive by working during summer so that they can earn extra money which they can use during regular school days.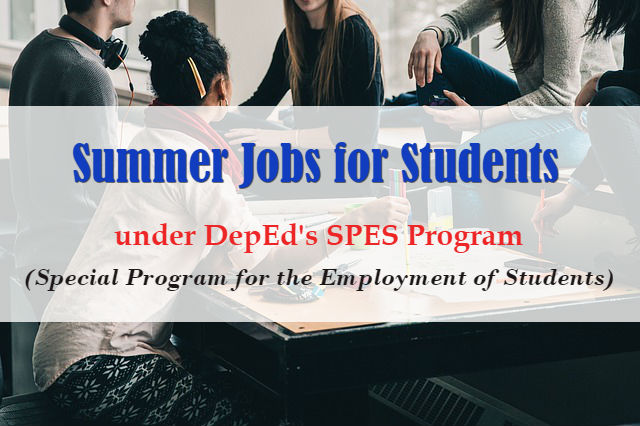 What Summer Jobs will be offered to Students?
Students may apply for these positions or job offers:
IT staff
Data Encoder
Administrative Assistant
Service Crew in restaurants
Others
The Special Program for the Employment of Students is also supported by the Department of Labor and Employment (DOLE), other government agencies, and private companies.
This only means that more job opportunities are waiting for students this summer.
Applicants must possess office skills with priority given to those with computer-related skills for summer jobs especially in government offices.
How long will the students work for these summer jobs? 
Qualified applicants will be employed for 40 days only.
How much is the Salary for Summer Jobs?
Students and Out-of-School Youth who will work from April to June 2018 will be paid minimum wage.
Aside from this, they will also receive insurance and other benefits. Some government agencies may also give additional allowance on top of the students' salaries for their summer jobs.
Who are Qualified to Apply for the Summer Jobs? 
15-30 years old
Students in high school, senior high school, college, and vocational school
Out-of-School Youth who intend to continue their education next school year
Garnered a passing grade during the school year/term immediately preceding the summer vacation or in case of dropout, the last year/term attended
Parents' combined net income must not exceed ₱150,000
Applicants whose parents have been displaced due to business closure or work stoppage
What are the Requirements in Applying for Summer Jobs? 
Students and Out-of-School Youth who are interested in applying for Summer Jobs must submit the following documents:
Duly accomplished SPES Application Form 2 – click here to download SPES Form 2
Birth certificate or any document showing the applicant's date of birth
Proof of Parents' Income

Copy of the parents' income tax returns (ITR) or Certificate of Tax Exemption (CTE) issued by the BIR
Certificate of Low Income or Certificate of Indigence issued by the barangay or SWDO

For Students

Average passing grade as indicated in Form 138 or report card or class card
Certification by the School Registrar as to passing grade

For Out-of-School Youth (OSY)

Certification as OSY issued by the Barangay or City/Municipality/Provincial Social Welfare and Development Office (SWDO) where the applicant resides.
How to Apply for Summer Jobs under the SPES Program? 
If you are interested to work this summer and you met the qualifications above, you may apply personally at any Public Employment Service Office (PESO) that has jurisdiction over your residence.
Click here to see the complete list of PESO Directory.
For NCR, the image below shows the list of Public Employment Service Offices and contact details. You can also find these info in the directory link above.
More Info about Special Program for the Employment of Students (SPES)
The Special Program for the Employment of Students (SPES) is mandated under Republic Act No. 7323 (with amendments under R.A 10917) otherwise known as,
"An Act To Help Poor But Deserving Students Pursue Their Education By Encouraging Their Employment During Summer and/or Christmas Vacations, Through Incentives Granted to Employers, Allowing Them To Pay Only Sixty Per Centum of Their Salaries or Wages and The Forty Per Centum Through Education Vouchers To Be Paid By The Government, Prohibiting and Penalizing The Filing of Fraudulent and Fictitious Claims, and For Other Purposes."
Aside from summer jobs, some jobs are also being offered to students during Christmas Vacation.
Sharing this infographic about SPES from the DOLE BLE website.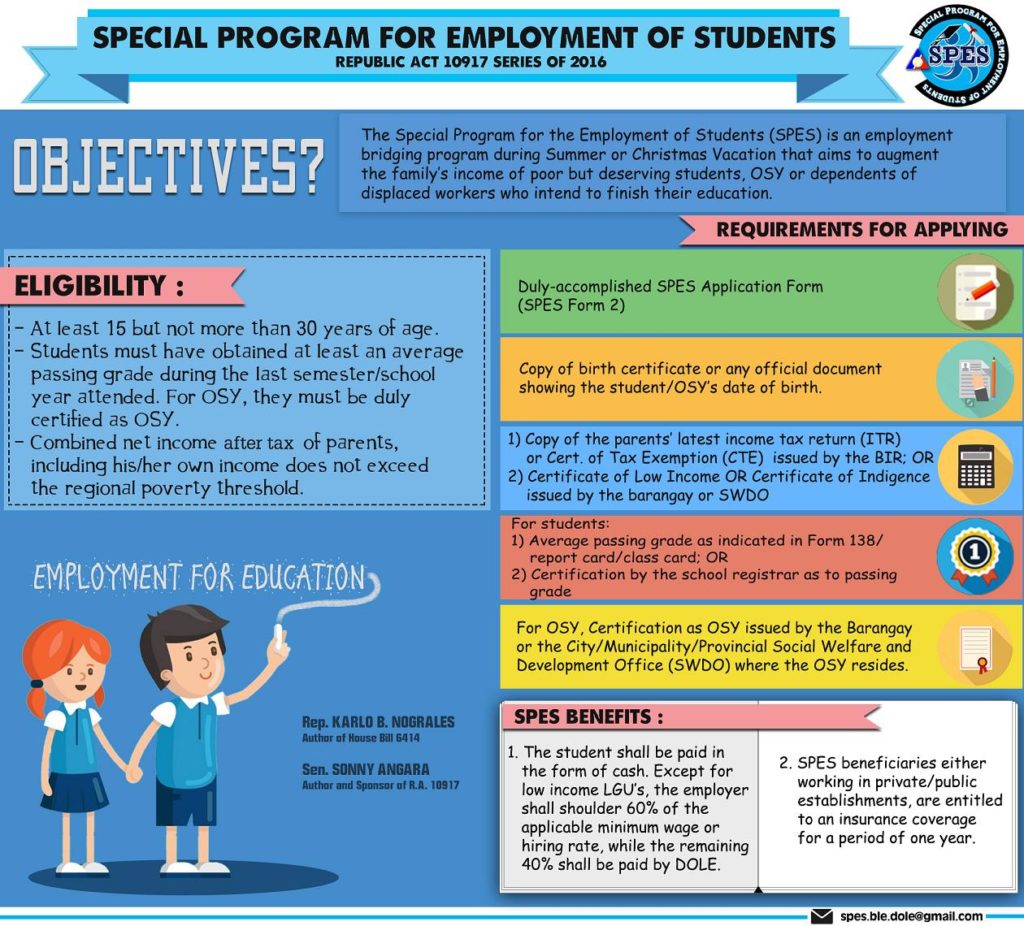 Contact Information
For more information about the SPES program and summer jobs:
Visit the nearest PESO in your area or the DOLE Regional, Provincial and District Offices; or
Call the Bureau of Local Employment at (02)528-0108 or (02)527-2453; or
Email 

spes.ble.dole@gmail.com
Sources: DepEd, DOLE BLE, ABS-CBN News