A good friend of mine has told me about Pluggle a few weeks ago and invited me to check it out. I did but after doing my research, I felt that something wasn't right with Pluggle's system.
I didn't judge it as a scam, but I wasn't convinced with how the system works and how the members earn money.
Earlier today, my friend gave me some updates about her Pluggle account and how much she's made so far. I still wasn't interested to join but while she was explaining it, I googled Pluggle using my smartphone to see if I could find new reviews or updates.
And boom! The first thing I saw on Google was SEC's Advisory about Pluggle.
According to the Securities and Exchange Commission's Advisory, they have received information that individuals or group of persons representing PLUGGLE, INC. are enticing the public to invest in the company.
With just an initial "investment" of P1,000, you can have your own activation code and you may earn in different ways including:
P100 – for sign up bonus
P100 – for personal login bonus
P60 or P40 – for group login bonus depending on the level of his/her downlines
P100 – for follow bonus
P400 – for leveling bonus (binary structure)
P100 – for pairing bonus
Pluggle, through its Facebook Account, also promises a return of 30% – 100% in 12 days with the system.
For people who are really looking for ways to earn or grow their money, the ROI that Pluggle promises is really huge considering the time-frame.
And does it sound too good to be true? You judge.
And here's the thing…
Pluggle is registered but not authorized
SEC informed the public that despite having been registered with the Commission as a corporation, PLUGGLE, INC. is not authorized to solicit investments from the public.
Why? Because Pluggle has not secured the necessary license or permit from the Commission as required under Sections 8 and 12 of the Securities Regulation Code (SRC).
According to SEC, those who act as salesman, brokers, dealers or agents of PLUGGLE, INC., in selling or convincing people to invest in the investment scheme being offered by PLUGGLE, INC. may be prosecuted and held criminally liable under Section 28 of the Securities Regulation Code.
penalized with a maximum fine of Five Million pesos (P5,000,000.00)
penalty of Twenty One (21) years imprisonment or both pursuant to Section 73 of the SRC.
Those who invite or recruit other people to join or invest in this venture of Pluggle or offer contracts or securities to the public may be held liable or penalized in accordance with the Supreme Court decision.
Click here to read: SEC Advisory against Pluggle, Inc.
I checked Pluggle's website and they just posted an announcement where they said that they are not and will never be an investment company. This is in response to the SEC Advisory against Pluggle, Inc.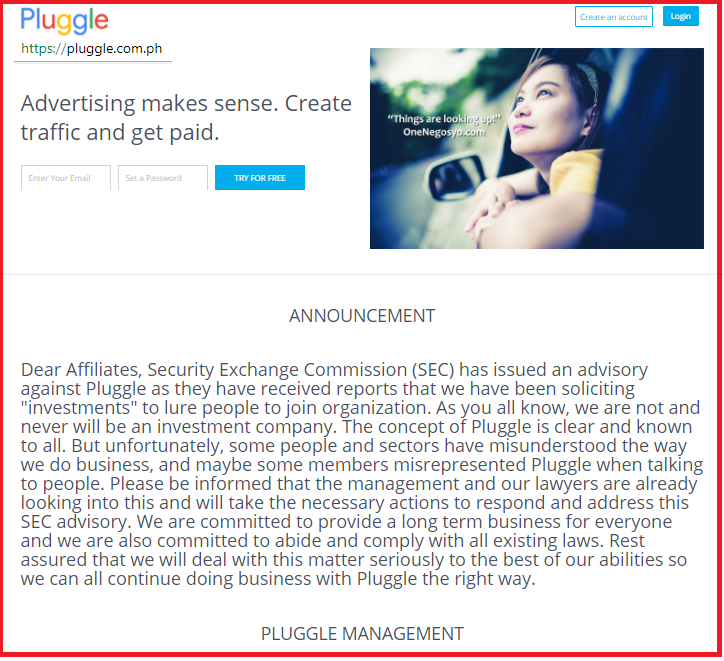 SEC advises the public to take the necessary precaution in dealing with PLUGGLE, INC. or its representatives. You may call the Enforcement and Investor Protection Department at 818-6047 if you have any information about Pluggle.
Disclaimer: This is not a Pluggle review as I am not or have not been a member of Pluggle, Inc. This article is for information purposes only and some are based on my personal opinion and should not be considered as a professional advice. Please do your own research about Pluggle and always exercise caution before investing in any company.