We have been a loyal PLDT subscriber for over 20 years now. We started with the PLDT Vibe Dial-up Connection in 1995, then the PLDT DSL, and now we're just waiting for the new PLDT Fibr connection to be available in our area.
At one point in the past, we switched to another internet service provider after dealing with a not-so-helpful PLDT Customer Service Representative and Technical Support. But after a year, we went back to PLDT.
Why?
Because we realized that there really is no perfect internet provider.  All of them have some limitations and flaws in different aspects – technical or product related, customer service, and subscription fees.
But why did we chose PLDT among the internet providers in the Philippines?
Simply because we trust PLDT and we believe in their management. PLDT may not be perfect, but it's still the best internet provider compared to its competitors.
If you are planning to apply for an internet connection for your home or small office, I highly recommend PLDT MyDSL and I'll share with you the process of PLDT DSL Online Application in very simple steps.

How to Apply for PLDT DSL Online 
Unlike before, applying for PLDT MyDSL is now easier and convenient because you don't need to go to the PLDT office or sales center anymore. You can submit your PLDT DSL application online anytime and anywhere using your computer or smartphone.
Here are the steps…
Step 1 – PLDT Website
Open the PLDT DSL website at https://pldthome.com/.
You'll see the different products and services that PLDT offers together with some information and latest news about the company.
Step 2 – PLDT Products 
Click the PRODUCTS tab to see the specific products that you can choose from.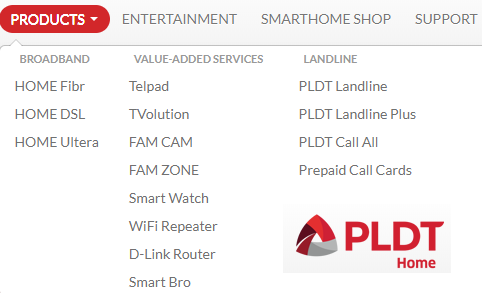 Under Broadband, you have three options:
PLDT Home Fibr
PLDT Home DSL
PLDT Home Ultera
Check all the products and check its features, then choose the plan/package that best suits your needs and budget.
Below are the PLDT DSL Unlimited Plans.
| | | | |
| --- | --- | --- | --- |
| Plan | Monthly Fee |  Maximum Speed | Modem and Installation Fee |
| PLAN 1299 | ₱1,299 | 3 Mbps | PHP 3,600 or PHP 119 per month for 36 months |
| PLAN 1699 | ₱1,699 | 5 Mbps | PHP 3,600 or PHP 119 per month for 36 months |
| PLAN 1899 | ₱1,899 | 20 Mbps | PHP 3,600 or PHP 119 per month for 36 months |
| PLAN 2899 | ₱2,899 | 50 Mbps | FREE |
Step 3 – Apply Now
Once you have chosen the product that you want to subscribe or apply for, just click Apply Now.
Step 4 – PLDT DSL Plan and Add-ons
You can customize your PLDT DSL Plan by including Add-ons such as call features, routers and wifi devices, and bundles.
PLDT DSL Add-ons
Unli Fam Call for ₱99.00
WiFi Repeater for ₱1,900 for one time or ₱99/Month for 24 months
TVolution Stick for P9,000.00 for one time or P299.00/Month for 36 months
Basic FAM CAM for P3,000.00 For one time or P99.00 /Month for 36 months
Advanced FAM CAM P11,500.00 For one time or P499.00 /Month for 36 months
Tvo Box (Hwacom)

If 18 months, free of charge for the first 18 months then P199 for the succeeding months until 36 months.
If 24 months, P100 for the first 24 months then P199 for the succeeding months until 36 months.

Cignal Dish for HOME DSL
D-Link Router
Smart Bro Pocket WiFi Plan 299 / Plan 499 / Plan 799
Call All Bundles
PLDT Sun Call All Bundles
This is completely optional. You can subscribe to the original PLDT DSL plan without any add-ons by clicking Skip this Step.
Step 5 – PLDT DSL Application
Fill out the PLDT DSL Online Application form with all the required information details:
Personal Details – name, birthdate, civil status, email address
Installation Details – complete address where your PLDT DSL plan will be installed
Primary Contact Details – mobile number and landline number (if available)
Landmark or Instructions to help PLDT find your place (this is optional)
Step 6 – PLDT DSL Requirements
Attach a valid ID for faster processing of your PLDT DSL Online Application.
To do this, select the valid ID that you have from the list of valid IDs in the drop down menu (click the down arrow).
Complete List of Valid IDs accepted for PLDT DSL Online Application:
AFP ID
Barangay's Business Permit
Business or Mayor's Permit
Business Tax Identification Number (TIN)
Company I D
Diplomat ID
Driver's License
DTI Permit Number
Firearms License ID (Digitized/Card Type Only)
GSIS ID
Integrated Bar ofthe Phils. ID
Major Credit Card Number
Overseas Worker's Welfare Administration (OWWA) I D
Passport/ACR/SRRVfor Foreign Individuals
PhilHealth
Philippine Air Force ID
Philippine Passport
Philippine Postal
PNP ID
PRC ID
School ID
SEC Certificate of Registration
Senior Citizen's ID*
Social Security System (SSS) ID
Special Investors Resident Visa (SIRV)
TIN with Photo
Unified Multi-Purpose ID
Voter's ID
Then, enter your ID number and attach your valid ID which must be saved in your computer or smartphone or tablet. If you don't have it on your device yet, just take a photo of your valid ID then attach it to the PLDT DSL online application form.
Complete List of Additional Documents for PLDT DSL Application
A. To apply for wireless services like PLDT HOME Ultera and Pocket WiFi, you must submit:
1 valid ID – Government ID, company ID, or any of the IDs above
1 Proof of Address – Latest Utility bill (Electric, Water, Cable, Mobile, Landline) or Latest Credit Card Statement of Account
B. To apply for high-end gadgets like iPhone or Telpad, you must submit:
1 valid ID – Government ID, company ID, or any of the IDs above
1 Proof of Financial Capacity

Latest 2 months Payslip
Certificate of Employment and Compensation
Latest 1 month Credit Card SOA
Recent ITR
You have to present the original copy of your ID or document when you apply personally at the PLDT Sales Center. They may also request for additional documents if necessary and all applications are subject to approval.
Step 7 – PLDT Application Process, Approval, and Payment
Review the details of your PLDT DSL Online Application including the plan and/or add-ons that you have included, then click Proceed.
Your application will be reviewed and verified by PLDT within 24-48 hours.
Once approved, you will receive an email and text message reminding you to pay the initial fee within 7 days.
You can make your payment through any of the following options:
PLDT website using your credit card
PLDT Sales and Service Center
Bayad Centers
SM Outlets
PLDT Contact Number 
To inquire about PLDT DSL plans, you may call (02) 8888-171. This is for non-PLDT customers.
If you have an existing plan with PLDT, you may inquire about their products and services by calling the PLDT Hotline 171. You may also visit the PLDT website for more information about their products and services.