Do you have a Metrobank Credit Card? Do you want to know the latest Metrobank Credit Card Promo this 2017?
If you do, this article is for you.
I also have a Metrobank credit card and I'm always on the lookout for credit card promos because I use my credit card very often for my online business and my brother's (supplementary cardholder) business.
I am a good payer and I never had any issues or delayed payments with my credit card providers that's why I believe I deserve to take advantage of promos like these of Metrobank.
Metrobank has an ongoing promo and there are two categories based on the amount of your purchase.
1. Php 3,000 Spend
For a single charge slip with a minimum straight or merchant installment spend of P3,000, get any one of the following for FREE:
3 pcs. Red Ribbon Mamon (any flavor)
3 pcs. Red Ribbon Cheesy Ensaimada
1 Greenwich Lasagna Supreme Snack Size (ala carte)
1 Greenwich 6" Solo Ultimate Overload Pizza (choose any Overload pizza)
2. Php 25,000 Spend
For a single charge slip with a minimum merchant installment spend of P25,000, get any one of the following for FREE:
1 Red Ribbon Regular cake (Ultimate Chocolate cake, Chocolate Mousse, Ube cake)
1 Greenwich 12" Barkada size Overload Pizza (choose any Overload pizza)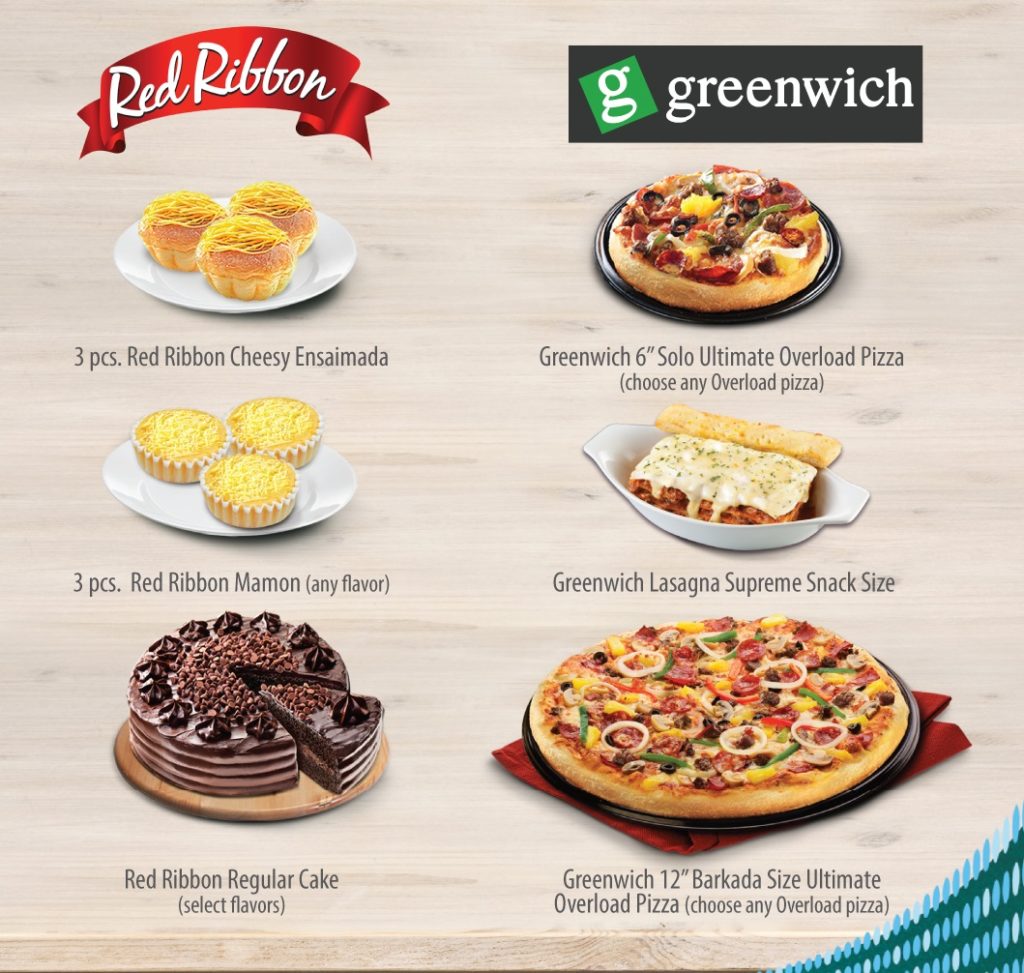 Promo Period
This Metrobank Credit Card promo is available from February 22, 2017 to May 15, 2017 only.
Redemption Period
You can redeem your free Red Ribbon and/or Greenwich Treats from February 22, 2017 to July 14, 2017.
How to Redeem Metrobank Credit Cards' Free Treats
To redeem, Metrobank credit cardholder must surrender the original customer copy of the approved charge slip. It should be worth at least P3,000. Then present the Metrobank credit card used for the purchase at the front counter of participating Red Ribbon or Greenwich branches.
Please take note that this offer is not valid in Red Ribbon NAIA branches, Citymall outlets and kiosks, and Greenwich food court stores (except SM Megamall Food Court).
Important: A maximum of 2 Red Ribbon and 2 Greenwich treats per store, per visit, per day at any Red Ribbon or Greenwich store is allowed regardless of the number of unique Metrobank credit cards a cardholder owns.
What Metrobank Credit Cards are eligible in this promo? 
All Metrobank credit cards are eligible except Metrobank ON Internet Mastercard and Metrobank Dollar Mastercard. It's also not applicable to YAZZ prepaid card and Metrobank debit and prepaid cards.
Cardholders of the following cards are eligible in this promo provided you are in good standing:
Metrobank Peso Classic
Gold
Platinum Visa/Mastercard
Robinsons Mastercard
Toyota Mastercard
PSBank Credit Mastercard

What are considered Valid Transactions?
All retail transactions including purchases at groceries, department stores, gasoline stations or restaurants are considered valid spending as long as you use your Metrobank credit card within the promo period. Full payment and installment payments are both accepted.
What Transactions are Excluded from this Promo?
Transactions without credit card charge slip including Bills2Pay, Balance Transfer, Cash2Go, Cash Advance, Internet and Mail Order/Telephone Order are excluded from this promotion. Even if you purchase something online that's either worth P3,000 or P25,000, it won't still be considered in this promo if it has no credit card charge slip.
Click here for the complete details of Metrobank Credit Cards Promo Mechanics.
If you have a Metrobank credit card of good standing and you have valid transactions, go ahead and treat yourself to Red Ribbon and/or Greenwich. You deserved it!
If you don't have a credit yet, just click here for Metrobank credit card application or call Metrobank Hotline (632) 8700-700;  24/7 Domestic Toll-free No.: 1-800-1888-5775; or E-mail: customercare@metrobank.com.ph