If you have a Landbank account and you want to transfer money to another bank account, it is now possible using the Landbank Mobile Banking App. This is called Interbank Fund Transfer.
Before you can transfer money:
You must have an existing and active Landbank account
You must enroll and activate your Landbank iAccess online banking account
You must download the Landbank Mobile Banking App on your mobile phone from Google Play (for Android devices) or from App Store (for iOs devices).
Steps on How to Transfer Money using Landbank Mobile Banking App
Step 1
Open the Landbank Mobile Banking App on your mobile device, tap on Mobile Banking, then login by typing your User ID and Password.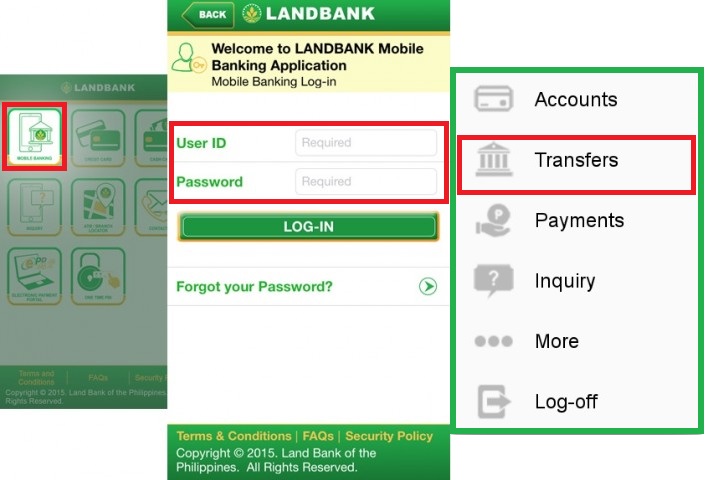 Step 2
To see the features of Landbank Mobile Banking, tap on the upper right corner, then select Transfers.
There are 4 options under Fund Transfers:
Transfer to Own
Transfer to Third Party
Transfer to Anyone
Transfer to Other Bank
Step 3
In order to do Interbank fund transfer or to transfer money from your Landbank account to another bank account, select the fourth option by tapping the arrow right next to Transfer to Other Bank.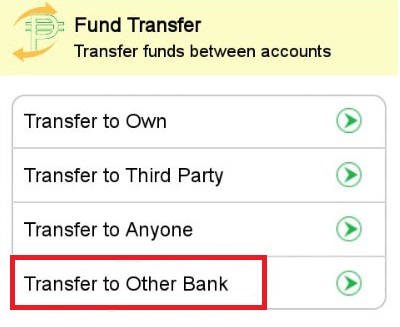 Step 4
Fill out the required fields including:
From Account – the account where you want to get the amount from
JAI – it's located on the right side of your ATM card
ATM PIN – it's the same as your ATM PIN
Destination Bank – the name of the bank where you want to transfer money to
To Account – recipient's bank account number
Amount – how much you're going to transfer
Step 5
Review the details of your fund transfer, then click Submit.
Enter the OTP or One-Time Password that will be emailed to your registered email address. Once you entered the correct OTP, your money will be transferred immediately to the other bank account.
A confirmation that the transaction was successful will appear on your screen and you will also receive a receipt on your registered email.
How much is the money transfer fee? 
It's ₱25 per transaction.
What banks accept money transfer from Landbank Mobile Banking App? 
With Landbank Mobile Banking App, you can transfer money to popular banks such as:
China Bank
Citibank
East West Bank
HSBC
Metrobank
PNB
PS Bank
RCBC
Security Bank
UCPB
As of this writing, BDO and BPI are not yet available in the Landbank Fund Transfer option.
Complete List of Banks that Accept Landbank Fund Transfer
ALLIED BANK
ALLIED SAVINGS BANK
ASIA UNITED BANK
BANCO DIPOLOG
BANGKO MABUHAY
BANK OF COMMERCE
BANKWAYS,INC
BPI GLOBE BANKO
CARD BANK, INC.
CHINA BANK
CHINA BANK SAVINGS
CHINATRUST BANK
CITIBANK
CITIBANK SAVINGS
CITY SAVINGS BANK
CITYSTATE BANK
D' ASIAN HILLS
DEVELOPMENT BANK OF THE PHILS.
DUMAGUETE BANK
DUNGGANON BANK
EAST WEST BANK
ENTERPRISE BANK, INC.
ENTREPRENEUR BANK
EQUICOM SAVINGS BANK
EXPORT & INDUSTRY
GREEN BANK
HSBC
HSBC SAVINGS
ISLABANK
KOREA EXCHANGE BANK
LUZON DEV BANK
MALAYAN BANK
MAYBANK PHILIPPINES
METROBANK
OMNIPAY, INC.
ONE NETWORK BANK
OPPORTUNITY MICROFINANCE
PARTNER RURAL BANK
PBCOM
PHILIPPINE BUSINESS BANK
PHILIPPINE NATIONAL BANK
PHILIPPINE VETERANS BANK
PHILTRUST BANK
PLANBANK
POSTAL BANK
PR SAVINGS BANK
PREMIERE DEVELOPMENT BANK
PRODUCERS BANK
PS BANK
QUEZON CAPITAL RURAL BANK
RCBC
RCBC SAVINGS BANK
REAL BANK
ROBINSONS BANK
SECURITY BANK
SECURITY BANK SAVINGS
SOUTHBANK
STANDARD CHARTERED BANK
STERLING BANK OF ASIA
SUN SAVINGS BANK
TONG YANG BANK
UCPB SAVINGS
WEALTH BANK
WORLD PARTNERS
ZAMBALES RURAL BANK

F.A.Q.s about Landbank Mobile Banking
Q: How can I access Landbank Mobile Banking
First, you need to have a Landbank account. Then, enroll in Landbank Online Banking through iAccess. Once your online account is activated, download the Landbank Mobile Banking App (Landbank MAP) on your cellphone, and you can now access the features of Landbank Mobile Banking including account balance inquiry, bills payment, and fund transfer.
Q: What is Landbank iAccess? 
iAccess is the online banking facility of Landbank which provides a convenient, reliable and secure delivery of
banking transactions via the Internet, and is available 24/7 at https://www.lbpiaccess.com.
Landbank iAccess is available within the Philippines and abroad, provided you have enrolled in Landbank iAccess before going overseas.
Q: What are the options for Landbank balance inquiry
ONLINE – by logging in to your Landbank iAccess account, you can check your account balance immediately
CALL – by contacting LANDBANK Phone Access hotline number (02) 405-7000, or PLDT domestic toll-free number 1-800-10-7000 to get your latest statement balance and current outstanding balance.
ATM – insert your ATM card in accredited ATM machines to check balance inquiry
OVER-THE-COUNTER – visit the nearest Landbank branch to inquire your balance
Q: What should I do if I have totally forgotten my Password for my Landbank iAccess account? 
In the login page, click "Forgot your Password?" then enter the secret answer to your challenge question.
If you answered the challenge question correctly, you can successfully log-in to LANDBANK iAccess and you will be directed to change your password.
If your secret answer is incorrect, you need to go to your servicing branch for the resetting of your password.
Q: Is Landbank Online and Mobile Banking secure? 
Landbank's online banking facility ensures safety and security by sending email confirmation for each successful financial transaction and OTP confirmation for fund-transfer to other LANDBANK accounts and other Bank accounts.
As an account holder, we should also take precautionary measures when using our online banking accounts. Never share your account information to others. If something is suspicious, contact Landbank immediately.
Q: What is Landbank Contact Number? 
For any inquiries about Landbank's products and services, you may contact them through the following options:
Within NCR: (632) 405-7000
Outside NCR: 1-800-10-405-7000 (PLDT Toll Free)
Email: customercare@mail.landbank.com
RELATED ARTICLES: