It is that time again for the big flagship smartphone showdown between Apple and Samsung, especially with the (as of this writing) impending release of the iPhone X.
On the other side, Samsung has the Galaxy S8 to compete in this hotly-contested rivalry.
Apple has come with a new bezel-free design, as well as higher specs, better cameras, and incredible features, as well as a big price tag to match.
Finding out which is better will be all about getting the key differences between these two devices, as well as breaking down what specs and features are best for various types of users, as well as what fits their budget.
There should also be attention given to the new features being pushed by both companies on their flagship smartphones.
Display Screen
Both these phones have 5.8-inch OLED screens, although the Samsung Galaxy S8 is more ahead with it being Super AMOLED and boasting 2960×1440 resolution at 570ppi.
The iPhone X has a Super Retina OLED screen with a rather odd 2436×1125 resolution at 458ppi.
Then again, the Samsung Galaxy S8 does have a power saving feature that lowers the resolution more towards Full HD. However, if you decide to buy the Galaxy S8+ instead, you get a 6.2-inch screen.
The Apple iPhone X's almost bezel-less design makes for a new look for Apple's signature smartphone line and takes things to the logical next step as far as the touchscreen goes.
This means that even more screen real estate for users and more ways to show digital content at their very best through the iPhone.
But then again, Samsung has been doing this for quite a while now, and the Samsung Galaxy S8 tries to do better with its own curved bezel-less screen, which makes the iPhone X look more like it is playing catch-up.
On the other hand, the lack of a home button makes for much controversy, which is shared by the Samsung Galaxy S8 as well.
With the iPhone X, this has brought in new swipe-based navigation for closing apps by swiping upwards from the bottom of the screen. Users can switch apps by swiping left and right as well.
Meanwhile, the Galaxy S8 has a home button of sorts that is both invisible and pressure-sensitive to go with the standard Android OS you would expect.
Security Features
This is where there's a discernible difference between the two. Security is important for smartphones, and these two flagship models have taken different directions as far as their biometric security is concerned.
Both have the controversial facial recognition feature, letting you unlock either phones by having it take a look at your face.
FaceID is being made to serve as the iPhone X's main means of security, even for online payments. While Apple wanted to add TouchID to the display as well, it was apparently not possible.
Therefore, there is no TouchID in the iPhone X, making FaceID the only biometric security measure in the phone.
Meanwhile, the Samsung Galaxy S8 features both fingerprint scanning and facial recognition. It also has an iris scanner, thus adding yet another biometric security measure.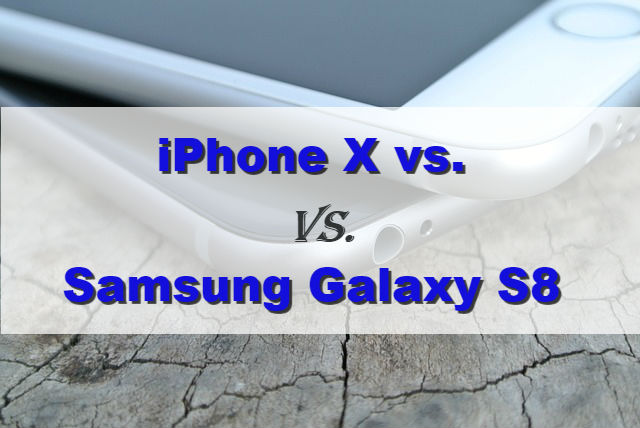 Other Specs
The iPhone X has the A11 Bionic Chip—the same hexacore processor as the iPhone 8—while the Galaxy S8 has the Snapdragon 835 Octacore at 2.35GHz.
While the amount of RAM on the iPhone X hasn't been formally announced yet, the rumors have it at 3GB. Meanwhile, the Galaxy S8 has 4GB of it.
To offset things, the iPhone X will have a version that has 256GB of internal storage, albeit still without an expansion slot.
The Galaxy S8 has 64GB of internal storage and a microSD expansion slot for extra storage.
The iPhone X uses the Lightning data port, while the Galaxy S8 uses USB Type C.
Everything else is neck and neck between the two models, but there is the other major difference with the presence of a headphone jack.
Apple is sticking to their guns with being rid of the 3.5mm headphone jack, while Samsung still goes with it as an industry standard.
Apple's pattern of phasing out old standards in their own products may have had a fair success rate as far as predicting what won't be relevant in years down the line, there is still merit in not getting too ahead of things.
Conclusion
The Apple iPhone X is the most radically-different looking iPhone of all, even more so than how different the iPhone 4 looked compared to its predecessors.
It may seem inferior on paper compared to the Samsung Galaxy S8's technical specifications, the iPhone X still seems to have the people's attention captured, for better or for worse.