The first step in applying for SSS Maternity Benefit is to inform or notify the Social Security System of your pregnancy.
For employed members, you must inform your employer that you are pregnant so that they can process the necessary application and notify SSS about your pregnancy.
For individually paying individuals including voluntary, self-employed, and OFW members, you can submit your maternity notification directly to any SSS branch.
The good news is, there is a new way of notifying SSS about your pregnancy and this is by far the easiest and most convenient way of doing it.
YOU CAN NOW NOTIFY SSS OF YOUR PREGNANCY VIA TEXT OR SMS. 
How cool is that?
"With just one text away, expecting mothers can now inform SSS of their pregnancy. It is more convenient for them since they no longer need to go to SSS personally to comply with the notification requirement," said SSS President and Chief Executive Emmanuel F. Dooc.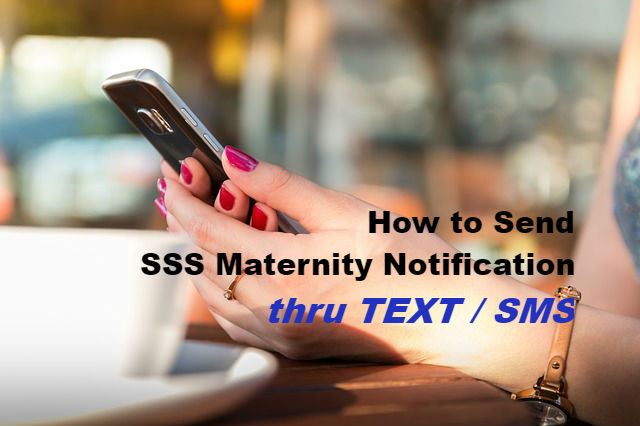 How to Submit SSS Maternity Notification via TEXT or SMS
Just simply follow this format:
SSS MATERNITYNOTIF <SSNumber> <PIN> <Expected Delivery Date MM/DD/YYYY> <Total Number of Pregnancies (including this pregnancy)>
Then send this text message to 2600.
Is there a fee?
Yes, there's a fee when you send your maternity notification to SSS via text.
₱2.50 for Globe/Touch Mobile and Smart subscribers
₱2.00 for Sun Cellular subscribers
After you send your text notification, you will receive a confirmation once the maternity notification is successfully received by SSS.
The fee is very minimal and is way better than having to go personally to the SSS branch.
Can all Female SSS members use this Text-SSS Facility?
For now, only individually-paying members can notify SSS of their pregnancy via TEXT.
If you're employed, you must still inform your employer about your pregnancy.
Are there additional requirements aside from submitting a Text Notification? 
SSS members will not be required initially to submit a proof of pregnancy when notifying the SSS using the Text-SSS facility.
However, the proof of pregnancy must be submitted to SSS once the member applies for reimbursement of her maternity benefit.
For the list of other requirements, click here.
How much is your SSS Maternity Benefit?
It mainly depends on the amount of your monthly contributions. For a more detailed explanation and computation, READ THIS ARTICLE.
What are the other Ways of Notifying SSS of Your Pregnancy
You can notify SSS by personally submitting your maternity notification at any SSS branch (for individually paying members only)
You can notify SSS through your employer (for employed members only)
You can submit your SSS maternity notification thru the My.SSS portal in the SSS website.
When submitting your maternity notification to SSS, make sure you have the following info:
expected date of delivery
number of delivery
date of last delivery or miscarriage
Why you should take advantage of Text-SSS Facility
Text-SSS continuously strives to give convenient and accessible means of transacting with SSS for their maternity claims.
This will not only save us time, but also money and effort.
If you are pregnant or you know someone who wants to avail of SSS maternity benefit, share with her the convenience of sending maternity notification via TEXT.
Click here to read: