The latest GoPro Hero action camera has a lot to live up to in the now-crowded action camera market to keep the GoPro brand on the throne as the king of action cameras.
While there are plenty of cheaper options available nowadays, the GoPro Hero line remains the premium choice due to video quality, portability, and all the incredible features it provides.
Now with the GoPro Hero5 Black, it's expected to take action camera technology to a whole new level.
What makes GoPro Hero5 Better than its Competitors
There are now other brands with their own 4K action cameras, such as the Garmin Virb, the TomTom Bandit, the Olfi camera (which is quite affordable), and the Xiaomi 4K camera (the go-to budget option).
This new line by GoPro is battling against all of them with 3 different models — the Hero Session, the Hero5 Session, and the Hero5 Black.
The Hero5 Black is the new top-of-the-line flagship action camera by GoPro, and it is packed with great features.
The GoPro Hero5 Black is capable of capturing 4K video at 30 fps, and it now sports a 2-inch touchscreen. It can also capture 12 megapixel still images, making it a versatile camera that fits in the palm of your hand.
Unlike its predecessors that were infamously user-unfriendly due to lacking a rear screen and being festooned with tons of complicated camera settings, the Hero5 Black is GoPro's appeal to users' concerns regarding the design of their action cameras.
GoPro Hero5 4K Video
The 4K video you can get out of this is incredibly smooth, perhaps the best quality you can get out of all the 4K action cameras out there.
If you want something in a higher frame rate, it can also shoot 1080p video at 60 fps, which is perfect for those high-speed action shots.
It also has the One-Button Control on top of the camera, which lets you turn it on and immediately record with just one button press.
However, the 4K recording here doesn't have electronic image stabilization (EIS), so you may have to settle with 1080p if you want your video to be really shake-free.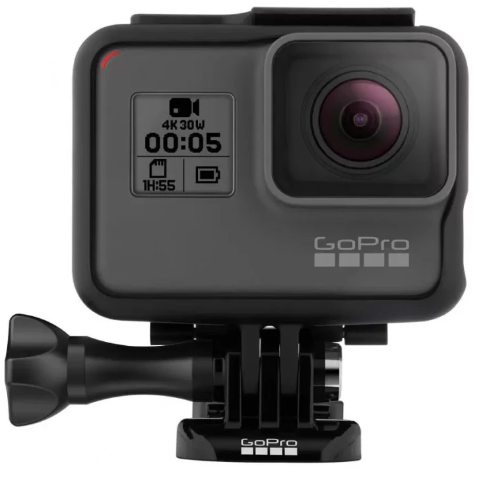 Touchscreen
As for the touchscreen, you can now see what the camera sees and review footage without having to rely so much on the GoPro smartphone app, making it more usable while on the move.
This is something that rival manufacturers had pounced on, giving their action cameras rear screens that GoPro users have since coveted.
This time, they need to covet no more as the 2-inch touchscreen is sharp and more than sufficient for framing shots and reviewing recorded footage.
The menus are easy to understand and access, but the touchscreen itself may not be perfectly responsive for everyone for being just 2 inches big.
Design
While the Hero5 Black retains the rectangular shape that has become a signature of the GoPro Hero line, there's a lot of things that set this apart from its predecessors as far as design is concerned.
For instance, the Hero5 Black is now waterproof up to 33 feet without a case, which means you don't have to worry as much about keeping it in the waterproof case like with previous Hero action cameras.
The port covers that come with this model are watertight; they're hard to open, but that comes with the camera being waterproof anyway.
USB Type-C Port
Beneath that port cover is a USB Type-C port, which means you can transfer video files from the Hero5 Black really fast. That is essential when it comes to 4K video footage, which can get pretty big in terms of file size.
Battery
Within the waterproof housing is room for a bigger battery compared to previous GoPro Hero action cameras, which means longer recording times.
However, take note that a bigger battery means older GoPro batteries are not compatible with this model. If you have some older batteries lying around as spares, they won't work with the GoPro Hero5 Black.
Voice Controls
This is also the first GoPro product to have voice controls. It can understand more commands than most other similar products and can do so in 7 languages.
Mind you, the applications for this are still limited since it wouldn't be able to pick up commands while there's a lot of ambient noise in the background.
However, it's nice to have that option, so you don't have to always physically interact with it when you're using it at a distance in quieter environments, depending on your particular application.
Accessories
It has a lot of other accessories like the Remo waterproof voice-activated shutter remote button, the QuikKey USB Type-C card reader, and so on.
If you wish to get into drones, there's also Karma — GoPro's entry into the drone market. It's a simple aerial filming solution designed by GoPro to be foldable so it can be stored inside any bag or container.
The Verdict
For the most part, GoPro has done it again with the Hero5 Black in terms of bringing the best in action cameras. If you're looking for a 4K action camera and want to find the best one out there, then look no further than the GoPro Hero5 Black.
Click here for more details and to purchase GoPro Hero5 Black 12MP 4K Ultra HD Action Camera