Paypal is one of the simplest and fastest ways of sending and receiving money online.
I personally use Paypal to pay services online and to receive payments from my ebooks and advertisers. My Paypal account is connected/linked to my savings account. Whenever I receive payments through Paypal, I have the option to withdraw the funds and transfer it to my savings account without having to go to the bank or remittance center.
Today, I'll make a quick tutorial on how you can withdraw money from Paypal assuming you already have an existing Paypal account.
How to Withdraw Money from Paypal
Step 1: Go to Paypal website at https://www.paypal.com
Step 2: Login using your email address and password.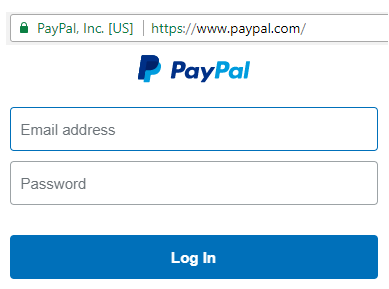 Step 3: Upon successful login, you'll see the summary of your Paypal account. If you have received a payment on your account, you'll see it in this page.
To withdraw money from your Paypal account, click Withdraw Funds.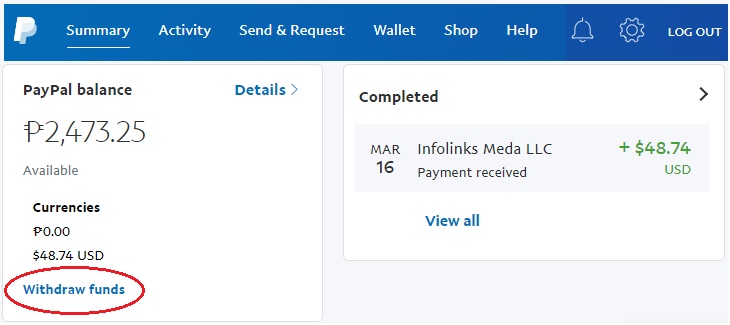 Step 4: Enter the amount that you want to withdraw, then click Continue.
Note: If you withdraw funds from your Paypal account to your Philippine bank account, there is NO CHARGE if the amount withdrawn is ₱7,000 or more. If you withdraw less than ₱7,000, Paypal charges ₱50 per transaction.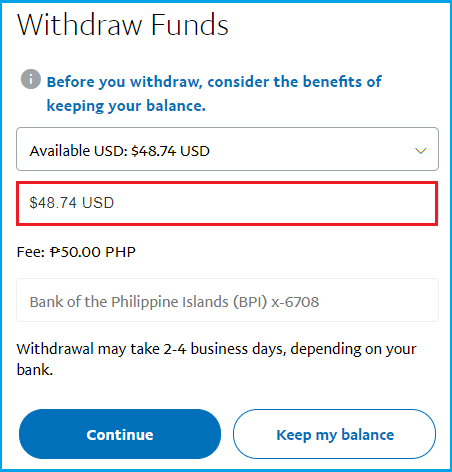 Step 5: Review the details of your Withdrawal Transaction. Take note that Paypal's conversion rate is lower than than the actual Foreign Exchange.
If all the details are correct and you want to proceed to your fund withdrawal transaction, click the Withdraw button at the bottom.
Step 6: A confirmation of your withdrawal transaction will be shown on the page.
Step 7: Click the Summary tab to see your account transactions. In this page, you'll see that there's no balance in the Paypal account (left) and your withdrawal transaction is already showing up as pending (right).

Step 8: Check your Local bank account after 2-4 banking days to see if your money has already been transferred successfully.
To check your bank account balance, you may check it at the ATM machine using your ATM card or online if you are registered to your bank's online banking facility.
For BPI online, just go to bpiexpressonline.com and login with your User ID and Password. Once logged in, check your current account balance and recent transactions to confirm your fund withdrawal from Paypal.
Update: I received the money from Paypal to my BPI account within 24 hours. The ₱50 fee was already deducted from the fund.

F.A.Q.s about Paypal Account
Q: What is Paypal? 
Paypal is an online facility that allows users to send and receive payments or funds online. You can purchase products and services online and you can also receive payments from clients or customers online using your Paypal account.
Q: How does Paypal work?
Paypal is very easy to use. Anyone can send money to you and you can receive money from anyone just by using your email address. With your Paypal account, you can send and request payments. You may link your local bank account to withdraw your funds. To make payment online, you can use your current Paypal balance or you can link your credit card to your Paypal account.
Q: How to use Paypal?
You can use your Paypal account to shop products online or to pay for services. You can also use it to receive payments. If you're a freelancer, your client can send his payment to you through your Paypal account. Or if you have an online business, your customers can pay you through Paypal.
Q: How to create Paypal account?
Signing up for a Paypal account is really simple. Just follow the steps below.

Go to Paypal's website to Sign up.
Choose the type of account you want to create either Personal or Business account, then click Continue.
Follow the instructions and make sure to enter your correct information. Part of the signup process is to nominate your email address and password which you will then use to access your Paypal account.

Tip: Choose a secure password with symbols, figures, and uppercase letters and don't share it with anyone.
Q: How to login to Paypal?
Paypal has the simplest online login platform. To login to your Paypal account, just simply go to the Paypal's website at https://www.paypal.com and enter your correct email address and password. That's it! Once you're logged in, you can access the details of your account including your payment transactions and account activities.
Q: How to pay with Paypal or how to send payment?
To send money or make Paypal payment, follow these steps:

Go to Paypal's Send and Request Money page.

Pay for goods or services – These are payments involving a transaction between a buyer and a seller. Choose this when you pay for an item you purchased on Lazada or eBay.
Send money to friends and family – These are money transfers for personal, family or household purposes. Choose this when you send money to your parents, kids, or friends.

Once the payment transaction is completed, the sender and recipient will receive an email confirmation. You may also check the payment in the Activity section on your Paypal account.
Q: How much are the payment fees at Paypal?
It is FREE to open a Paypal account.
Fees will be charged depending on the payment you make:

Personal payments – Payments to friends and family are free IF you use your PayPal balance or bank account to send these payments. IF you use your credit card, the recipient will be charged the associated fees. However, the sender has the option to pay these fees.
Commercial payments – If you buy an item, the recipient (seller) will be charged the associated

fees

.
Q: How to keep your Paypal account safe?
When you login to Paypal, make sure to type the correct website of Paypal on your internet browser. It's https://www.paypal.com. Take note, it's https for added security.
Be wary of fake PayPal emails. Paypal will never ask sellers to provide a tracking number before receiving the payment to their PayPal balance.
If you received an email that requires you to fill out a form with your personal information, DON'T DO IT. Paypal will not ask you to update your information through email. You check the email address of the sender. If it's not from Paypal, take a screenshot of the message and sender's email address and immediately mark it as Spam and report it to Paypal.
Do not respond to users asking you to activate your account internationally and do not send prepaid cash service vouchers.
Q: How will I know if the Paypal email I received is real or fake? 
The first thing to do is to check if the email is real or fake based on the sender's email address and the content of the email. Here are some tips to identify fake from real Paypal emails.
FAKE Paypal Email
The sender's email address is NOT from paypal@mail.paypal.com or service@intl.paypal.com.
Other personal email addresses may be included in the Send To field
Fake emails use generic greetings such as "Dear Customer"
There are grammatical errors and improper use of punctuation marks in the content
The sender's account profile photo is not the same as Paypal's official logo
There's a clickable link in the body of the email – this is a spoof or phishing email and it aims to get your personal information so that they can access your Paypal account without your knowledge.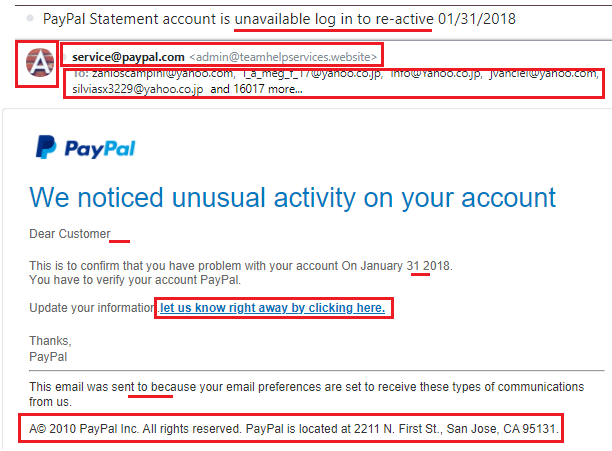 REAL Paypal Email
The sender's email address is from paypal@mail.paypal.com or service@intl.paypal.com
No other personal email addresses are included
Emails from PayPal will always address you by your given surname and given name.
No grammatical errors. The content of the email is well-written.
The sender's account profile photo is Paypal's official logo
NO links in the body of the email. Paypal will not ask for your personal information through email.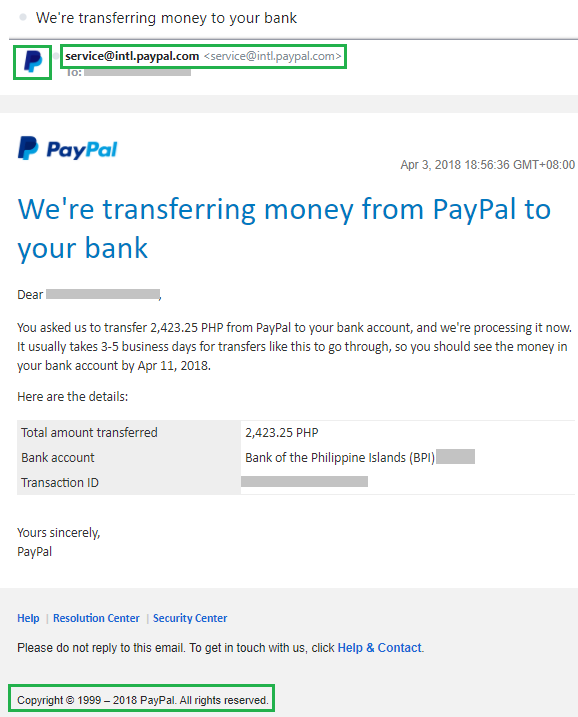 Q: What to do if I received a fake Paypal email? 
Sending of fake emails is known as "Phishing" and it is an illegal attempt to "fish" or obtain your private and personal information for fraudulent practices.
If you receive a suspicious email from a sender claiming to be from like PayPal, here's what you need to do:
Forward the entire email to spoof@paypal.com.
Do not alter the subject line or forward the message as an attachment.
Delete the suspicious email from your inbox.
Source: Visit Paypal's website for more information about phishing and how to avoid getting scammed.