Driving safely isn't only for the driver or passenger's benefit, but also for those around your vehicle including other drivers and the people along the road.
While most accidents happen unexpectedly or unintentionally, it is still better to drive safely and be cautious at all times.
One way to do this is by not using your cellphone while you're driving. We understand that there are times when you really have to pick up the phone call or text someone urgently, but you have to make sure that it will not cause you any distraction.
And with the Anti-Distracted Driving Law (RA 10913), you cannot just do this all the time or else you'll be penalized.
If you're not yet familiar with the Republic Act 10913 or the Anti-Distracted Driving Law, we'll share with you the important things that you need to know about this law and some tips on how you can avoid violations.
What is Republic Act 10913 or the Anti-Distracted Driving Law?
This law prohibits motorists using public and private vehicles from using communication devices and other electronic entertainment and computing gadgets while their vehicles are in motion or temporarily stopped on a traffic light or an intersection.
What you should NOT do while driving
To avoid violations of RA 10913, you must not do these things while driving:
Make or receive calls
Write, send or read text-based communications (SMS/text message, conversations on Messenger, posting comments on Facebook and other Social Media Acounts, and others)
Play games
Watch movies or videos
Perform calculations
Read e-books or actual books
Surf or browse the internet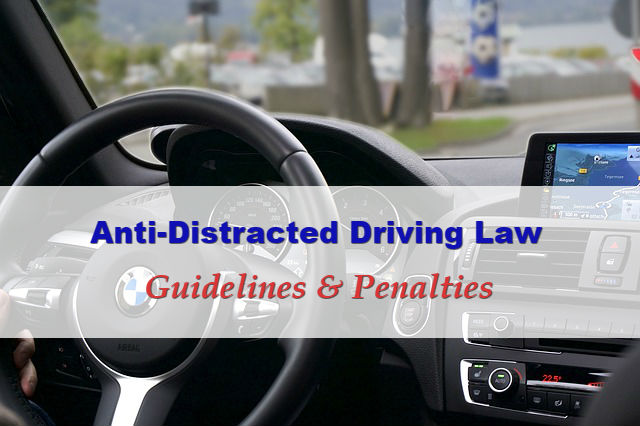 What if there's an emergency, can I make a phone call or send a text message using my cellphone? 
YES. You are allowed to use your cellphone to make or take emergency calls to authorities in case of a crime, accidents, bomb or terrorist threat, fire or explosion. You can also do this if you need immediate medical attention, or when your personal safety and security is compromised.
How about hands-free devices like microphones and earphones, are they also prohibited? 
NO. Using of hands-free devices and applications are NOT prohibited as long as these do not interfere with your line of sight. This means that no communication or electronic gadget should be affixed on the car's dashboard and steering wheel.
In terms of using headphones/earphones, this is only allowed when making or receiving calls. You SHOULD NOT use it to listen to music or any audio files.
What if I'm bored while driving because of heavy traffic, can't I listen to music on using my earphones? 
NO. You can't and you shouldn't listen to music using your earphones no matter how heavy the traffic may be. If you do, you may be penalized for reckless driving violation under other relevant laws.
What other Vehicles are covered in the Anti-Distracted Driving Law?
This law isn't only for cars and motorbikes. It also covers the following vehicles:
wheeled agricultural machineries
construction equipment
bicycles
pedicabs
trolleys
"habal-habal"
"kuligligs"
It also covers wagons, carriages and carts that may either be human-powered or pulled by an animal as long as the same are driven or operated in public highways or streets.
Is using navigational apps like Waze and Google Maps still allowed? 
YES. You may use Waze and Google Maps while driving but you are advised to follow these guidelines:
Set your preffered destination on these applications prior to your departure.
Install your gadget/cellphone with these apps in areas that will not obstruct the driver's view.

You may place it in the area below, at the same level, or on top of the dashboard, and even on the windshield, as long as the highest point of the device is not higher than 4 inches from the dashboard.

In cases when you need to find alternate routes while in traffic, you must first pull your vehicles aside.
Will I be caught even if my vehicle's windshields are heavily tinted? 
YES. The authorities will use high-definition cameras that can monitor lights from devices inside heavily-tinted vehicles. Well-trained enforcers will also be able to determine from the movement of the vehicle whether or not a driver commits distracted driving.
What are the Penalties for Violations against the Anti-Distracted Driving Act?
First Offense – ₱5,000
Second Offense – ₱10,000
Third Offense – ₱15,000 with a three-month suspension of driver's license
Fourth and Succeeding Offenses – ₱20,000 with the revocation of driver's license
A driver of a PUV or public utility vehicle, a school bus, a school service vehicle, a common carrier hauling volatile, flammable, or toxic material, or a driver who commits an act of distracted driving within a 50-meter radius from the school premises, shall be subject to a penalty of ₱30,000 and suspension of his driver's license for 3 months.
If the conveyance or machinery operated by the offender does not require a driver's license, the penalty shall be the impoundment of the conveyance or machinery instead of the confiscation of the driver's license.
The amount of fines or penalties for the violation against the Anti-Distracted Driving Law may increase every 5 years in the amount not exceeding 10% of the existing rates.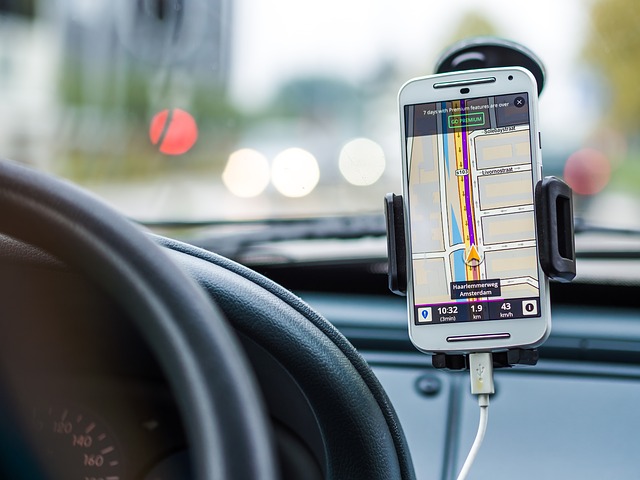 Other things you need to know about the Anti-Distracted Driving Act
The DOTr – Land Transportation Office (LTO) is the lead implementing agency of the Act. The LTO also has the authority to deputize members of the PNP, MMDA and LGUs to carry out enforcement functions and duties.
Both operators and owners of Public Utility Vehicles (PUV) and other commercial vehicles shall be held liable for the violations committed by their drivers.
The Anti-Distracted Driving Act takes effect anew on July 6, 2017.
Dashcams and built-in televisions are not covered by the law. Rosaries and toys placed on dashboards of vehicles are also not covered, but drivers are encouraged to place them at the back of the rearview mirror to avoid obstruction of line of sight.
For Jeepney drivers, you may turn to your riders at the back of your vehicle when accepting payment and giving change.
Click here to read or download the revised Anti-Distracted Driving Law Implementing Rules and Regulations (IRR). 
May Huli Ba?
Have you heard of this? Well, I just did and I just found out that there is a website where we can check if we have committed a traffic violation under MMDA's no-contact apprehension policy.
This project, which is also called, "Na-HuliCam Ka Ba?", allows motorists to check if the MMDA's closed circuit television cameras or CCTVs have caught them breaking traffic rules.
To do this or to verify if you have committed any traffic violations, just visit the MayHuliba website, then enter your vehicle's license plate number. The database will show you the specific violation, the time and place where it was committed, and the status of the official notice that you will receive from the MMDA.
If no violation has been recorded, the website will generate funny hugot lines like this.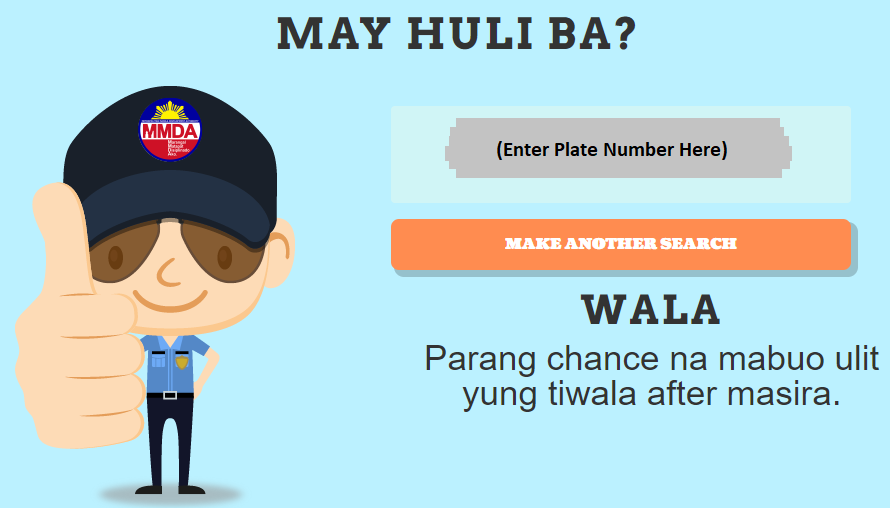 To avoid any violations, always make it a priority to ensure the safety of yourself, your passengers, and the people around you by driving safely.
If you get involved in any violations or altercations or accidents on the road, but you're still doing okay, try to be patient, humble, and communicate with the involved parties and authorities in a nice and proper way.