Have a lot of spare time but don't know what to do? Why not take online courses?
Do you know that TESDA offers various online courses? Well, the answer is yes and they're all free!
Not only will you learn new skills but also increase your chances of getting hired especially if it's something that's related to the job you're applying for.
What is TESDA Online Program?
Also known as TOP, the TESDA Online Program is an initiative of the Philippine Government to provide technical education through the use of the internet.
It means that if you have a computer, desktop or laptop, a tablet, or even a smartphone, you can access TESDA online courses, wherever you are as long as you have an internet connection.
It's also available 24/7 and you can take the course at your own pace.
Anyone can take this program but it's specially created for students, out-of-school youths, unemployed adults, workers, professionals, and OFWs who would like to learn a new skill or upgrade their current skill set.
What courses are available at e-TESDA?
As of May 2017, there are 11 main course categories in the TESDA Online Program. These include:
Agriculture
Automotive
Electronics
Entrepreneurship
Health, Social and other Community Development Services
Heating, Ventilation and Air Condition
Information Technology
Maritime
Tourism
Trainers Methodology I
Trainers Methodology II
We've arranged the courses as we deem fit based on the common interests of people who might take these TESDA Online Courses.
1. Tourism
Let's start with Tourism. I'm not exactly sure why they labeled it Tourism when most of the courses under this category are more on Hotel and Restaurant Management (or maybe they're just closely related to each other.)
There are four sub-categories and each has its own coursewares or modules:
Food and Beverage Servicing NC II

Waiter Servicing
Room Attendant Servicing
Bus Boy Servicing
Housekeeping NC II

Provide Housekeeping Services to Guests
Guest Room Attendant Servicing
Valet Servicing
Public Area Attendant Servicing
Laundry Servicing
Cookery NC II                

Preparing Sandwiches
Preparing Egg Dishes
Preparing Vegetable Dishes
Preparing Starch Dishes
Preparing Salads and Salad Dressing
Preparing Appetizers
Preparing Desserts
Preparing Stocks, Soups, and Sauces
Preparing Poultry and Game Dishes
Preparing Seafood Dishes
Preparing Meat Dishes
Bread and Pastry Production NC II
2. Maritime
Ships' Catering NC III (Ships' Cook)
3. Agriculture
4. Health, Social and other Community Development Services
Massage Therapy NC II

Swedish Massage
Thai Massage
Shiatsu Massage

Beauty Care Services (Nail Care) NC II
Both Maritime and Agriculture have one course each, while Health, Social and other Community Development Services offer massage therapy and nail care.
5. Automotive
Diesel Engine Tune Up 4
Automotive Battery Servicing 4
6. Heating, Ventilation and Air Condition
Packaged Air Conditioner Unit Servicing 1
7. Electronics
Solar Night Light Assembly
8. Information Technology
Basic Computer Operation 1
Web Development using HTML5 and CSS3 1
Animation (3D DIGITAL) 3
Microsoft Online Courses

Game Development

Game Production Basics 1
Developing 2D Games with HTML5 1
Developing 2D & 3D Games with Unity 1

Software Development Fundamentals 1
C# Fundamentals for Beginners 1

Udacity – Google Courses

Android Development for Beginners 1
UX Design for Mobile Developers 1

SMART Android Mobile Apps Development for Beginners 1
SMART Technopreneurship 101 5
9. Trainers Methodology I
Plan Training Session (Core Competency 1 of 6) 6
Facilitate Learning Session (Core Competency 2 of 6) 1
Utilize Electronic Media in Facilitating Training (Core Competency 3 of 6) 4
Conduct Competency Assessment (Core Competency 4 of 6) 3
10. Trainers Methodology II
11. Entrepreneurship
STAR Online Training Program 5
Managing Your Personal Finances 1
How to Enroll in TESDA Online Courses? 
Before you can enroll in the program, you need to create an account first with e-TESDA. Just click Login, then Create New Account, and fill out the form with the required information.
Once you already have an account, you can now choose the course that you want to take.
Here are the steps to enroll: 
Step 1: Enter your username and password to Login to your TESDA Account
Step 2: Click the course that you want to take. In this example, we will enroll in Laundry Servicing.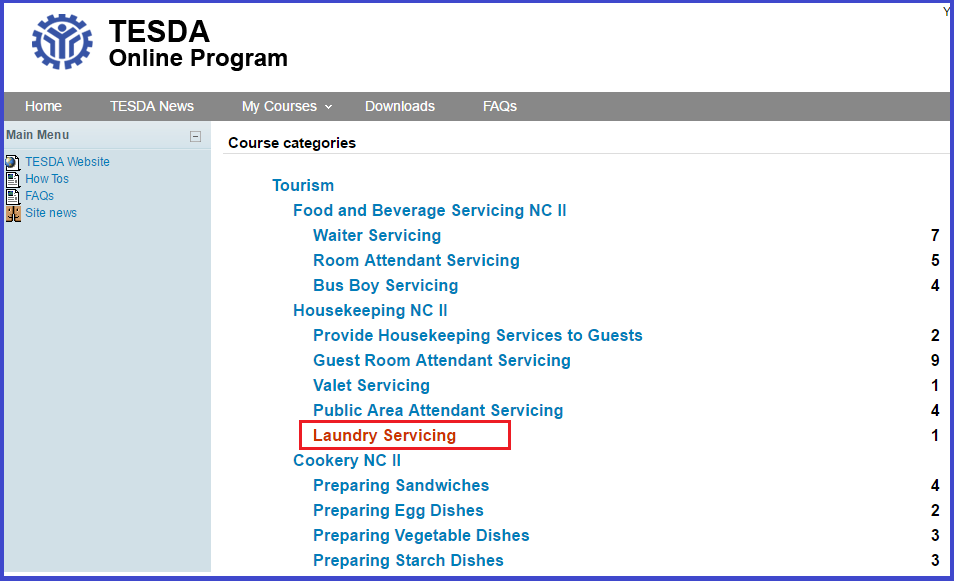 Step 3: Click Perform Laundry Service.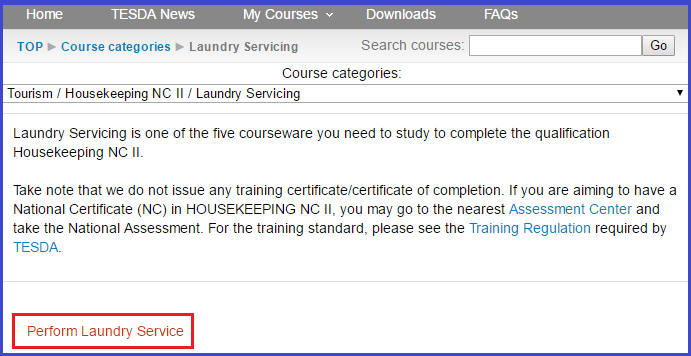 Step 4: Click Yes to proceed with the enrollment.

Step 5: Check the Topic Outline and you can now start taking the course at your own pace. You can always go back to it at a later time if you can't finish it yet.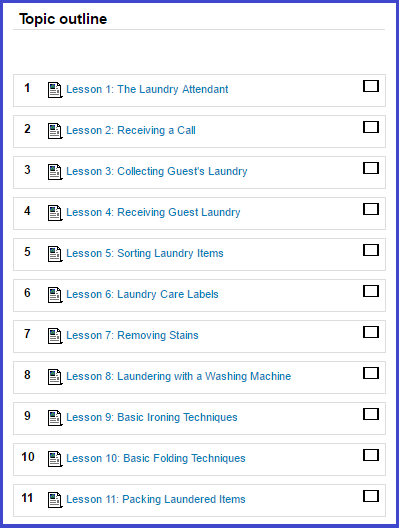 Is the TESDA Online Program FREE?
Yes, taking the TESDA Online Courses is free and you can take it anytime, anywhere as long as you have internet connection. No Tuition Fee!
Click here to see the list of TESDA Courses (offline training) if you want to take the actual training program.
How to get TESDA National Certificate?
TESDA does not issue certificate of completion or training certificate for these online courses. You can take the National Assessment at any TESDA Assessment Center if you want to have a National Certificate (NC) in any of the courses.
How to Contact TESDA?
For inquiries regarding Testa Online Courses, you may email etesdapmo@tesda.gov.ph or contact their hotline at +63-2-8938297. You can also visit e-Tesda and Tesda websites.