I've been a Philhealth member since I started working in 2007, but I only realized how important and helpful it is when I gave birth to my first child and when she was hospitalized.
If I remember it correctly, approximately P19,000 was shouldered by Philhealth in my hospital bills when I gave birth and  P10,000 when my child was hospitalized. It really was a huge help for us.
What is PhilHealth
Philhealth or the Philippine Health Insurance Corporation is the primary health insurance provider of the Philippines. Its main goal is "to provide health insurance coverage and ensure affordable, acceptable, available and accessible health care services for all citizens of the Philippines".
How do you become a member of PhilHealth?
There are four basic steps to become a member of PhilHealth.
Step 1
Assemble and bring the requirements below:
1 Valid ID (photocopy) such as:
Birth Certificate
Social Security System
Government Service Insurance System
Driver's License
PRC ID
Senior Citizen's ID
OWWA ID
DWSD ID
Integrated Bar of the Philippines ID
Certification from the National Council for the Welfare of the Disabled Persons
Seaman's Book
OFW ID
Government Office ID
Alien Certification of Registration
In the case that you are married (your spouse is your dependent), the documents that are needed to be brought are:
Photocopy of Marriage Certificate/Contract
(For Muslims), Affidavit of Marriage issued by Office of the Muslim Affairs, and shall pass through Sharia Court and must be registered in the National Statistics Office
In the case that you have children (your children as part of your dependents), identification documents are needed to be brought, such as:
Birth Certificate (for legitimate or illegitimate child below 21 yrs)
Court Decree of Adoption (for adopted child below 21 yrs)
Marriage Certificate between the natural parents and stepmother/stepfather and Birth Certificate/s of Stepchildren (for stepchildren below 21 yrs)
Birth and Medical Certificate of child issued by the attending physician that describes the extent of the child's disability. (for disabled children 21 yrs or above)
In the case that you include your parents as your dependents, the documents that are needed to be brought are:
Stepparent that is 60 yrs or above

Birth Certificate of member-child indicating the biological parent
Marriage Certificate/contract between biological parent of the member and the stepfather or a notarized affidavit of uninterested persons attesting to the date of birth
Death Certificate of member's deceased biological parent

Adoptive parent/s that is 60 yrs or above

Resolution of Adoption or Photocopy of Birth Certificate of the Child in which the adoption and is annonated.
Birth Certificate/s of adoptive parents or notarize affidavit of two disinterested persons attesting to the date of birth
Prepare an initial contribution of Php 600 (valid for 3 months)
Step 2
Look for the nearest PhilHealth Office to you, and bring the said requirements there.
Step 3
In the office, tell a staff that you will be applying for PhilHealth Membership. The staff will lead you to the new account application desk and give you the PhilHealth Member Registration Form.
Reminder: Fill-out the form as orderly and neatly as you can. All information must be written in CAPITAL LETTERS. "N.A." is the correct response to any information that is not applicable to you.
Step 4
From here, the documents you have submitted will then be checked, authenticated and your application will begin its processing. You must pay the Php 600 initial contribution.
It will only take a while for your application to be processed. But your PHILHEALTH ID will be ready around a week or two after.
BUT there is actually also another way to apply.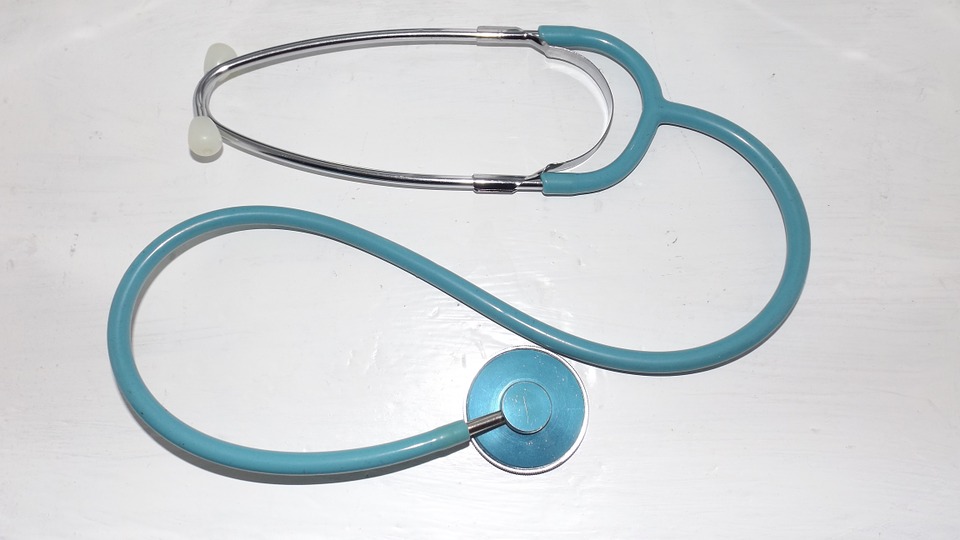 How to apply online to become a PhilHealth Member?
There are two basic steps in this process.
Step 1
Register for PhilHealth membership online. (Click here to download form)
The application form is quite simple. Just fill out the information needed.
You can attach the documents needed, here as well. Upload a scanned version of the document, e.g. you birth certificate and save it with either jpg, JPEG, PNG, or PNG. Then just click on upload.
The same process is the same for your beneficiaries as well.
Step 2
By then, PhilHealth will email you on for your next step. A confirmation email will be sent to you about your online registration.
How to pay PhilHealth contribution?
For employed PhilHealth Members, the PhilHealth Contribution would be automatically deducted from your salary. Half will come from your employer and half will come from you, the deducted amount will vary depending on the amount of salary you receive.
Please refer to the updated table for 2017 below to know the corresponding PhilHealth Premium Contribution Table for your salary.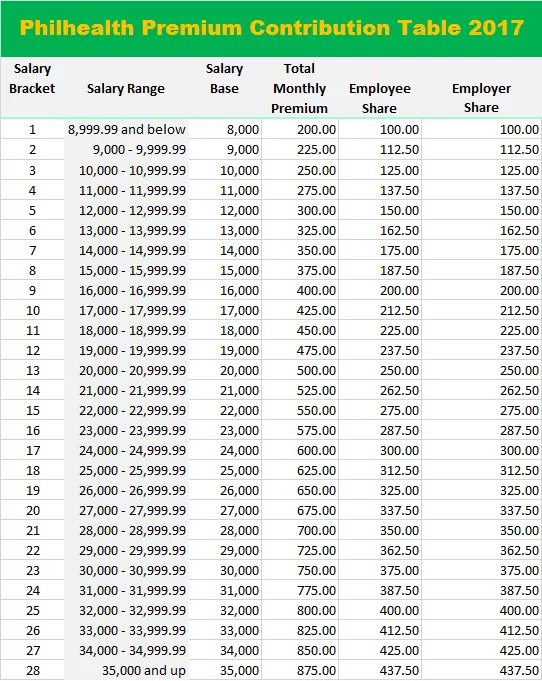 For employers, the step by step procedure is below.
Step 1
Referring to the update PhilHealth Premium Contribution Table, deduct the amount stated in the monthly premium column that corresponds to the employee's share from the salary of the employee.
Step 2
Together with the share of the employer, transfer the employee's premium contribution to Accredited Collecting Agents on or before the deadline.
Philhealth updated schedule for 2017
Employers with PENs ending in 0-4 – Every 11th-15th day of the month following the applicable period.
Employers with PENs ending in 5-9 – Every 16th-20th day of the month following the applicable period.
Reminder: The PhilHealth Premium Payment Slip (PPPS) must always be used when remitting premiums. Do not forget to fill in all the information needed
Step 3
Submit the Remittance Report (RF-1) in either soft or hard copy to PhilHealth within 5 days after the payment.
In the case of those who are Self-Employed or OFWs, they too can be voluntary members. And the procedure for their PhilHealth Contribution is as stated:
Easiest way is by visiting a PhilHealth branch and paying there. But it can also be processed by banks, Philippine Postal Corporation, MLhuillier Phils, Inc., LBC, and CIS Bayad Center
OFWs have the choice of paying in either Development Bank of the Philippines, Phil. Veterans bank, IRemit, Inc., Land Bank of the Philippines, and Ventaja International Corporation, Bank of Commerce.
How to avail of PhilHealth Benefits?
Step 1
There are conditions that have to be met in order for you to avail the benefits of PhilHealth when hospitalized, there are stated as follows:
At least 3 months' worth of payment premiums within the immediate 6 months of confinement. For any pregnancy related concerns, it must be 9 months worth of contributions in the last 12 months is needed.
Confinement in an accredited hospital for 24 hours due to illness or disease requiring hospitalization. Attending physician(s) must also be PhilHealth accredited.
Claim is within the 45 days allowance for room and board.
Step 2
The following documents must be submitted before the discharge from the hospital.
Updated copy of Member Data Record (MDR). In the case of the dependent being hospitalized, his/her name must be listed in the MDR.
Original copy of PhilHealth Claim Form 1, available at Philhealth, that has been signed by your employer.
Receipt of Premium Payments
PhilHealth ID and Valid ID
In the case that you cannot personally be there to submit the claim, have an authorized letter with your signature and photocopy of valid ID to be given by your representative.
Step 3
By submitting the required documents, there will already be an automatic deduction from the total bill. PhilHealth will then send you a benefit payment notice.
Philhealth offers a lot of benefits and with just a minimal contribution, you can avail of these benefits if you are an active member in times of need. So, if you are not yet a member of Philhealth yet, go ahead and be a member now.