From the current P491 daily minimum wage, it will now be increased to P512 starting October 2017.
This is after the government through the Regional Tripartite Wages and Productivity Board-National Capital Region (RTWPB-NCR) approved the P21 salary increase for minimum-wage workers in Metro Manila yesterday, September 14, 2017, based on Wage Order No. NCR-21.
This may not seem like a huge increase, but this is already good news to more than 6 million minimum-wage workers in 17 cities and municipalities in Metro Manila.
P512 daily wage for the non-agricultural sector in NCR

P502 basic wage
P10 cost of living allowance (COLA)

P475 daily wage for the agricultural sector in NCR

P465 basic wage
P10 cost of living allowance (COLA)
Based on Wage Order No. NCR-21, "The wage rates per day prescribed in this order shall apply to all minimum wage earners in the private sector in the region, regardless of their position, designation or status of employment and irrespective of the method which they are paid."
Who are not covered by this Salary Increase? 
Domestic workers, persons in the personal service of another, and workers of Barangay Micro Business Enterprises (BMBEs) are not included in the P21 salary hike.
Is the P21 Salary Hike Enough? 
According to Alan Tanjusay, the Spokesman of Associated Labor Unions (ALU), this P21 salary increase for minimum-wage earners is not enough to alleviate their current situations.
"The P21 increase in daily wage remains insufficient for families to cope with rising prices of goods and increasing costs of goods. The P21.00 is only 4.27% of the current P491. So it obviously did not lift workers out of poverty. Workers do not deserve this very small amount," he said.
Prior to the approval of Wage Order No. NCR-21, three wage petitions were filed at the RTWPB-NCR:
The Association of Minimum Wage Earners and Advocates (P175)
The Trade Union Congress of the Philippines (P259)
The Associated Labor Unions (P184)
According to the ALU-TUCP labor group, they submitted a proposal to the President in April for a P500 monthly subsidy. If granted, the cash voucher will be used by minimum-wage earners for their personal needs such as purchasing rice, groceries, and medicines.
Tanjusay added, "We have no other choice but to come and ask President Duterte to grant our long-standing request to him to provide a P500 monthly [conditional cash transfer]-like cash voucher subsidy to minimum-wage workers who helped build our high economic growth."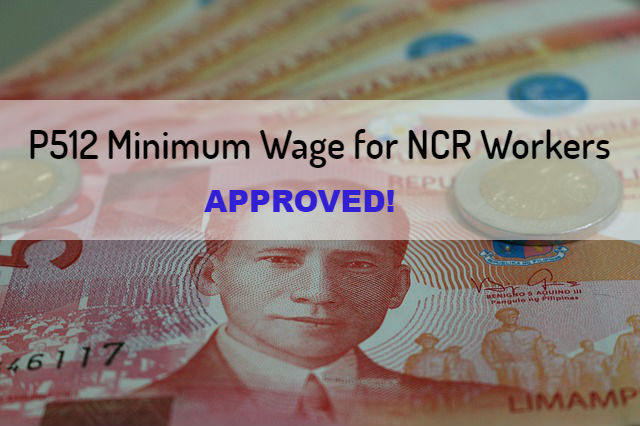 F.A.Q.s on Minimum Wage Fixing Procedures
What is the effectivity date of a Wage Order?
A Wage Order takes effect 15 days after its publication in the newspaper of general circulation in the region.
How often can the Boards issue a wage order?
Generally, the Boards can issue a Wage Order only once in a given year
Within the 12-month period from the effectivity of the wage order, no petition for wage increase may be entertained, except when there is a supervening condition (which is to be determined by the Boards and confirmed by the NWPC), such as an extraordinary increase in prices of petroleum products and basic goods and services.
Can the wage order issued by the Boards be appealed?
Yes, any aggrieved party may file an appeal with the NWPC through the Board within 10 days from the date of publication of the Wage Order. The grounds for appeal include non-conformity with prescribed guidelines and/or procedures; a question of law; and/or grave abuse of discretion.
Sources: NWPC and Business Mirror
Planning to work abroad?
Click here to read: High Salary Jobs in New Zealand for Filipinos