I went to the Lamudi Housing Fair at Glorietta 3 last Saturday, July 15, 2017 with my family and my siblings hoping to find a good deal on a real estate property.
There were some talks at the event and many brands were present.
Jaycee Co was one of the sponsors who had a booth at the event.
I was listening to the talk of Lamudi's Managing Director in the Philippines, Bhavna Suresh, when this guy from Jaycee Co, approached me and handed me this small, green tumbler.
Free Tumbler
I asked him a few times if he was giving me the tumbler for free and he said yes so I accepted it. Then, he led me to their booth which was right behind where I was standing and he let me sign on their registration form with my name and contact number.
Free Steamer
I thought that was it, but all of a sudden, he asked if I'm from Quezon City and when I said yes, he shouted to say, "Congratulations! You're one of the 10 selected people in this event who will take home this steamer for FREE!"
I was shocked! I thought, "Oh, how lucky I am!"
He then asked for my ID to verify if I was really from Quezon City. After that, he called someone on his mobile phone, telling that person on the other line that I was selected and I'm the fifth person who qualified to take home the FREE Steamer from Jaycee Co.
Are you from Quezon City?
He handed me his mobile phone and the person on the other line asked me if I was really from Quezon City and I said yes, so he also said congratulations to me.
After that brief conversation on the phone, I kept asking the sales guy if he was trying to sell me something and he said no. I  asked him if it was really true that I will take home the "FREE" steamer without paying or purchasing anything, and he confirmed and said, "You'll have it for free and all you have to do is LIKE our FB Page.
My husband came to me and whispered, "Beware, I think they're trying to scam you." I answered, "Don't worry, I won't buy anything from them and I won't let them scam me."
I got even excited to show my husband the FREE Steamer that they gave me. He looked skeptical, but I just ignored him.
Cookware Set worth P89,000
The sales guy started to tell me something about their products, the induction cooker worth P70,000+ and the cookware set worth P89,000.
I said those were good products, but I wasn't interested in purchasing any of those products at the moment, plus they were extremely expensive or overpriced.
His colleagues, two ladies, came to me and shouted, "Congratulations, Ma'am, isa po kayo sa napili na mabigyan ng sponsored products."
Do you have SM Advantage Card?
They had me seated on a stool, while they were trying to explain to me everything. First, they asked for my ID to prove that I was from QC. Then, they asked for my SM Advantage Card which I gladly showed them.
Do you have a Credit Card?
When they asked if I also have a credit card, that's when I suspected that something wasn't going right. But I kept my cool and I managed to answer their other questions.
They asked if it's VISA or Mastercard. I said I have both, but I use MasterCard most of the time.
They asked me to show them my credit card and I got hesitant, but just to prove to them that I really have a credit card, I took it out from my wallet and showed it to them.
When they asked me to turn my credit card upside down, that's when I refused.
Then this sales guy told me that they just needed to see the logo at the back of my credit card.
But there was no logo at the back!
I felt something wasn't really right, but again I turned the card upside down and I immediately covered the numbers at the back where the CVV is located.
They asked me to remove my hand and that's when I said, "Iba na 'to, niloloko nyo ba ako? This is my credit card with my private information on it and I should not be showing you all of these."
That's when they all stopped…
The sales guy then grabbed a calculator and tried to compute for the discount that I will get if I purchase the cookware set.
And so now he was trying to sell me their products after telling me that they're giving me the damn FREE Steamer without me purchasing anything from them.
The Free Steamer was a Big Lie!
When I said I wasn't interested in purchasing their products and I will just take home the FREE Steamer, he said, "Sorry, Ma'am, you can't take it home if you don't purchase the cookware set."
Boom! There you go!
Now I'm back to my senses and clearly, they tried to make a fool of me!
Shame on you, Jaycee Co!
Is this how you do business? Is this how you train your sales people? Is this how you convince your clients and customers to purchase your products?
Why can't you just be honest and do business with integrity?
There may be nothing wrong with your products, but there's certainly something wrong with your marketing strategy.
I was embarrassed in front of my family for nearly being "scammed" if I may call it. I was so excited to tell them that I was lucky to have been selected to take home the FREE Steamer, but it turned out to be a lie.
Why would they ask me to show them the front and back of my credit card? What if I didn't cover the numbers at the back of my credit card? What if I easily gave in to their dirty tactics?
When I asked the sales guy his name and if we could have a photo together, he immediately said, "No", and he walked away. Why wouldn't he even let me know his name if he's not guilty of doing something "fishy"?
But I managed to take a photo of their booth with the sales guy and the other 2 ladies in red.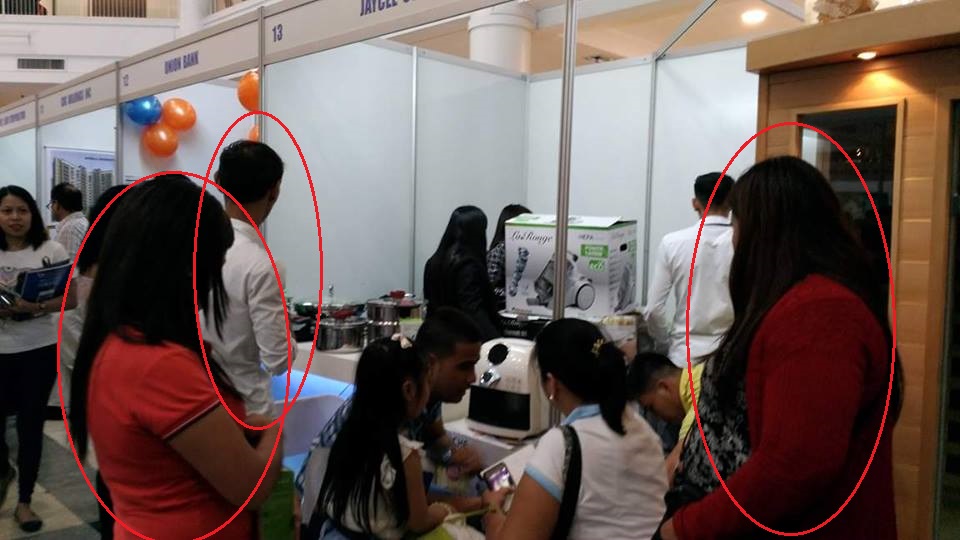 So, is Jaycee Co a scam? You judge…