It's my sister's birthday today and as a gift, I'm purchasing a Gold's Gym membership voucher for her at Metrodeal. Actually, it's been her goal to lose weight this year but for so many reasons, she has not been able to start yet.
And I remember, a few days ago, she mentioned that she wanted to avail of this Gold's Gym promo on Metrodeal. But when I asked her today, she said that she has not purchased it yet. Or maybe she's waiting for me to buy this for her. Hmm, let's see what's in this promo…
"P2425 instead of P9600 for 2-Months Membership & 1 Personal Trainer Session at 25 Gold's Gym Locations"
What's included in the voucher?
• 2 months of membership
• 1 session with personal trainer
• Full access to the gym's state-of-the-art equipment such as weights, cardio machines, and more
• Access to group exercise and dance classes, including Zumba
• Complimentary use of lockers, showers, and steam or sauna
• Choose your preferred branch from 25 locations nationwide
The gym's knowledgeable and friendly staff are always ready to assist you. Gold's Gym is also a favorite spot of many celebrities, athletes, and models for working out and recreation. You might be able to meet new friends here.
And if this is true that this voucher's real value is Php 9,600, then this is really a good buy.
The Details
First of all, I considered this promo because Gold's Gym is one of the largest international fitness chains in the Philippines.
The 1 voucher that I'm going to purchase is already good for 2 months of membership which also includes 1 session with a personal trainer. Memberships need to be started at the latest by June 1, 2017. It means you can purchase this voucher now and start going to the gym on or before June 1,2017 for 2 consecutive months.
Need longer membership?
You can also buy multiple vouchers and enjoy several months of membership.
For example, if you buy 6 vouchers, it will entitle you to 12 months of membership with Gold's Gym and 3 sessions with personal trainer. This will cost you a total amount of Php 14,550 (P2,425 x 6).
If you're wondering why you will get 3 personal trainer sessions in your 1-year membership, this is because Gold's Gym only grants maximum of 3 personal trainer sessions for buyers of 3 vouchers and above.
Take note that multiple voucher purchases need to be consumed consecutively or continuously. So, if you purchased 6 vouchers and you start on May 1, 2017, you need to continue your membership for the next 12 months or until April 30, 2018.
Breaks are not allowed which means that if you are unable to go to Gold's Gym for one month, it's still considered used or consumed.
And because this voucher can be given as a gift, I am now buying one for my sister.
Steps to Purchase Gold's Gym Membership voucher at Metrodeal
Step 1 – Go to Metrodeal.com and search for the item or voucher that you want to purchase.
Step 2 – Read all the details and when you're ready, click Buy Now!
Step 3 – Choose your preferred branch.
Step 4 – If you already have an account with Metrodeal, login using your email address and password. If you're a New User, sign up by entering your first and last name, mobile number, email address and enroll a password.
Step 5 – Double check the details of your order (Voucher Name, Branch, Quantity, and Total Amount)
Step 6 – Choose your desired payment option and enter the required information
• Credit / Debit / ATM Card
• Paypal
• OTC / Bank Deposit / Online Banking / Bancnet
Step 7 – Submit Order
Step 8 – Login to your Metrodeal Account, click My Orders, and Print your Voucher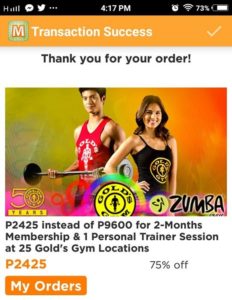 How to redeem or use your voucher
Just simply go to your chosen branch of Gold's Gym, present your printed voucher, and start enjoying your gym membership!
For more information about this promo, visit Metrodeal's website.