Dermcare's Diamond Power Peel Treatment is one of the most popular deals at Metrodeal.
As of this writing, 17,298 vouchers have already been sold since it became available on Metrodeal.
The last time this Dermcare Diamond Peel was available was late last year and I can't wait to purchase new vouchers again.
What is this Dermcare Diamond Power Peel Treatment?
This is a process of gently exfoliating your skin and infusing it with vitamin C and moisturizers.
It makes use of innovative machines to slough off layers of dead skin that helps minimize acne scars, fine lines, and sun damage.
This diamond peel treatment process takes about 45-60 minutes.
And since the machines used in the diamond peel treatment utilizes the power of natural diamonds that also stimulates cell growth, your face will be left feeling silky smooth and fashionably fresh.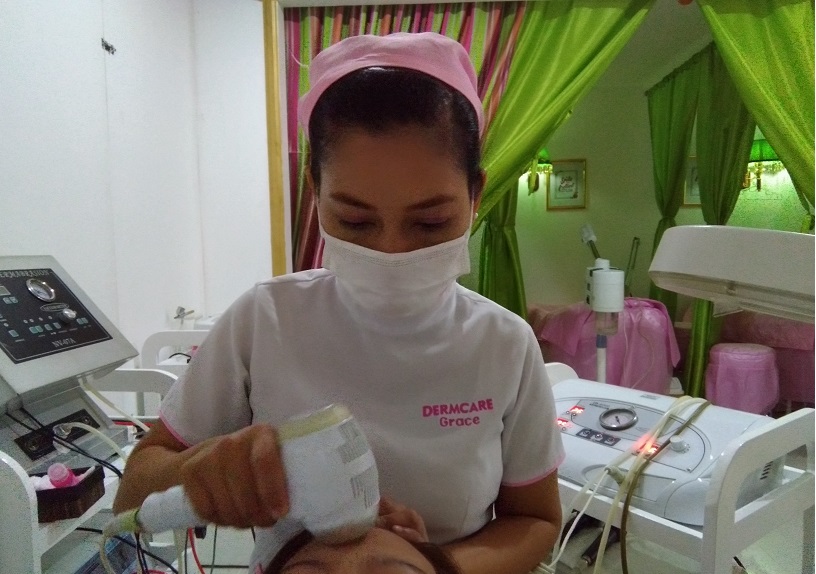 If you have acne or pimples, Dermcare specialists may recommend getting a pimple or acne treatment first before they perform the Diamond Peel treatment.
Why do I like Dermcare Diamond Peel Treatment?
I have been a loyal client of Dermcare and I always buy a minimum of 10 vouchers of this Dermcare Diamond Power Peel Treatment when this promo is available on Metrodeal.
I use it for myself and I also give some of the vouchers to my mom and sister.
Here are some of the reasons why Dermcare is my no. 1 choice when it comes to Diamond Peel Treatment.
1. Well-trained and friendly staff 
The staff knows what they're doing and they're approachable. If you can't tolerate the pain while they're performing the facial cleaning process, just tell them and they'll try to adjust.
2.  Relaxing ambiance 
The Dermcare Clinic at Farmer's Cubao has been renovated and it's now bigger and better. It looks very clean and relaxing.
This slideshow requires JavaScript.
3. Cheaper Price at Metrodeal 
Instead of paying the regular price of P900 per session of Diamond Peel, you only have to pay P349 if you purchase it through Metrodeal.
The price is really worth the service that you're getting from Dermcare. You surely won't regret it.
4. Accessible Dermcare Clinics
This Diamond Peel Treatment is available at 94 participating Dermcare, Dermcare Luxe, and Belle La Peau branches.
It's very accessible. Just choose the branch that's most convenient for you.
5. Voucher is transferrable 
You can give the vouchers as a gift to your family and friends. You can even avail of the service at the same time as long as there are available slots at your chosen branch.
I suggest you visit the branch in the morning because there are few people or clients around that time.
Click this link if you want to know more about this Dermcare Diamond Peel on Metrodeal.