Withdrawing money from COL Financial is pretty easy and straightforward.
As long as you have available funds or balance in your COL account, you can withdraw your money by sending a request through email and wait within 24 hours or 1-2 business days for your money to be deposited/debited to your bank account.
For some, it may seem easier said than done, but don't worry because I'll share with you the step-by-step guide on how to withdraw money from COL Financial.
If you're new to this, let me just give you a short background of COL Financial.
What is COL Financial? 
COL Financial is an online stock broker that allows stock market investors to buy and sell stocks online.
COL Financial is one of the most popular online stock brokers in the Philippines and they are known for having a robust and simple platform where people can invest their hard-earned money in the stock market.
I opened my personal COL Financial account back in 2014 and I haven't had any problems with their platform since then.
Step-by-Step Guide for COL Financial Withdrawal 
If you have an existing account with COL Financial and you need money for personal use or you want to encash your earnings/profits from your stock market investment, you can withdraw your money easily and here's how to do it…
Step 1
Go to COL Financial website at https://www.colfinancial.com.
Step 2
Login to your COL Financial Account using your User ID and Password.
Note: Your User ID consists of 8 numerical characters. If you don't know this, check the email that was sent by COL Financial to your registered email address when you opened your account.

Step 3
Once you're logged in to your COL Financial account, click Forms in the main menu.

Then look for Withdrawal Form. To download, click the PDF file.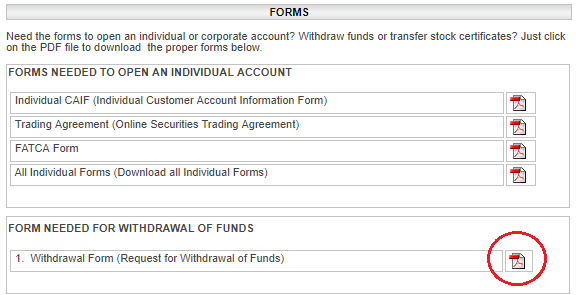 The Withdrawal Form will show up in another tab on your Internet browser. You can either download or print the form.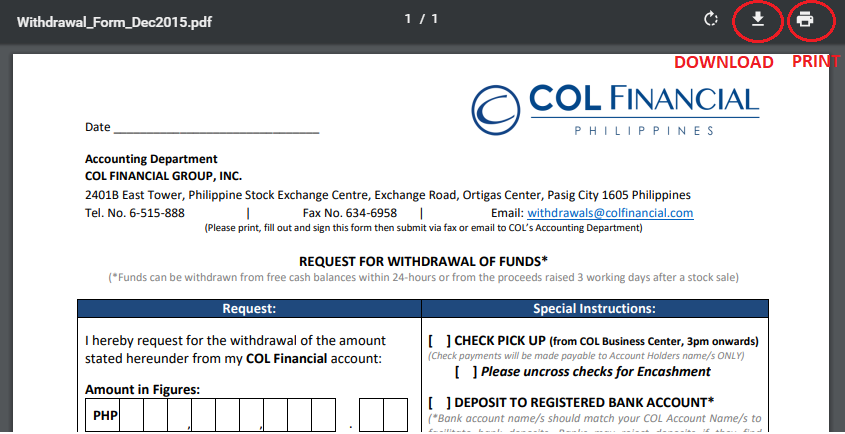 If you have a printer ready, click the print icon. If you don't have a printer, click the download button (down arrow), and save it to your computer or flash drive, then print it later.
Note: You need the hard copy of the COL Financial Withdrawal Form because you will have to fill it out and sign.
Step 4
Once you have the printed copy of the withdrawal form, fill out all the required information.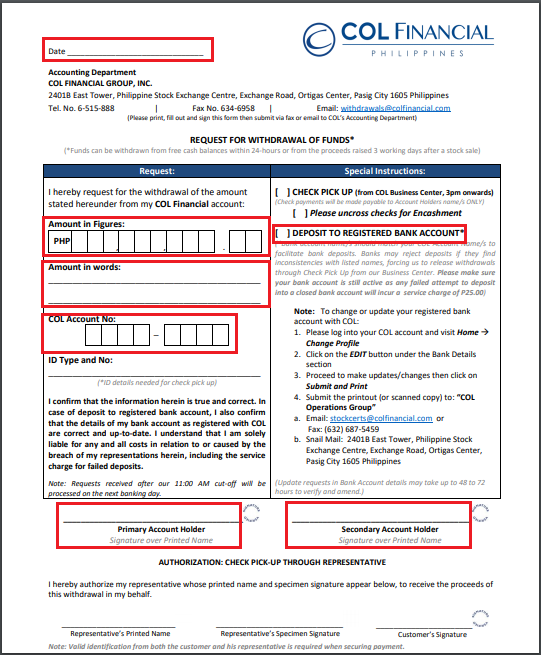 Date of Withdrawal Request
Amount in Figures
Amount in Words
COL Account No.
Select your withdrawal option

CHECK PICK UP (from COL Business Center, 3pm onwards)
DEPOSIT TO REGISTERED BANK ACCOUNT

Printed Name and Signature of Account Holder

For Joint Accounts, both the Primary and Secondary Account holders must sign the withdrawal form.
If withdrawing through a representative, write the printed name and signature of the representative and affix the customer's signature.
Note: Double check the information you have written on the form to make sure they're all correct before you submit it.
Step 5
After you have filled out the COL withdrawal form, send it via email to withdrawals@colfinancial.com
Subject: COL Financial Withdrawal
Body: State that you want to withdraw money from your COL Account, with the amount, and account number, and your name.
Attach: The completely-filled out and signed withdrawal form in the email
Step 6
You will receive an auto-response email from withdrawals (withdrawals@colfinancial.com) to acknowledge the receipt of your e-mail.
You will then receive another email from COL Financial Withdrawal (withdrawals@colfinancial.com) with the subject, NOTICE OF RECEIPT OF WITHDRAWAL REQUEST.
And finally, you will receive an email from COLFinancialhelpDesk (Helpdesk@colfinancial.com) with the Notice of Debit Adjustment.

In my case, I submitted the withdrawal request at 11AM and I received the Notice of Debit Adjustment around 3PM on the same day.
Reminders:
Funds can be withdrawn from free cash balances or from proceeds raised 3 working days after a stock sale.
The cut-off time for withdrawal request is 11AM. If you submit/send your request after 11AM, it will be processed on the next business day.
Step 7
Check your bank account if your withdrawal from COL Financial has been successfully processed. For easier banking transactions, enroll your bank account online.
I enrolled mine with BDO Online Banking and I was able to confirm that the money was successfully deposited to my account just a few hours after I requested withdrawal.
What are the Bank Fees with COL Financial?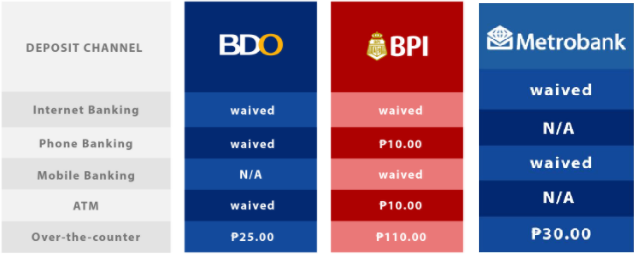 As you can see in the table above, there's no fee when you withdraw funds through online banking and mobile banking. So, take advantage of this facility to save more money instead of withdrawing over-the-counter.
3 Ways to Withdraw Money from COL Financial
Fill out the COL Financial Withdrawal Form, sign, and EMAIL to withdrawals@colfinancial.com
Fill out the COL Financial Withdrawal Form, sign, and FAX to (632) 634-6958
Fill out the COL Financial Withdrawal Form, sign, and SUBMIT personally to the COL Financial office address.
Where to Find COL Financial Withdrawal Form
Click here to download the COL Financial Withdrawal Form.
How to Contact COL Financial
For inquiries about funds withdrawal or if you are interested to open an account, you may contact COL Financial through the following:
COL Financial Hotline: (632) 6-515-888
Email Address: helpdesk@COL Financial.com
Website: https://www.colfinancial.com
Address: 2403-B East Tower, PSE Center, Exchange Road Ortigas Center, Exchange Rd, Ortigas Center, Pasig, 1605
My COL Financial Review
As a client of COL Financial and stock market investor for over 4 years, I could say that I am happy and satisfied with COL Financial.
Their online platform is very simple and easy to navigate. I never had any problems when buying and selling stocks. Withdrawing money is also very fast especially because it can be done through online banking. I don't have to go to their office or to the bank to withdraw my funds.
COL Financial is also very supportive to their clients. Their research team provides technical and fundamental guide to make it easier for investors like us to invest in the stock market. Their customer service team is also very approachable and easy to reach.
I highly recommend COL Financial to those who are planning to invest in the stock market.