Having a car doesn't end with just procuring and go driving in fulfillment of the excitement overwhelming inside of you.
Since, inconvenient roadside emergencies (accidents, loss, and damages) happen when time doesn't tell, it is of best decision to avail and purchase car insurance for your own indemnity from any liability and damages to whatever accident may cause.
Considering one may mean checking out the cheapest car insurance you could have with the most convenient service offered.
However, it is a bit hard to consider prices over coverage than coverage offered than the price. Apart from such, there are various types of insurances offered by car insurance companies that should be considered.
This can either be compulsory third party liability insurance, third party fire and theft insurance, third party damage insurance or comprehensive car insurance but here in the country, auto insurance coverage extends to medical payments, uninsured motorist, under-insured motorist, rental reimbursement and emergency road service.
Coverage offered highly depends on the amount that your willingness can pay for the premium. Some may be high costing but of complete offers and others might cost you low but serve you on the same level or maybe otherwise depending on the policy purchased as round roll in constant.
So, it is decidedly considerable to compare different products and coverage offers before procuring one.
Coverage quotes also differ as per car unit and model since quotation is significantly dependent to the future expenditures needed whenever insurance is of demand.
Here are some trusted car insurance companies with guaranteed offers.
Oriental Car Assurance
I personally got my car insurance from Oriental Car Assurance through Moneymax.
The cost of the car insurance for my Suzuki Celerio 2016 model was only ₱9,286 and this is already good for 1 year coverage. Not only that, I was also given the option to pay it in 3 months making it a lot easier for me to pay.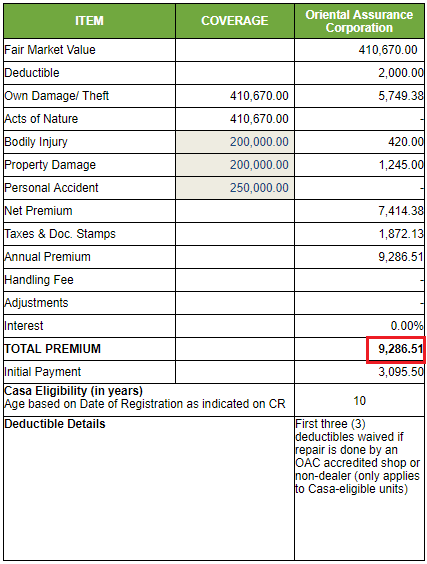 Compared to other car insurance companies, Oriental Assurance Corporation offers the cheapest with almost the same features and coverage.
If you're planning to get an insurance for your car, I suggest you check the various options from MoneyMax. If you don't like Oriental Assurance or you prefer another car insurance company, MoneyMax will help you with that.
You can choose the car insurance that's right for your car and that fits your budget.
Click here to know more about getting a car insurance from Moneymax.
Sterling Insurance Company, Inc. 
Operating for more than a decade now is offering Comprehensive Cover which protects you while your vehicle is parked, Third Party Liability which covers damages acquired in an accident against another motorist, Auto Personal Accident which pays you and/or any of your passengers in an accident involving your vehicle whether it be an injury or a death and Perils of Nature of Acts of God that covers all damages in your vehicle for reasons that human cannot take in control and no one shall be liable of.
Vigattin Insurance 
This company offers basic coverage such as Own Damage/ Theft or Loss and Damage, Excess Bodily Injury, Excess Property Damage, Auto Personal Accident and Compulsory Third Party Liability.
Insuring with them comes with a 24/7 emergency roadside assistance, free towing, defensive driving seminar, vehicle breakdown (e.g jumpstart, battery boosting, tire changing, gasoline delivery and locksmith service), minor on-site repair, replacement vehicle service (as per limitation) plus up to Php 2,000.00 for hotel accommodation whenever necessary and a lot more benefits for the convenience and safety of the client when trouble meets them on the road.
Empire Insurance Company 
Insurance starts with acquiring Compulsory Third Party Liability (CTPL), Loss or Damage, Voluntary Third Party Liability (VTPL) covering death or bodily injury and property damage.
These, however, extends with the willingness and preference of the clients to procure other coverage such that of Unnamed Passenger Personal Accident (UPPA) and Extended Coverage which likely pays off like that of the acts of nature incidence (e.g flood, typhoon, volcanic eruption, earthquake, strikes, riots , war and civil commotion.
Other Car Insurance Companies
Passenger Accident Management and Insurance Agency, Inc.
2402-2403 One Corporate Ctr, Julia Vargas cor. Meralco Ave., Ortigas Center, Pasig City
Phone: (632) 652-4124; (632 654-4823
Commonwealth Insurance Co.
5th Floor Gateway Tower, Claro M. Recto Ave, Cagayan de Oro, Misamis Oriental
Phone: (088) 880 1448
Stronghold Insurance Company, Inc.
National Highway, Barangay Puerto, Cagayan de Oro, Misamis Oriental
Phone: 0915 812 6315
Teleservice: (632) 876-4400; 24/7 Hotline (632) 459-4727
https://www.mapfre.com.ph/insurance-ph/personal/car-insurance/
Tel. No.: *63(2) 838-BDOI
Toll Free No.:1800-10-8362364
Sterling Insurance Company, Inc.
6F Zeta II Annex Bldg.,191 Salcedo St., Legaspi Village, Makati City
Phone: (2)759-2920; (2)759-3082
Visayan Surety & Insurance Corp.
1403, 14/F Keppel Ctr., Samar Loop cor.Cardinal Rosales Ave.,Cebu Business Park,Cebu City
(032) 231-162; (032) 416-3844; (032) 231-9581; (032) 415-8286
(02)414-3972/0926-250-7891/00998-881-3494
Pacific Corp. Center, 131 West Ave., Quezon City, 1105 Metro Manila
Malayan Insurance Company, Incorporated – Zamboanga Satellite Office
Ground Floor YPC Building, Zamboanga City
Phone: (062) 991 2296
Malayan House, Velez cor. Nacalaban St., Cagayan de Oro City, Misamis Oriental
Phone: (088) 856 1685
934 Jacinto Ext, Barangay 11-B, Davao City
Phone: (082) 224 3833
13 Palma Gil St, Poblacion District, Davao City, 8000 Davao del Sur
Phone: (082) 222 1284
Investors Assurance Corporation
Room A, Valgosons Bldg, C.M Recto Cor. Bonifacio St., Poblacion Dist., Davao City
Phone: (082) 295 6858