Do you want to be part of one of the leading banks in the Philippines today?
Good news! Banco Deo Oro Unibank or BDO will hold a Job Fair on Saturday, May 6,
Banco Deo Oro Unibank or BDO is currently looking for driven and competitive individuals who want to be part of their company.
BDO will hold a Job Fair on Saturday, May 6, 2017 from 8AM to 2PM.
It will be held at BDO Quezon Avenue West Triangle Branch, Lot 3-B, Quezon Avenue Extension, Barangay West Triangle, Quezon City, Philippines.
What to Bring?
Your updated Curriculum Vitae (CV) or Resume
2 pcs. of 2×2 ID picture
valid ID
Transcript of Records (if available)
NSO birth certificate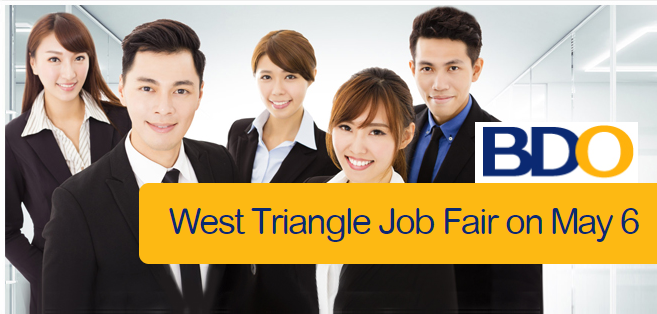 Some tips when applying for a job:
Prepare your requirements ahead of time. Update your resume. Don't make it too long nor too short. Just make sure all the important info are included. Then have an updated photo of yourself. Don't submit an old photo that doesn't look like you anymore.
Read more tips and practice answering the usual Job Interview Questions. Ask a friend or a family member to act like the interviewer and allow him/her to give you feedback on your answers. If you don't know how to answer some questions, do your research or ask someone who knows about it.
Be confident when answering questions. Listen attentively to the interviewer. Be honest. Show what you know and be honest if you don't have an idea about a question. Stay calm and positive. Say thank you after the interview.
Applying for a job is both challenging and exciting. Just be your best self and believe that you can make it.
And make sure you're in business attire and you go to the BDO Job Fair early. Remember, the early bird catches the worm.
Who knows, you'll be the next BDO officer who will assist us when we visit our nearest BDO branch. So, good luck and we hope you get the job.
Image Credit: BDO Website