While many personal finance experts advise people not to use credit cards to avoid debt, you can actually have one IF you think you can use and manage it responsibly.
Having a credit card has many advantages including the following:
It allows you to purchase items online and offline
It offers cash back and rewards points that you can use for your next purchases.
It can improve your credit score if used properly
And these days, applying for a credit card here in the Philippines is no longer as complicated as before. In fact, it can be as simple as entering your information into an online form and clicking "submit" then a representative from the bank will get in touch with you to verify your information and process your application.
Banco De Oro Unibank or BDO offers various types of credit cards and if you're planning to apply, I'll share with you all the details here…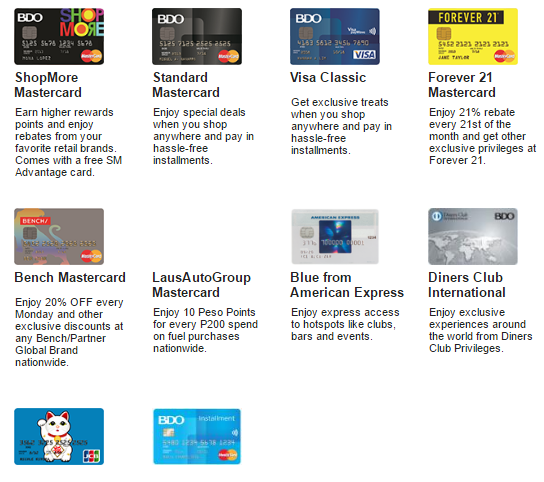 Eligibility Criteria
You must be 21-70 years old if you're applying as a primary holder and at least 13 years old for the supplementary holder.
You must be a Filipino citizen or a foreigner who is a resident in the Philippines for the last 2 years.
You must be a regular employee or if self-employed, with business operating for at least 2 years.
You must be earning at least ₱180,000 per annum.
You must have at least one landline phone.
Residence or Office Address must be within any area where a BDO branch is located.
Requirements:
Photocopy of your latest W2 or BIR Form 2316 signed by employer's authorized representative (for employed) or photocopy of latest ITR (for self employed)
A photocopy of the front of your existing credit card
Photocopy of last two (2) month's credit card statement of account
Any valid, photo-bearing ID issued by an official authority shall be acceptable such as the following:
List of Valid IDs with Photo:
Passport
Driver's License
Professional Regulations Commission (PRC) ID
Social Security System (SSS) Card with photo and scanned signature printed on the card
Voter's ID
Government Service Insurance System (GSIS) e-card
Philhealth card
Senior Citizen Card
OFW ID
Seaman's book
Company ID (Sec Registered or under BSP supervision)
For applicants with NO existing credit cards
For EMPLOYED (Required):
Photocopy of latest BIR Form 2316 signed by employer's authorized representative
Original copy of Certificate of Employment and Income (COEI) indicating status, length of service, and compensation breakdown
Photocopy of latest full month payslip
For SELF-EMPLOYED (Required):
Photocopy of Registration of Business Name
For Single Proprietorship issued by DTI
For Partnership/Corporation issued by SEC
Photocopy of latest ITR and W4 with BIT/Bank Stamp
Audited Financial Statements for the last 2 years; OR
Bank Statements for the last 3 months
Procedure for BDO Credit Card Application
Step 1 – Prepare the all the Requirements and Documents
Step 2 – Pick the Type of BDO Credit Card
Step 3 – Fill out the Application Form (At the BDO Branch or Online)
For ONLINE Application, fill out the Online Application Form Or Download the Form and fill it out
Step 4 – Submit the Application Form And All the Requirements And Documents
Step 5 – Check Credit Card Application Status
Step 6 – Once approved, your BDO credit card will be delivered to your home address.
Just expect it within 7 days from the date of the approval. If you don't receive it within that period, you may contact BDO Hotline 631-8000 to inquire about the status of your credit card application.
Activation of your BDO Credit Card
Once you have your credit card, you may activate it by calling your bank provider. And once it's activated, you can start using your credit card for your important purchases. Again, make sure that you use it responsibly and pay your bills on or before its due date to avoid late payment charges and other penalties.