To celebrate my birthday, my family and I decided to go to Tagaytay for a 3D2N staycation.
I spent days and nights searching for the most affordable hotels and AirBnB units in Tagaytay where we could stay and I also did my research on the best places to go to in Tagaytay.
After comparing the facilities and rates, I picked one which perfectly fits our needs and budget.
What we needed…
Here are the things that we were looking for in an AirBnB unit or hotel room:
1 large bed that would fit the 3 of us, or two beds: 1 for me and hubby, and 1 for our 5-year old daughter
WIFI (having Netflix was great, but it wasn't a necessity)
balcony, where we can hang out and enjoy the beautiful view outside
a unit that's located below 10th floor since I have fear of heights
near the mall or grocery store and restaurants
with swimming pool
can cook inside the unit
rate per night must be less than ₱2,500
must be picture-worthy somehow (not that cheap-looking) even if the unit is not that expensive
It took me several days to find the right one because my husband and I had different needs and requirements.
I wanted a really nice looking room with a beautiful and comfortable bed, dining set, and balcony.
My husband, on the other hand, didn't care about how it looked. He just wanted to have WIFI in the room and a swimming pool where he and our daughter could swim during our stay.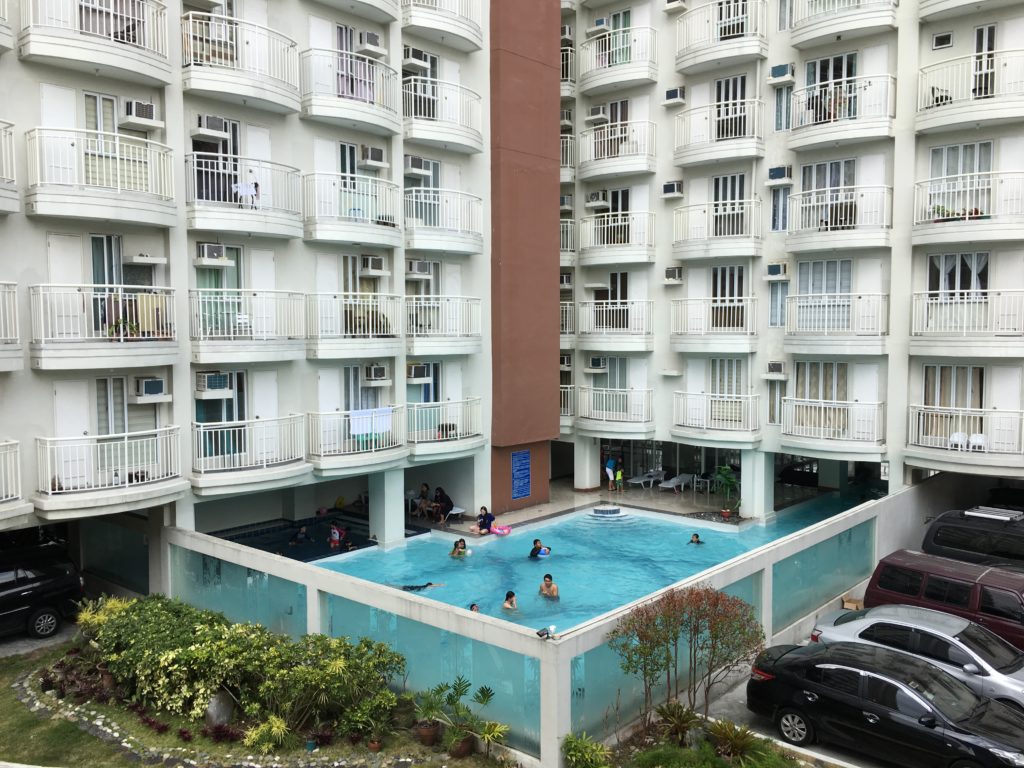 There was one AirBnB unit in Tagaytay that I really liked at the Serin Tagaytay condo, but it didn't have a WIFI and a balcony.
The room really looked gorgeous, the bed looked comfy, and the furniture are sophisticated. But then again, there was no WIFI so it was definitely an X to my hubby.
At one point, I tried to convince him not to use or connect to the internet while we're in Tagaytay so that we can have quality time with the family, but it didn't happen.
Then there's another one AirBnB unit in Tagaytay. It has everything we needed in our list above, EXCEPT that cooking was not allowed in the unit and it was located on the 19th floor.
It's okay if we couldn't cook in the unit because there are a lot of restaurants near the condo, but the thought of staying at the 19th floor gives me the chills.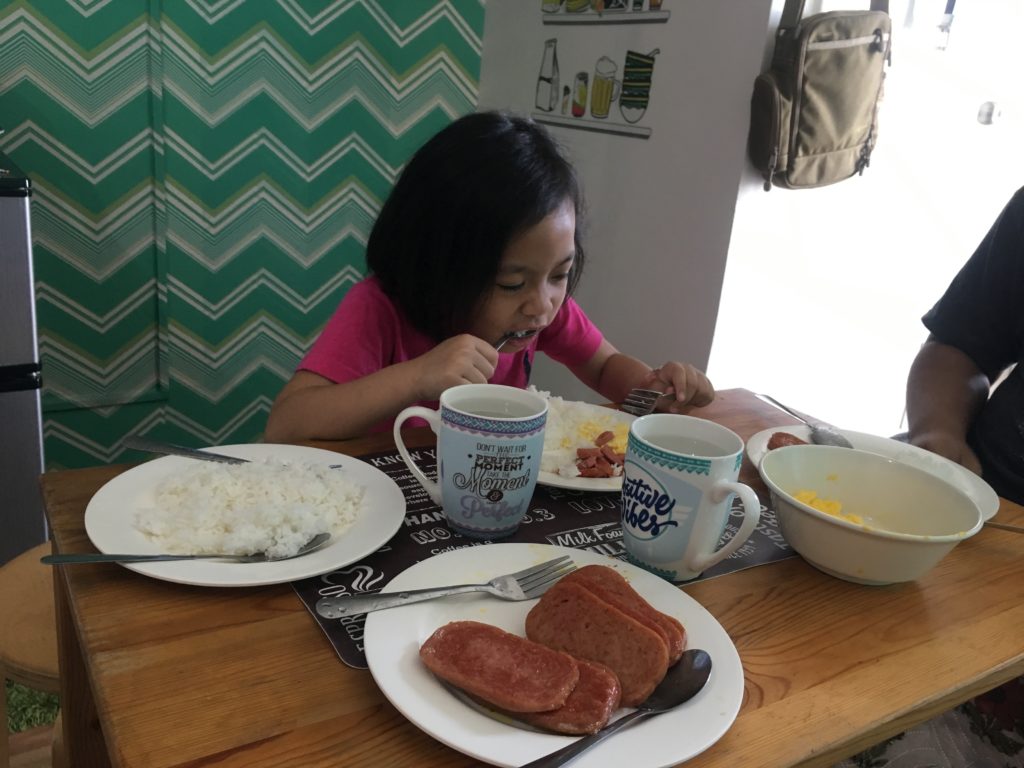 I found several other AirBnB units in Tagaytay and many of them were really affordable. It's just that we couldn't find the one that has the things we needed in our list.
I also considered staying in a hotel. First, I found Taal View Park. The first time I checked it, the price was bellow ₱2,500 per night for the three of us.
A few days later, when I decided to book that room instead of booking through AirBnB, the price has gone up to more than ₱3,000 per night which was way above our budget.
The other hotels are much more expensive than Taal View Park. So, I was left with the option that I should book through AirBnB.
After several days of searching AirBnB Tagaytay and reading blogs and watching reviews on YouTube, I finally found the one.
An Affordable AirBnB Unit at Tagaytay Prime Residences
An AirBnB unit at the 6th floor of Tagaytay Prime Residences right at the heart of Olivarez Plaza, near the mall, grocery and convenience stores, and restaurants
With WIFI, with balcony, can cook inside the unit, with 2 beds, and FREE access to the swimming pool
Very affordable rate at less than ₱2,500 per night including the service fee and cleaning fee
Affordable parking fee at ₱50 per entry on weekends
But wait there's more:
Netflix was available which my hubby and I enjoyed watching a lot
Books and toys for kids, which our daughter had fun playing with
An access to the Roofdeck which allowed us to relax, refresh, and enjoy the beautiful view of Tagaytay from the 23rd floor of Tagaytay Prime Residences
And the least expected but the most surprising thing of our stay at Cityland Tagaytay Prime Residences was when we found out that there is CCF center in Tagaytay at the same building where we stayed. CCF is Christ Commission Fellowship which is a christian church where we have been attending for the fast few months.
AirBnB Tagaytay Prime Residences – How much?
You wouldn't believe it, but we only paid ₱2,832.45 for our 3 days and two nights stay in this AirBnB unit in Tagaytay Prime Residences.
How come it's so cheap?
Well, thanks to AirBnB coupon code!
I sent my AirBnB referral link to my husband, then he signed up for his own AirBnB account.
And as a first time user, he was entitled to a ₱1,600 discount on his first booking on AirBnB.
See the breakdown of our AirBnB booking fees below:
Rate per night – ₱1,788 x 2 nights = ₱3,576
Cleaning Fee – ₱350
Service Fee – ₱506.45
AirBnB Coupon – ₱1,600 (subtract this)
Total – ₱2,832.45
How to Get Your ₱1,600 AirBnB Coupon Discount
If you're planning to have a staycation in Tagaytay or anywhere in the country, or even anywhere in the world, you may use my AirBnB Coupon code so that you can get your ₱1,600 discount off your first AirBnB booking.
My Review of our AirBnB Unit at Tagaytay Prime Residences 
With all honesty, the AirBnB unit that we rented during our stay in Tagaytay wasn't the best of the best, but we're very happy with it because it has everything we needed.
Our main goal was to go visit the different tourist spots in Tagaytay and we weren't really looking for an expensive place to stay. We just wanted a place where we could rest and stay while we're in Tagaytay.
The owner/contact person of the unit was very easy to deal with. We had a smooth communication during our 3D2N stay in her unit.
We never had any problem with the unit or with parking. Everything went smoothly and we enjoyed our Tagaytay trip.
I'm really glad there's AirBnB that allows us to travel and stay in places without having to spend too much money.
Before, if you want to stay in a place with good amenities, the only option was to stay in a hotel. But you have to spend more for that.
With AirBnB, you have a lot of options to choose from depending on your needs and budget. You can filter out the options based on your needs in the AirBnb app such as a unit with a pool, or balcony, or kitchen.
Almost everything is possible now with AirBnb.
And if you think you don't have time or extra funds to travel to Tagaytay, there are a lot of AirBnb units within the metro.
If you have limited budget, you can find Airbnb units below ₱2,000 or even ₱1,000.
But if you want to take advantage of your ₱1,600 coupon discount, your first booking must be at least ₱3,500 in total.
Let's say you're booking a unit worth ₱3,500 for 2 nights (including all the other fees), less your ₱1,600 coupon discount, you will only have to pay ₱1,900. Not bad, is it?
And here's another thing, once you have an AirBnb account, you too can share your referral link to your friends, and when they book an AirBnb unit using your link, they will also get ₱1,600 discount, while you get ₱800.
Sounds good?
Sign up to AirBnb and enjoy your discounts and travel adventures! 🙂